Editing is a natural part of the photography process. Editing photos after you've taken them helps to bring out their beauty and style. It brings out your message. Even the most talented photographers use editing tools to perfect their shots. However, learning the process of photo editing may be a bit daunting for beginners. Many beginners worry if the process would be too difficult or time-consuming. Others worry if the software would be too expensive. In this article, we will offer you a few reliable and easy to follow methods on how to edit your photos using online tools and software. You will see that creating memories and works of art is not that difficult with the right software.
Photo editing is actually an umbrella term for any changes made to any existing photo. In other words, it's just altering an image to the desired effect. The most obvious purpose is to enhance the aesthetic appearance of the image. Another is to correct existing blunders within the photo. Amateurs and professionals alike use photo editing to improve the overall appearance of their work. And all this, because photography is a serious business.
Of course, there is also an abundance of photo editing techniques that photographers use to make their images meaningful and distinctive. There are some that are done manually while others are done using automated software. Some photo editing is even done offline, on actual photographs on print. There are various printing technologies with unique aesthetics. The right editing techniques and the right software will definitely affect the results of your photos.
Why Edit Your Photos
Photo editing software exists to supplement your camera in a lot of ways. Remember that cameras aren't perfect. And photo editing tools just serve as a supplement to what your camera can do. Photo editing also helps to relay a story or message behind the photo. More importantly, it's also used to correct any errors within the photo. If you are serious about your photos, editing is an absolute necessity.
A wide range of professional tools and smart features make it easier for the photographer. The tools and editing process are able to account for all elements of the photograph. This is so that the photo comes out just right. Well-edited photos bring out the best elements of the image. Doing so is intended to catch the eye of the audience and adds meaning to it. The specific techniques used for photo editing really depend on the purpose of the photo. Professional photography usually requires a series of techniques.
Of course, photo editing apps are only one type of media-related software. There are other programs that help you to create and capture photos for your projects. There are services available that can provide professional and well-edited photos for you.  you can learn how to download photos from Shutterstock or Getty Images. This should work well if you're not that into photography in the first place. This also works if you need photos right at the moment but have no other resources to get it from. You can also download photos from social media sites like Facebook and Instagram. As a demonstration,  you can read this guide on how to download photos from Instagram. Just make sure that the photos are publicly available and are not subject to any copyright.
Common Techniques on How To Edit Photos
Popular techniques include photo retouching, background removal, and color correction. Photo retouching is commonly used for fashion images. These involve the removal of blemishes, spots, and obtrusive marks on a model's face and form. Meanwhile, background removal works by taking the centerpiece out of its original background. There is a color correction technique. It's used to adjust the vibrancy and color strength of multiple colors. This includes your monochrome greys and whites within the photo.
There is image masking, shadow creation, and photo restoration. Image masking removes unnecessary objects in your photo. This is so the audience can focus on the centerpiece. Meanwhile, shadow creation adds exactly what it says to portraits. This makes the photos more realistic and appealing. Photo restoration is another popular development in the photo editing files. It is a technique used to add texture and color to black-and-white images. The photos look new and give you a more lifelike perspective.
Important Terms on How to Edit Photos
Most photos need editing intervention before they are presentable enough for posting. It takes practice to develop the skills needed to edit photos. All editors need to know basic concepts and tricks beforehand. This is regardless of whether you are a professional photographer or an amateur. Here are a few basic editing terms that you need to get around using editing software and tools. Even kids will be able to apply these techniques using an Android phone or online editing software. For more information on photography jargon, you can refer to this glossary of digital photography terms.
Adjust
Basic adjustment features allow you to have a standard-set photo in just one click. These are template adjustments made to the brightness, contrast, among others. These elements are very important for creating high-contrast images. These make your photos look more realistic and allow the reader to see the full array of colors and hues.
Crop
This editing feature allows you to remove external areas of an image effectively. This allows you to reduce clutter and unwanted content. It also allows you to lift a specific object from the image. This may be done to include the object to another photo or to enlarge it and make it the centerpiece of the photo. You can save the cropped images in different formats.  An example of this would be cropping a logo or sign from a larger image.
Rotate
This editing feature allows you to rotate, flip, reverse, or turn your image to any angle. This is usually used to correct the angle of the image for a realistic view. Most software just asks you to choose between landscape or portrait orientations. But you can also customize the angles for artistic effect.
Exposure
Exposure refers to the volume of light passing through the lens of a camera while a shot is being taken. There is a recommended exposure time for each time. This ensures that the resulting photo is not too light or too dark. Exposure can be adjusted through artificial means using editing software. This is for when the exposure on the original photo turns out to be too dark or too light.
Saturation
Saturation refers to the intensity of a color. More highly-saturated images appear clearer and more vivid than less-saturated colors. There's no prescription when it comes to saturation. It really depends on how you want your images to look. For example, landscape views often need an increase in the saturation of greens and blues. Using color cues captures the outdoor theme of the photo more incisively.
Aspect Ratio
Aspect ratio is a general term that refers to the width and height of an image. It's an important aspect of image editing. This is because it determines how you compose your photograph and how large it is going to be. Most of the images nowadays are rectangular in shape with an aspect ratio of about 3:2. But there are also options to make the photo into a square or even panoramic.
Social media websites usually accept images of any size. However, most images turn out smaller on the site after being compressed. It is thus recommended to post the optimal resolution of the photo. Instagram, for example, requires a minimum aspect ratio of 1.91:1 for rectangular images. Even Twitter recommends a 3:1 aspect ratio for header photos. Even square photos with an aspect ratio of 1:1 are still quite popular for both sites.
How To Edit Photos Using Online Photo Editing Tools
There is photo editing software that is available online for free. These online photo editors allow you to quickly adjust, resize, and edit your photos. This software is very easy to use and can be used for home projects and professional uploads alike. There is no need to download any software or sign in to an account. Your privacy is also protected by these sites as they do not keep copies of anything you upload. Another important factor is that they don't take up your computer resources. Everything can be accessed online.
Pixlr
Pixlr has advanced photo editing tools to match premium photo editing software. The software is still in active development. However, its existing features are already great. The user interface is very smart and professional-looking. All the tools are neatly piled onto the left side of the toolbar. The software has an extensive collection of filters and layers. There are plenty of custom brushes of different shapes. This also includes tools for cropping and resizing images.
A delightful addition to this is object removal or cutting tools. These allow you to select objects within a photo for deletion, regardless of shape and size. There are also quick sliders allowing you to change contrast, saturation, and shadows. In summary, users will never run out of options when editing their photos using this software. Pixlr is available for free on the Apple or Google Play Store.
PicMonkey
PicMonkey is a fast and efficient photo editor. Photo editing and design software has been described as powerful yet simple. Users can upload images from multiple platforms. These include Dropbox, Facebook, Flickr, and OneDrive. The website offers dozens of filters, fonts, and graphics to edit their photos with. There are also video tutorials and courses on social media design and other topics. The template settings are also pre-set to be posted on Facebook and other social media sites. The service also has added capabilities such as collage making and logo making.
The site is also useful for social media marketers and small business entrepreneurs. This is due to the website having a public programming interface. This allows developers to integrate edited photos to other websites. A built-in uploader does this without leaving the PicMonkey website. Overall, the website has been optimized to create high-impact images. PicMonkey is available for free on the Apple or Google Play Store. There's also two premium, ad-free packages you can choose from which costs $7.99 and $12.99 per month, respectively.
Fotor
Fotor is both a photo editor and collage maker. The software is available in three ways. You could opt to edit your photos online through the website. On the other hand, you could download it onto your desktop for offline use. There's also a mobile app option for editing on the go. The desktop version is notable for having excellent RAW conversion support. Meanwhile, the online version has more tools for editing JPEG files. But since we're discussing online editing, we'll focus on that.
The software has three basic features: editing, collage, and design. Editing is the part where you upload photos to improve them. This panel contains all the basic tools to alter saturation, brightness, and contrast. There are also tools for cropping, resizing, and changing the orientation of the image. A fine-tuning tool allows for editing exposure, highlights, and shadows. Meanwhile, a color tool lets you adjust temperature and tint. It's quite clear that Fotor has the complete palette of tools for photo editing. But perhaps the best feature of all is the effect panel. Like Photoshop, there are hundreds of filters to choose from. These are meant to add special effects to your otherwise bland photos. Fotor is available for free on the Apple or Google Play Store. There's also a premium, ad-free version which costs $3.33 per month.
BeFunky
BeFunky is an accessible yet powerful photo editor. The software has an excellent set of tools for photo enhancement. There are three modes you can choose from. These include the photo editor, designer, and collage maker tools. You can select from up to ten panels for basic photo editing. The most excellent feature of all, as we've heard, is the color correction tool. You can change the saturation, temperature, and hue of the photo for the most vibrant palette. And if you ever overdo on the saturation, you can balance it out by using a special tool called vibrance. This is able to detect areas of your photos with too much or too little saturation and automatically correct it.
There is also a social feature in the app that allows you to browse the edited photos of other people. Unfortunately, there are some features for photo editing that can only be accessed with a subscription. Nonetheless, the existing set should be enough for basic, not-so-serious editing. And don't forget the collage making a feature. This allows you to make and share collages with your friends.
The user interface of the software is very simple and easy to use. All the tools are neatly organized on the left side of the toolbar. You can even upload several photos at once for editing purposes using a drag and drop feature. You can switch to full-screen mode while editing your photos to get a better look. Overall, the free version of the software is a quality program with a full set of features. If you would like to unlock the full set of features, upgrade to a commercial version which only costs $4.95 per month.
GIMP
Gimp is an extensible and fully open-source image editor. The program packs an impressive array of editing features, commands, and tools. We can say that the assortment is quite impressive for free software. These include tools for noise reduction, digital image enhancement, and color adjustment. It also includes tools that are used for computer graphics. These include the Bezier curves, layer masks, and animation packages. There's also a wide selection of filters and effects. This is best for photos aimed towards more artistic causes.
The software is able to support almost all types of high-end graphics. This more than makes up for its rudimentary appearance and user interface. The software also supports third-party plug-ins for filters, brushes, and textures. There used to be an entire database dedicated to Gimp plug-ins and scripts. These plug-ins were contributed by thousands of users and independent artists. This is perhaps a testament to just how many you could use. Unfortunately, users will now have to search the internet for plug-ins and scripts. Overall, Gimp is one of the best free online photo editing tools available. And the best news is, there's absolutely no subscription fee for this one. Gimp is available for free on the Apple or Google Play Store.
How To Edit Photos On Multiple Devices
We have discussed a few examples of online tools that are probably accessible on any device. There are quite a number of online tools available, so we were not able to list all of them. In any case, you will have to learn to search for and experiment to find the best one for you. You might also be interested to know about photo editing software then you can use it on the go. There are plenty of photo editing tools that run on multiple devices. This means you have the option to run them between your laptop, phone, or tablet. These options allow you to edit photos anywhere. Granted, of course, that there's an active internet connection. Here are some of the best ones.
How To Edit Photos Using PC/Mac
Desktop computers are the usual go-to for professional photo editors. Computers offer a degree of convenience and utility that remains unmatched. They have a large screen space an abundance of memory to handle even the toughest editing tasks. Little wonder that most professional photo editing software is designed for PC editing. You won't need an active internet connection for these. However, you might want to clear your Downloads folder after you've finished editing. This is so you won't confuse your edited files from your original files. You might also want to remove unnecessary files to save on memory. In any case, here are a few examples of the best photo editing software you can install on your PC:
Capture One Pro
Capture One Pro is a photo editing software. The software has been singled out by users for its excellent image color correction. There's an excellent array of color gradation tools. These produce the most natural-looking colors. You can also edit compressed RAW camera files and correct almost all details. This might include temperature and tint, white balance, and clarity. The software is also well-equipped for altering technical details. This includes luminosity range, linear-gradient, and radial gradient masking capabilities. You can also edit your photos locally or by layers.
An in-app camera also allows you to take photos right through the app. There are live monitor views and focus tools that will assist you during the process. There are also various tools you can use to organize your photos after the upload or editing process. Overall, the software is able to deliver on a very professional level. The Capture One Pro is available in several packages for a one-time purchase. The software functions normally on any Windows operating system or Mac.
ACDSee Photo Studio Ultimate
The ACDSee Photo Studio Ultimate photo editor has plenty to offer. Both professional photographers and amateurs are sure to like this software. The best features are its photo management and editing features. You can organize and look for your photos by date, label, or color assignments. You can also add detailed metadata to each photo so that you can easily search for it. The software can process multiple compressed RAW camera files.
A development tab allows you to edit basic color elements. This includes white balance, light exposure, and color. There's also a general tab for editing saturation, contrast, and clarity. Most of these toolbars have sliders. These allow you to feel the waters before applying any changes. There's also an info palette feature. This displays information about the camera used to capture each image. ACDSee is available for purchase as a monthly subscription or a one-time purchase. The software is compatible with Windows 7 or later. It's also recommended to have a process of at least Intel i3 or later with 64-bit support. Computer RAM of at least 6GB is also recommended.
Pixelmator
Pixelmator is a photo editor and digital painting app for Mac. Plenty of Mac users love this service for its combination of style and function. The interface of the software has been described as very stylish and intuitive. You can pretty much double click and drag everything on the toolbar. The software also offers plenty of options for customization. Everything can be rearranged just the way you want it to.
The software also has plenty of editing tools, brushes, and effects. There are also plenty of filters fitted with machine learning capabilities. These make it easier for you to edit your work. Each section of the editing tool has its own machine learning tool. This tool automatically makes minute adjustments depending on the category that you clicked. The file browser of the software allows you to browse all your albums in a single panel. You can also pop up a blank file to start painting your own artwork.
Overall, Pixelmator is a powerful yet subtle alternative to Adobe Photoshop. The software functions on Mac iOS 11 and iPhone X. The app is available for a free trial period of thirty days. After this, you can upgrade to a premium version that costs only $5 per month.
How to Edit Photos Using Android Devices
These days most people use Android phones to take photos. It seems like such a hassle to have to transfer the photo to a PC for editing. Most people could use a little editing right through their Android devices. There are hundreds or even thousands of variants for Android phones, so we don't even know where to start. For cases like these, it's such a blessing that there are photo editing apps designed for any type. And the best thing is, most of them are absolutely free! We're not even kidding. In any case, here are a few of the best photo editing apps for fans of the free-rolling, PC-like Android:
Photoshop Express
Photoshop Express is a quick photo editing application. The software have a full spectrum of features and tools. This is something we already expect from software made by Adobe. This might include tools for enhancing color gradients and imagery. You can easily edit special photos with the Looks and Corrections feature. For regular photos, you can easily add texts, filters, and custom watermarks. You can add grids and borders to your photos. There's also a quick fix for crooked images and distorted camera angles.
And if you have outdoor photos that appear too hazy, you can use the fog and haze reduction feature to correct it. Create personalized stickers, pic collages, and even memes with the app. The software can process pictures straight from your phone's camera roll or an SD card. Photoshop Express is compatible with almost all types of Android phones and tablets. You can download the app for free from the App Store or Google Play Store.
Photodirector
Photodirector is a free and user-friendly photo editor available as a mobile application. It's notably one of the best or making physical modifications to photos. These include resizing, cropping, adding text, and editing backgrounds. You can adjust the coloration and retouch your photos for full effect. A magic brush tool allows you to completely change the style of an image or to retouch the photo. HDR effects make your photos much clearer and even more memorable.
There are multiple photo filters you can use to reflect the mood and tone of your photo. Examples include Glitch, VHS, and mosaic. The software is integrated with Instagram, Facebook, and Twitter. This means you can post your photos directly through the app. Alternatively, you can also use built-in photo editing features on Instagram.
Photodirector is compatible with most types of Android phones and tablets. It is available as a free trial and a paid-for subscription. You can download the app from the App Store or Google Play Store.
Toolwiz Photos
Toolwiz Photos is a fully-featured photo editing tool. It has a great variety of magic filters, art filters, and tone filters. You can mix and match the filters for highly customized results. Process all your images using plenty of tools for first-layer modifications. Anything from cropping, resizing, and refitting can be done in just a few clicks. Adjust coloration and exposure for both everyday photos and HDR photos. Make close-up photos of yourself perfect with the selfie and polish feature. There are also multiple filters you can add to your photos. Examples include blurs and painting style filters. The software also has access to online repositories of frames, layouts, and stickers. Toolwiz Photos is compatible with most types of Android phones and tablets. You can download the app for free from the App Store or Google Play Store.
How To Edit Photos Using iOS Devices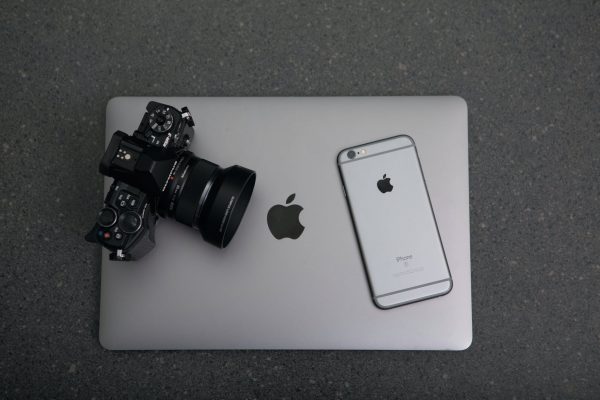 Apple and Android devices are both great mobile platforms, but some people still prefer the former. Apple devices, as everyone knows, runs on the iOS software. It's very different from Android in terms of design and functionality. Apple fans have always been very keen to defend the user interface and design of Apple devices. It's much faster and more fluid than that of Android. Granted, fans of the fluid user interface of Apple must also want photo editing software that can keep up. There are not as many types of Android devices as there are Apple devices. However, this shouldn't limit the options for photo editing software among Apple users. Here are a few of the best photo-editing apps for fans of the structured and sturdy Apple device:
Apple Photos
Apple Photos is the default photo editing software available on Apple devices. The app functions mainly as a photo organizer and a sharing tool. The app allows users to quickly and effectively sort and file images. Aside from that, it works extremely well with the user interface of Apple. The software offers basic photo editing features. It has excellent RAW conversion support and pre-set filters. Users can also share their photos in conversations with other Apple users. Moreover, you can sync your edited photos to iCloud or iTunes. This will give you access to your photos through your iPad or Mac. Overall, Apple Photos is best used for simple and quick photo editing. It's pre-installed on Apple devices so there's no need to download anything.
Mextures
Mextures is a subscription-based photo editing app well-suited for use on Apple devices. The software has a well-stocked repository of film textures, film scans, and gradients. These allow you to customize granularity, textures, and gradients. Film-style layers contributed by the photography community are also included. You also get a complete set of standard adjustment tools. These allow you to tweak exposure, contrast, and saturation, among others. Also included are pre-set formulas for textures. These automatically mix and match layers for you. You can combine multiple layers with different textures yourself as well. You can hide individual layers or undo any changes made at any point. Mextures is available exclusively for use on the iPhone and iPad. A monthly subscription would cost only costs $1.99.
Adobe Lightroom CC
Adobe is a very popular and well-trusted brand in photo editing. The company made a cloud-based, mobile version of the software called Adobe Lightroom CC. The software maintains the same set of features as the one for desktop. It has excellent support for compressed RAW photos and a full set of pre-sets. You can even add in the pre-sets that you have purchased, made, or downloaded onto the set filters. There's also a selection of healing brushes and selective adjustment tools.
An in-app camera allows you to take beautiful photos right through the app.  The in-app camera comes with advanced tools for beautiful snaps. Users also get one (1) terabyte of cloud storage for their work. You can back up all your photos and edits to the iCloud. This means you can also access them using your iPad, iPhone, and Mac. Adobe Lightroom also has a modern and clean interface. Lightroom laid out all the editing tools in one panel within easy reach. Overall, this is a powerful yet simple software for clean and professional photo editing. It can run on iOS devices and Android devices alike. The service is free but an upgrade costs $4.99 per month. Without a subscription, you will only be able to edit JPEG files. This service requires an active internet connection while in use.
Final thoughts on How to Edit Photos Using Photo Editing Software
Editing photos on multiple devices couldn't be easier nowadays. It is a natural and necessary part of the photography process. This ensures that the end result is as presentable, professional, and marketable. Amateurs and professional photographers alike often find the need to do a substantial amount of editing. Unfortunately, manufacturers did not design cameras and computers to have built-in professional editing tools. Software developers and app makers understand this. To this end, there is plenty of excellent photo editing software available.
Photo editing software is one of the most useful tools to have on your computer, phone, or tablet. Mobile versions might not have the full capabilities as software intended for PCs. But they still offer an excellent set of editing features. Users can manipulate and edit their images down to the last detail. Most of these services even allow users to edit RAW photos straight from their phones. Some are also able to take beautiful photos right through the application. Some are able to sync with a cloud storage system and other devices. This combination of features will help you edit photos and create stunning results.
The software listed is some of the best we could find. However, there still plenty of other photos editing software available. Some are free but the best ones aren't. If you want professional editing, we can highly recommend commercial products. But free software is also great for beginners and simple editing tasks. You can read this supplementary guide on the best photo editing apps. This will give you more ideas on which type of service might work best for you. We have already included some of the software discussed in the article here. You're welcome to explore other options and try new ways on how to edit photos.