Music streaming has quickly become a part of life. The onset of multimedia software and websites for computer music is a testament to its importance. The combination of these tools make music streaming and downloading very easy. As such, there's really no excuse for you not to be able to listen to your favorite tunes. In this article, we will list the best computer music streaming software. We will also show you the ways that you can download your favorite computer music onto any device.
The Evolution of Digital Music File Formats
The evolution of music has changed in size, shape, and function over the course of centuries. They used to play music using a phonograph, and now most music is available for free on the internet. What are the different computer music file types? The digital revolution for music came in the early 1990s. It began with the development of the first MPEG-1 Audio Layer 3 (MP3) data compression for music. An MP3 is an electronic device that can play MP3 digital audio files. Unfortunately, MP3 uses lossy compression. This means that it could compromise some portions of the file and sound quality. You will get smaller file sizes of MP3s but less quality. Newer types of file formats are able to combine audio quality with file compression. Examples of lossless audio formats include the following:
free lossless audio codec (FLAC)
apple lossless audio codec (ALAC)
windows media audio (WMA)
MP3s were originally designed to be compatible with computers. This allowed people to play music using their computers. That was the beginning of the decline of cassette tapes and music discs. And because the files are completely digital, the music playing is seamless. This means there are fewer chances for the player to skip some parts of the song. This is unlike playing hard discs and cassettes where the player skips.
The Evolution of Music Players
Soon enough, media companies were able to figure out a way to remove the need for physical mediums. They also tried to find a way to enable people to play music without having to rely on a computer. This led to the development and release of MP3 players in the year 1998. The design of original MP3 players were in a similar style to the Sony Walkman-like devices. The very first one still carried the capacity to play CDs. The MP3 players were able to keep music in compressed data formats. The devices were much easier to manage and much lighter than the average Walkman or disc player. This spurred a new era of people being able to bring their favorite music to any place.
The original set of MP3 Players used to be very bulky and expensive devices with short battery lives. The first sets of MP3 players also had limited storage capacities. The storage capacity of the older types was only enough to store the music from one CD set. They also did not have any screens or multi-functional uses such as video players. It was only in 2002 that they released the first multi-media player. Over the years, MP3 players have evolved to become more portable. They have also developed to have more features and larger storage capacities. They are also available for free on almost any device you could think of. Most of the modern players have excellent user interfaces. Not to mention excellent music library functions and sound enhancement features.
Copyright Concerns and Remedies
Although great for the consuming public, this brought about issues on piracy. Media companies were complaining that piracy would run rampant. True enough, the act of ripping music from CDs and turning them into digital files became the norm. Music companies soon adapted to digital means of distribution and new copyright policies. Part of this is the establishment of digital rights management (DRM). They intended to protect copyrighted music from online piracy. This prevents the download and transfer of computer music files without appropriate licensing.
How to Download Computer Music Using Software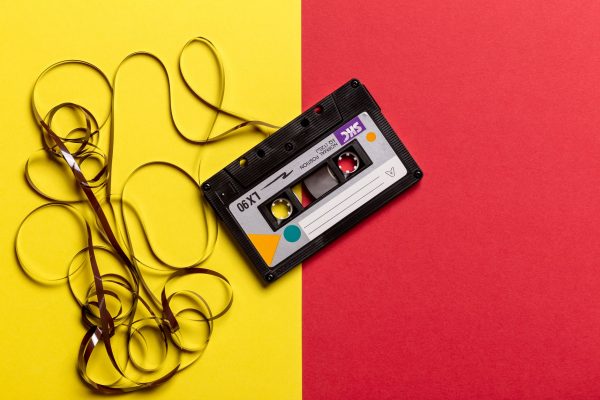 There is a wide range of computer music streaming and downloading platforms available. Most of this music streaming software is available for free over the internet. They function both as a streaming device and downloading platform. Usually, you will not need an internet connection to stream files using the software. The music is also arranged into vast libraries to make it easier for users to search for music. You can browse for the songs you want to hear by artist, album, and genre. You can download most of the files in MP3 format by default. However, there is a long list of online tools available that you can use to convert your MP3 to other file formats.
Spotify
Spotify is an international media services provider. Spotify has an existing collection of over 50 million songs. Because of that, it is perhaps the most popular streaming service on this list.  Spotify lets you stream music, videos, and podcasts. These can come from record labels and media companies around the globe. Spotify is considered a freemium service. This means that the user has the option to go for a free or premium service. The basic streaming features are available with advertisements. Meanwhile, the premium version has additional features. These include offline listening and commercial-free listening services.
Most songs on Spotify are DRM protected. This means you can play them. However, you will not be able to share or download the songs without a Spotify subscription. In order to remove the DRM protection, you would have to purchase the song or album in question. Spotify pays royalties to artists and music companies on a demand-based scale. Artists whose songs get downloaded more often get higher fees than others.
Nonetheless, there is no denying that Spotify is an effective platform. Over the years it has been able to please the demands of multitudes of music fans. As of February 2020, the company has more than 270 million active monthly users. It also boasts of 124 million paying subscribers. Spotify runs as desktop software for Windows, macOS, and Linux computers. It also runs as an application for IOS and Android devices.
Download Music from Spotify
You can download music off of Spotify only if you have a subscription. You also need to connect to Wi-Fi in order to download music from the site. Note that Spotify does not allow for downloads without an account. You can read this comprehensive guide on how to download music from Spotify. However, you will need a Spotify account before you can download any song from the website. You're paying for it, so you might as well make the most of it. Nonetheless, here is a quick overview of how you can download music:
Go to your Spotify Home Page. If you're not sure what the Spotify icon looks like: This is the three black horizontal bars on top of a green circle.
Enter your login information (email address and password) if you are not yet logged in.
Tap on the Playlists icon on the top of the screen or in the middle of the page. This should display your Spotify playlists.
Select a Playlist. On the Playlists tab, tap on the playlist that contains the songs that you want to download. You may also click on the Albums page to select an album.
Click on the grey-colored Download button on the top-right corner of the screen. The switch will turn green which means that the download process has already started. Note: When a song has finished downloading, it will have a downward-facing arrow on the right side.
Amazon Music
Amazon Music is a music streaming platform. It's intended as a support to the online Amazon music store. They launched Amazon Music a year after the establishment of Spotify. It became the first music store to sell music from major music labels. These files are free from copyright protection. Granted they still need to be legally bought through the site. Amazon Music has amassed a vast music library and made it available in one application. Recently, the company announced the launch of high-definition and ultra-high-definition libraries. This allows users to stream a huge library of high-quality audio files. Amazon Prime members get special discounts on the monthly fee for the Amazon Music app. As of January 2020, the company has more than 55 million subscribers.
Amazon Music is accessible through the main web page of the same name. It uses HTML DRM extensions. As we've explained above, this is a form of copyright protection for the files. You cannot share or download the songs without a license. A corresponding music player becomes available when a user purchases any product from the Amazon Music store. You can also download the Amazon Music application from any app store or from the main website. This is compatible with Windows, macOS, and Android devices. It's also available on FireOS, Alexa and smart TV devices.
Download songs from Amazon Music:
Open your Amazon Music Home Page. Make sure that you sign in to your account.
Select the music you want to download. You can select a specific song, album or playlist for download.
If you want to download an entire album: You can tap on the Download button below the album name. You can keep track of the download status of each song within the album on the song list.
If you want to download a specific song within the album: Tap the More Options menu and tap Download. The More button has three vertical dots.
MP3Jam
Free MP3jam is a software dedicated to desktop computers. It helps users find and download MP3 files for free and without limitations. You can search the internet through the website for publicly available music files. You can also download computer music from supported websites. These include YouTube, Free Music on Google PlayStore, and SoundCloud. It has over 20 million tracks readily available to download from these sites. It can also download entire albums that contain your favorite songs. Since the software is dedicated to computer use, there is no app counterpart for it yet.
You can download the software from mp3jam.org. The software is completely free and very useful, but one downside is the number of ads. You just need to dodge the array of advertisements that are coming your way.
Download music using the MP3Jam software:
Click on the software icon from your desktop to open it.
Type in any song title, artist, album, or song category on the search bar.
Refine your search to one artist at a time. Click on the name of the artist. The search results should be divided according to the albums of the artist. The songs are also listed under each album.
Click on the Download button beside the song that you want to download. The download button is a grey downward-facing arrow. You can download songs simultaneously. There's also a play function that lets you stream the file as it downloads.
Note: Steps 3 and 4 refer to download individual songs. You can also download full albums or even share the album through social media. To download albums: Click on the Download album button below the name of the album. This should appear on the left side of the album photo when you click on any artist.
MP3JUICES
MP3Juices is a website dedicated to the download of free music content from the internet. It's an online tool, so it will only work with an active internet connection and a PC. The website generates search results for any song that is available for free on the internet. It's also generally ad-free and converts files quickly. It hosts a variety of websites as the source of its files, the most common of which is YouTube. In any case, here are the steps to download your favorite songs through the site:
Go to your web browser home page. Visit the main website through mp3juices.cc.
Key in the name of the song that you want to download on the search bar. A list of results pertaining to your keyword should appear.
Simply click on the Download button below the song to keep it for offline listening. You can also play the original video file while downloading. Click on the Play button before initiating a download.
Vuze
Vuze is a torrent client used to process torrent files for download. Made by Bittorent, Vuze is a lightweight, all-around torrent downloading client. This means it can process all forms of torrent files. This includes movies, games, and of course, music. The software allows for multiple functions. This includes viewing, publishing, and sharing original quality video content. This is of course in addition to being able to download torrent files. The software is also useful for downloading music content. It has a Web Search and Meta Search support. These let you browse through millions of MP3s available for download on the internet. This saves you the effort of having to download a torrent extension and having to load it up to the software. All you need to do is to key in your song and the system will generate files that you can download.
There are two ways you can get Vuze. There is a free version and a premium version called Vuze Plus. Vuze Plus costs $24.99 per year. This is affordable considering the content you will be downloading is completely free.
Download music using Vuze:
Download and install Vuze. You can get it from the main website or through a third-party website such as download.cnet.com.
Open the Vuze software by double-clicking on the icon.
Key in a song title, artist, album, etc. onto the search bar. The search bar is on the upper-left corner of the screen. The Meta Search and Web Search tabs will appear. The web search results will show you a list of available media from the internet. Meta Search will show you available torrents. You can also choose from a list of torrent sites (Pirate Bay, KickAss Torrents, etc.) from the Show Results box. This is at the bottom right corner of the page. You can pick out your favorite torrent site and the results will be available through Vuze.
Click on the Meta Search toolbar. Click on the Download button on each of the items you want to download. The Download button appears as a downward-facing button inside a blue circle. Your download progress will be displayed right beside the download button. You can also click on the Downloading tab on the right-hand corner to check progress.
Using Internet Download Manager to Keep Computer Music for Offline Listening
Torrent clients are great for downloading music files. However, there is an even faster method to grab music from sites where they are freely available. You can install an internet download manager. This tool allows you to grab any downloadable content straight from the web page or source. All you have to do is click on the Download toggle beside or above the media content that you want. The download settings and resolution are also editable. IDM divides the file into a number of parts and downloads them simultaneously. This makes for fast download speeds. The download manager automatically saves the files to your computer.
Media Players for Listening to Music on Computer
Downloading music to your computer is always a great alternative to online streaming. First, you don't need an internet connection to stream MP3s that you have downloaded. Second, you can never know when your favorite subscription service will remove the content. So downloading it is making sure you have a copy. And lastly, you can choose which music player to use.
Herewith is a list of the best music and video streaming software we can find. All of this software is available on the internet for free. They are also compatible with most computer operating systems. This includes Windows, macOS and Linux computers. And if you are using the latest version of Windows, you might also be interested in this list of the best media players well adapted for Windows 10.
Windows Media Player
Windows Media Player is a cross-platform media and library application. The software is used to play audio and video files, including viewing images on computers. It has the ability to play a wide range of media formats. So having a range of formats within the standard spectrum of music file formats is safe. Anything from MP3s, WAVs, and OGGs shouldn't be a problem. The software also has the ability to copy software and media files from discs. You can also paste software and media on disks using this software. Windows Media Player is available for Windows, macOS, and even Solaris devices. The software was designed by Microsoft. This explains why it is installed by default on Windows devices. It is able to play a wide range of media formats.
Key in Windows Media Player under the search bar of your computer home page. This is the fastest way to search for the readily-installed Windows Media Player on your computer. The software should open automatically. Click on Music or Library. Click on the MP3 file that you want to play and select Play.
VLC Media Player
VLC Media Player is a widely popular open-sourced media player software. The software is available for free on all desktop operating systems. The software has plenty of customization options that includes different interface designs. It also offers excellent support for multiple types of media formats. It also has many free decoding and encoding libraries. These automatically calibrate plug-ins for seamless use.
You can download the software through the main website or through any app store. Like the VLC Media Player, all you need to do is to install the software. Afterward, you'll be able to play any media files on your computer. VLC is also available for all Android, IOS, iPad OS, Windows 10 Mobile, etc.
iTunes
iTunes is the multi-purpose, media utility software. It was originally created by Apple as a support software for the iTunes store. The software is used to purchase, play, download and organize multimedia files. These include movies, music, e-books, podcasts, and mobile apps. The media player function of the software also allows users to copy and paste media to and from discs. iTunes also organizes media into playlists and collections. The software is also able to play files seamlessly and there are also options for customization. The system runs on both macOS and Windows devices. However, if you are using Windows devices, you will need to install the iTunes software as it is not installed there by default.
MPlayerX
MPlayerX is an open-source, media utility software. It is available for Linux and Windows devices, but it is most popular among Mac users. MPlayerX is able to play a wide variety of file audio and video file formats. To be more specific, this includes all formats supported by the FFmpeg libraries. Audio formats supported include MP3, WAV, and OGG / OGM files. This also includes WMA, MP4, and CD audio. It also supports a wide range of output devices. These include X11, DGA, and OpenGL. The media player also gives users the ability to save any streamed content to a local folder. Another unique feature of the software is that it can play DVD discs with mild physical damage. It can stream content from slightly damaged CDS that have minor scratches and breakages. It can also play broken MPEG or AVI files that you cannot open with Windows Media Player.
Kodi
Formerly XBMC, Kodi is a free and open-source media player. It was intended as the media player for the first-generation Xbox gaming console. Thereafter the software evolved to become a free home-based software. Its main purpose is for file streaming and organization.  These include videos, music, and podcasts. You can also stream digital media from the internet or from a local network. Examples of supported sites include Youtube, Hulu, Netflix, and Veoh. The software can be customized with various options to replace interface skins.
Kodie also supports various software and plug-ins. This allows users to stream content directly from online services. These might include Amazon Prime, Cackle, and Pandora Internet Radio. The latest version of the software also supports live television viewing and podcast streaming. There are also electronic program guides. It also supports digital video recorder functions in other devices plugged onto it. The software is compatible with macOS, Windows, and Android devices.
How to Transfer Computer Music to Devices
Your computer is probably where you store the majority of your music files. Granted, and it allows you to play music and do other things using multiple interfaces. It also probably has a larger memory than your handheld devices. Unfortunately, it wasn't made to be carried around for the sole purpose of listening to music. Thankfully, there are ways to share your favorite music with your handheld devices to listen to on the go. For most of these steps, all you really need is a USB cable or even nothing at all. Here are a few tricks to transfer music to your Android phone, laptop computer, or tablet in a jiffy.
Transfer Music to Your Android Devices
Most Android devices are well-equipped to handle music files. And most people opt to listen to music using their phones and tablets. All the functions you need are already integrated onto one device. And gone are the days when you had to purchase a separate MP3 player just to listen to music. Transferring your favorite MP3s from your computer to your Android device only takes a few steps:
Connect your Android tablet or phone to your PC using a USB cable. An AutoPlay dialog box should appear asking you what exactly you want to do with the connection. Connect your phone as a USB storage device or as a media player or MTP.
On your computer, locate the folder with your music files. It's really up to you where you want to keep your files. But there's a dedicated Music folder in Windows to help you out. Copy the folder or file that you want to transfer. We recommend transferring entire folders as picking out select songs would take longer.
Click on the This PC option on the left-hand panel of your main folder. Double click on the Android device under the Devices and drives toolbar. Look for the Music folder among the folders under your Android device.
Paste the folder or files containing the music onto the Music folder of your Android device. You can also drag and drop the music files individually to this folder.
Transfer Music to Your Android Using Windows Media Player
Windows Media Player has the ability to stream and organize media content.  You can also use it to transfer your files to your Android device. The media player has a sync function. This works well with any computer. Most computer operating systems are also able to detect storage devices automatically. Other media players with the ability to sync content include iTunes, Winamp, and Media Monkey. These also work perfectly well for syncing your music to any device. However, Windows Media Player remains as the default for most Windows-operated computers.
How to Transfer Your Computer Music Files Using Windows Media Player Sync:
On the PC, choose Windows Media Player from the AutoPlay dialog box.
Click on the Sync tab folder on the upper-right hand corner of the Playlist. This is beside the Play tab and Burn tab folders. Your device should appear on the right-hand panel of the Windows Media Player. All the songs already contained in your Android device will also be listed below the device icon. You will also be able to see how much storage space your Android has left.
Click on Start Sync. This is a green circular arrow on the right-hand corner of the Windows Media Playlist. The list of songs on the Sync list will automatically sync to your device. To add more songs, simply drag an album or individual songs into the Sync list.
After the file transfer, you can unplug the USB cable from the computer. Make sure to click on the Remove Hardware button on the main taskbar. This will ensure that no files are affected during the USB removal.
Transfer Your Mac Computer Music Files to iPod or iPad with iTunes
The ideal scenario for most Apple users starts with the purchase of music from the Apple store. But if you don't like to have to pay for every piece of music, you can also download Apple music for free.
The iTunes software can work with all your music files. You can purchase your music from the Apple store or download them online. Users are given the option to keep both types of music onto the iTunes library. You can even include music from Youtube onto your playlist. The iTunes library automatically syncs music files across all Apple devices. You just need to sign in to all devices using the same user account. This makes it very easy to transfer your music files from one Apple device to another. The iTunes software gives you the ability to store, play, and organize music. The ability to sync files among multiple devices makes iTunes a unique tool on the music front.
How To Transfer Your Computer Music Files onto your iPhone or iPad:
Connect your Apple device to your computer using the provided dock connector.
Launch the iTunes software.
Select all the files that you want to transfer. You may also click on Ctrl+Shift to highlight all the songs on the list.
Click your Apple device from the Devices section on the left window pane. Drag the highlighted files to the Music folder of your device storage. The sub-folders of your device should all appear on the left-hand panel of the main page. This will automatically copy all the selected songs onto the Music folder of your device.
If there are music files that you also want to upload, you can drag and drop them onto the Songs section of your iTunes Library. Click on the device icon above the song list and click on Manually manage music and videos. Duplicate files fill we replace by the new files you copied.
To start the sync process, click on the Apply button. Disconnect your device once the sync process is completed.
Transfer Computer Music to Your MP3 Player
Most modern MP3 players come with a USB port. Some MP3 Players also use a micro SD card slot for extra storage. If you have an existing micro SD chip interested, you can remove this. You can plug it into an adapter to transfer files directly to the chip. You can also opt to plug in the device with the micro SD chip still inside. If the MP3 player doesn't have a port, you will need a USB connector. In any case, here are the quick steps to transfer music to your MP3 player:
Plug your MP3 player to the USB port of your computer. If your MP3 player doesn't have a USB port, plug a USB connector to the MP3 player before connecting.
Go to the Computer tab from the Start page. You should be able to see your MP3 player under the Devices with Removable Storage.
Double-click on the MP3 player icon. This should open up all the music files and folders already contained in the player. If the MP3 player is brand new, this should be empty.
Select and copy-paste all the MP3 files that you want to save onto the MP3 storage folder. You can also drag and drop them onto the MP3 storage folder.
Final Thoughts on Downloading and Streaming of Computer Music
Downloading and streaming music has never been easier. You have all the options available both for streaming music or downloading them digitally. Downloading your music to your computer is only one way of being able to keep your music collection. In addition, you can also store it on other devices such as your Android phone, tablet, or MP3 player.
However, these storage mechanisms also come with a few risks. There are many ways that you can lose your device, literally and figuratively. To enumerate, your computer is vulnerable to infection due to malware. In addition, it's also possible to lose your data due to accidents or theft. Therefore, it is a good idea to have a recovery plan. For this purpose, we recommend keeping a hard drive with a backup copy of your files.
In addition, we also recommend uploading your favorite music to an online storage system. If you're not familiar with the concept, you can read this guide on the benefits and examples of an online storage system. Keep your favorite music safe with either Google Drive for Windows computers. We also recommend iCloud which is the equivalent of Google Drive for Mac computers. Both are very reliable and completely free cloud storage.
We would also like to note that the tips we provided are only the tip of the iceberg. There are plenty more ways that you can download, store and transfer computer music. This is because there is plenty of software, websites, and devices that can assist you with all these tasks. We hope that this article will be useful in keeping you in the loop about the music that you love. With these steps, you'll have the latest and best music available at your fingertips.