A new FNAF game is on the way, and it is the seventh major installment for the Five Nights at Freddy's franchise. Called Five Nights at Freddy's: Security Breach, it is set for a late 2021 release.
FNAF games slowly but surely changed up their gameplay and plot lines since their debut in 2014. However, many wonder if buying a new FNAF game is still worth a shot. With a seventh title underway, how else can FNAF keep things fresh?
This Five Nights at Freddy's: Security Breach guide reveals everything you need to know about it before buying.
What Is Five Nights at Freddy's?
What Kind of Game Is It?
Five Nights at Freddy's (FNAF) is an indie survival horror game that rose in popularity in the early 2010s. The concept for it is simple: you play as a person working at Freddy Fazbear's Pizza for the summer.
During the day, the place is filled with kids and parents looking for entertainment and food. Freddy Fazbear's Pizza is a restaurant-arcade hybrid, and its star elements are its animatronic robots. Each character brings a smile to kids' faces, especially Freddy Fazbear, the face of Freddy Fazbear's Pizza.
However, when night comes and your shift begins, things in this restaurant are not what they seem. No longer do Freddy and his animatronic friends want to play and please crowds. It seems like they have a mean streak to them, which they will inflict on you—alone at night, in Freddy Fazbear's Pizza, watching security cameras.
In FNAF, you have to survive the night. The animatronics are out to get you, so you better keep a good eye on the security cameras lest you don't make it until sunrise.
Developer
FNAF is the brainchild of Scott Cawthon, an independent video game developer. He finished the game's first full run in June 2014 and spent the rest of his year submitting it to platforms that can release it to a wider audience.
The full FNAF demo made it to the internet by July 24, 2014. In the succeeding month, big gaming names such as Steam's Greenlight would pick up FNAF. It was sold for around $5.
By November of the same year, Cawthon would release Five Nights at Freddy's 2 (FNAF2). The rest of it was history.
Steel Wool Studios
These days, FNAF is known as a horror juggernaut. It is one of the first massively-streamed games and one of the biggest names in YouTube gaming. Gamers on YouTube are partly responsible for the popularity of FNAF. Because of this, FNAF no longer had to be a one-man team. The game was open to many collaborators, with the most popular being Steel Wool Studios.
To many, a jump from indie to mainstream is a challenging task. This equates to a loss of a rugged aesthetic, or worse, a loss of identity in the game. However, by working with Steel Wool Studios, Cawthon made FNAF bigger while maintaining its indie charm. This is because Steel Wool is an independent studio in and of itself. Run by Disney-Pixar veterans and the business' leading programmers, Steel Wool Studios now manages most of FNAF.
Cawthon retired from game development before turning FNAF over to its collaborators. He still has a say on many aspects of the game, but the bulk of the responsibility is now on Steel Wool Studios.
The new FNAF game is the second FNAF major release from them. Five Nights At Freddy's: Help Wanted was the first VR option—a turning point for the series.
When Was Five Nights at Freddy's First Released?
The first FNAF game was released on August 18, 2014. However, a demo for the game was available almost a month prior (along with the trailer): July 24, 2014.
Platforms
The Five Nights at Freddy's games are available on PC and on consoles such as the PS4, PS5, and the Nintendo Switch. As mentioned above, there are FNAF titles that are compatible with VR. These platforms include the Viveport and the Oculus Rift.
To make your VR gameplay better, consider getting the best VR headset model for immersive gaming, which you can use not only for FNAF games but also for over20 VR games available today.
Five Nights at Freddy's System Requirements
FNAF does not demand much hardware from your PCs. The latest title of the game, Five Nights at Freddy's: Help Wanted, requires a Windows 8 operating system at the very least. Along with this, Intel i5-4590 or AMD FX 8350 are its minimum required processors.
As for graphics, Help Wanted needs either an NVIDIA GeForce GTX 970 or an AMD R9 390 graphics card. Storage of 11 GB and memory of 8 GB are also required.
For the best gaming experience, Steel Wool mentions that the game runs best on Windows 10. Recommended graphics cards are either the NVIDIA GeForce GTX 1070 or AMD RX 590.
Older FNAF games can run on less demanding hardware. The first FNAF game, for example, can run on Windows 7, with 1 GB of RAM.
Prices
The FNAF games range from $5 to $15. This depends on the title you're getting, with the VR releases being at higher price points.
New FNAF Game: 'Five Nights at Freddy's: Security Breach'
Development
The new FNAF game is called Five Nights at Freddy's: Security Breach. It was first teased in 2019, and it will be the seventh major installment of the franchise.
FNAF has had its fair share of world-building through the years. Because of this, the franchise spawned even games from outside genres. Freddy in Space 2 is an example of this, which is a side-scrolling shoot-em-'up game from 2019.
However, with FNAF's growing team, Cawthon managed to handle two games at once. Thus, when Freddy in Space 2 was in production, Security Breach was also having its first round of teasers—and in return, publicity. This new FNAF game was to be released sometime in 2020, but much like other awaited games (such as Cyberpunk 2077), it went through production delays.
As the world was ravaged by COVID-19, game developers have had complications in production. At the same time, Help Wanted was proving to be a tough act to follow. Thus, Security Breach had to be bigger, even more than what developers had anticipated.
These production delays kept moving the release date of the new FNAF game. What was once an early 2021 release became an early 2021 tease. Five Nights at Freddy's: Security Breach had its first round of teasers in the first months of 2021. This teased the new FNAF game's title, gameplay, and graphics.
As of now, the new FNAF game release date is still unknown. Many hope it will come out in the last quarter of 2021, but there are no final announcements yet.
Gameplay
While not much is known about the new FNAF game, many expect its gameplay to be pretty much the same. However, with the first round of trailers, it seems like FNAF is upsizing its reach. In the new FNAF game, players can walk around freely in-game. This is a big jump from the first FNAF game, where players could only check security cameras and stay inside their workspace.
The new FNAF game will be bigger than before. Players will be playing inside Freddy Fazbear's Mega Pizza Plex, which is two stories taller than Freddy Fazbear's Pizza. The goal for the game will be the same: survive the night, keep your area safe, and face eerie animatronics if you have to. However, players add a new goal to their list with the new walking feature: get out as soon as possible.
Release Date
As mentioned in the new FNAF game's development, there is no final release date for Five Nights at Freddy's: Security Breach. However, its developers maintain that it will come out in late 2021.
Graphics and Setting
The trailer revealed the setting of the new FNAF game, which is important because of how much location shapes gameplay.
For example, a larger, open area warrants more exploration. Freddy Fazbear's Mega Pizza Plex is dressed as an 80s-style mall, complete with an arcade, cinema, and a glam-rock aesthetic. Called in previews as a "family fun center," this will be the main location of the new FNAF game.
Not much is known about the graphics of Security Breach. However, developers have revealed that it is somewhat of a tall order—the game has never offered this many locations in its history. The trailers reveal a revamping of the game's classic animatronics, giving them the David Bowie treatment.
These antagonists are rockstars, and they want to party with you. FNAF characters have never moved the way they do in Security Breach.
New FNAF Game Characters
On the topic of FNAF game characters, Security Breach introduces glam-rock versions of their animatronics. Returning characters include Glamrock Chica, Glamrock Freddy, Montgomery Gator, and Roxanne Wolf.
The trailer also teases the return of Vanny (or Vanessa, which fans speculate is the same person) and a moon animatronic. However, by the end of the trailer, it seems like a new animatronic is also lurking in the shadows of Security Breach.
Features
Other than walking in-game, there are no other new features teased by the new FNAF game. Still, more details can be revealed as fans get closer to the game's release date.
Value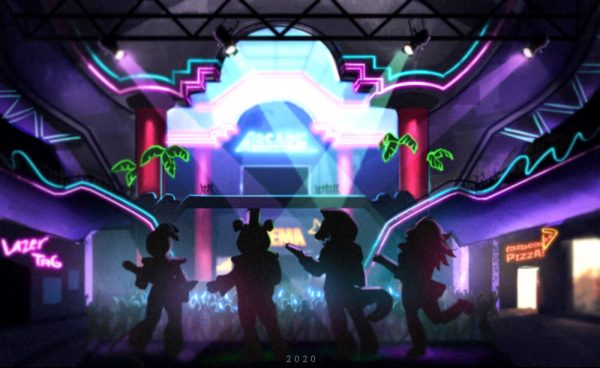 Five Nights at Freddy's was embedded in 2014 culture in a way its developer may have never anticipated. What started as an independent title retailing for under $5 has now become a major title for the PS5.
Not only that, but FNAF also has a large cult following online. Fan theories sprout on YouTube the moment a trailer or a game is released. Because of this, the franchise has been driven to mainstream success, all while maintaining its intimate reach.
The new FNAF game is a testament to how far the series has gone. It also shows where future new FNAF game titles are headed. This new treatment will capture the hearts of old fans but also reel in new followers of the Freddy franchise.
Games in the Five Nights at Freddy's Series
Five Nights at Freddy's (2014)
The first game of the FNAF franchise is Five Nights at Freddy's (2014). As discussed above, you are tasked to keep an eye on Freddy Fazbear's Pizza during the night. However, when the sun comes down, it seems like the restaurant's animatronic characters come to life—wanting to wreak havoc.
Instead of hiring a repairman for these glitches, it seems like security is Fazbear Pizza's top priority. Watch the security cameras from your small (not isolated) office. Keep an eye on these characters, as they try their best to grab a hold of you.
Plan your night while you can. There is limited access to electricity, so you have to be mindful of how you keep an eye on these characters. Nothing is worse than running out of energy for door locks and lights.
Try to last five whole nights, and see where this takes you.
Five Nights at Freddy's 2 (2014)
The sequel to Five Nights At Freddy's came out in the same year. Aptly titled Five Nights at Freddy's 2, this game had similar gameplay but new features. These included new characters with more dangerous features (some have criminal history) and a Freddy Fazbear head, which is for the benefit of the player.
These characters continue to hunt you down as the night looms. The goal is still to survive the night and keep animatronics in order. Freddy and his friends keep you employed, after all.
Five Nights at Freddy's 3 (2015)
Released in 2015, Five Nights at Freddy's 3 has an entirely new plotline. The game is set thirty years after the events of FNAF and FNAF 2. Times have changed, and the events of the first two games are now a part of town lore.
In the most human of motivations, previous owners want to capitalize on this situation. Freddy Fazbear's Pizza has been closed for three decades, but it has a spiritual successor: Fazbear's Fright: The Horror Attraction.
However, to make this happen, players must retrieve what they can from Fazbear Pizza. Owners want the experience to be as authentic as possible, and it won't hurt their budget to re-use original animatronics too.
In true FNAF fashion, there is more to this title than meets the eye, so keep both eyes open.
Five Nights at Freddy's 4 (2015)
By the time Cawthon released Five Nights at Freddy's 4, it seemed like he knew the right formula to a good scare. This is evident in the fourth game's premise, where the animatronics seem to have followed you home.
You now play as a child in this game, and there are no signs of you falling asleep any time soon. Why? There are creatures lurking in the shadows of your house, and they look like Freddy Fazbear and his friends.
Ward these creatures off with your flashlight, but be careful where you point them at. There is a long night ahead of you, and while there is only one door to watch, you never know how many of Freddy's friends want to come to say hi.
Freddy Fazbear's Pizzeria Simulator (2017)
The most unique FNAF game by 2017 is Freddy Fazbear's Pizzeria Simulator, an 8-bit point-and-click game from Cawthon. While it is not titled like a major installment of the series, this follows the events of FNAF 3. Here, you have to design and run your own Freddy Fazbear restaurant. You are in charge of the interiors, pizza flavors, and entertainment of the whole affair.
What might start out as lighthearted sentimental gameplay (Freddy distributing pizzas to happy children) turns out to be another creepy installment from the franchise. An in-game glitch reveals the true nature of Freddy Fazbear's Pizzeria Simulator, where players are put in another tight position against their very own animatronics.
Get Freddy Fazbear's Pizzeria Simulator
Five Nights at Freddy's: Help Wanted (2019)
The latest major installment of the FNAF franchise is Five Nights at Freddy's: Help Wanted. Released in 2019, this is a collection of the best Five Nights features presented in mini-games.
While there is not much new about Five Nights at Freddy's: Help Wanted, this is the first title of the franchise to offer VR compatibility. This alone makes this game one of a kind. Fans all over the world flocked to see the horrific animatronics in VR. These included Chica, Bonnie, and of course, Freddy himself.
Help Wanted also has downloadable content (DLC). These serve as extras you can buy for your game. An example of this is its Halloween DLC, where new mini-games, prizes, and character designs are introduced to the player.
Help Wanted encompasses everything that can be done in a Five Nights at Freddy's game so far. The new FNAF game is streets ahead, especially with its walking feature, which is why it is one of the most-awaited titles of the series.
Get Five Nights at Freddy's: Help Wanted
Get Five Nights at Freddy's: Help Wanted on PS4
Final Word
The new FNAF game is still missing a few details. Its release date, full plot, and new characters are still a mystery. Still, from what fans do know about the game, there is already much to look forward to.
The FNAF franchise has grown from a horror indie darling into mainstream success. Unlike many titles that have switched gears, FNAF keeps its roots alive. The game's aesthetic, whilst smoother and glossier, still has an eerie rustic look to them.
When it comes to gameplay, the goal never changes. It is to put a brave face on and face your childhood nightmares with courage and wit. The new FNAF game challenges this best.