Virtual reality is piercing through to the mainstream. There are so many things you can do with it, like play games or watch the best VR movies. As this happens, prices for the best VR headsets either keep rising or being sold at a discounted price. While the price divide is growing, VR experiences still vary. 
Here is a quick rundown of the eight best VR headset models for gaming in 2020. An added bonus? A guide to everything VR, from the best VR headset to the best VR games you can find.
Best VR Headset Models
The Oculus Quest is at the forefront of virtual reality. It is a wireless VR headset that stands on the shoulders of the Oculus Go, one of the first attempts at wireless VR. This is easily one of the best VR headsets you can own.
For a reasonable price, you get to bring the 571g Quest with you wherever you go. Being wireless, it is a relatively lightweight piece of technology. Gone are the days where you have to fumble around wires. You can have your friends in on the fun too and have Oculus Quest bragging rights along the way!
You might be asking yourself about the Quest's functionality. We get it: there must have been some compromise for its portability?
Despite a sharp display, The Oculus Quest delivers slightly less in power [compared to its partner, the Oculus Rift S]. This detail, while important, usually goes unnoticed. Why? Well, you would be too busy focusing on exploring spaces without limits. With the Quest, you can go on a real quest without worries of entangling yourself around cables.
Oculus's latest offering does not need a supercomputer to function, yes. But say that you wanted to play a game hooked up to your PC? Good news! That's not a problem with the Quest. Though still in beta, this Oculus Quest function already works. You can opt to use a USB 3 cable or get one from Oculus right away. The Quest is limitless at this point and is a strong contender in VR.
All you need are your VR headset and two controllers, and you'll be a step closer to virtual reality with the Oculus Quest. Fund your future wireless escapes with this fun gadget!
The Oculus Rift S is the successor to the original Oculus Rift. It retails almost for the same price, too. If you want a VR headset for a mid-range price, the Oculus Rift S is the best VR headset for you.
Rift S does not let you choose between your accessories' qualities. If you already have expensive gaming hardware, the Rift S gives you less of a hard time spending. You save up on quantity without having to compromise quality.
With the Rift S, you have access to Oculus's extensive gaming library. You also do not have to worry about space: the Rift S supports inside-out tracking so you don't need to worry about wires and external sensors as much. VR wires are slowly losing their relevance per release, it seems.
We won't keep you in the dark about the cons, though. The Rift S bravely decided to downgrade its lenses from OLED to LCD. People were not crazy over the refresh rates, either. Lastly, the Rift S is not HDMI-compatible yet.
These details are relatively minute given the overall functionality of the Rift S. It is more user-friendly than its predecessor and exponentially easier to set up. Actually, this might be the best VR headset of 2020.
There is no denying that the Playstation VR (PSVR) is one of the most affordable choices in this list. People who own a PS4 (or PS5 when it comes out) will get a lot from PSVR for so little.
PlayStation VR users will benefit from Sony's impressive game library. From the dozens released in the PSVR's launch, there are years' worth of games coming your way. One of the most highly anticipated games is Iron Man VR. Bound for a July 2020 release, you can read more about it later in this article. One thing is for sure: you're going to want the best VR headset for this.
You can also use the PSVR with non-VR games. Just click on "cinematic" mode and you can play any PS4/5 game you want! Accessories for the PSVR are mostly sold separately, a decision that doesn't sit well with potential users. The PlayStation VR is already less advanced than its PC counterparts, so the idea of the complete PSVR package costing more is questionable.
Sony eventually amended this blunder by selling VR equipment in bundles. The PSVR is also slowly becoming the most affordable VR headset in the market, and it is easily one of the best VR headsets in 2020. The PSVR is not as strong as its PC contenders, but it makes up for its weakness with fast refresh rates and reliable tracking.
HTC is a high-end VR headset, but is it the best VR headset? It is a popular choice for PC VR gamers in spite of its high price tag. The HTC Vive Cosmos Elite is the first of three Cosmos releases and is not short of astounding.
Graphics are a strong suit for the Elite. Its 2880 x 1700 resolution is one of the highest in the market. That is almost a 14% increase from the Oculus Rift S. It also minimizes VR's screen door effect by using new LCD panels.
Cosmos Elite also gives you all access to the Infinity game library. You can go through hundreds of games, apps, and videos with this VR headset. The shifts from one feature to the other also go by seamlessly. No need to worry about getting dizzy over your choices!
It's also worth mentioning is that this is only the first of three. The next two from the Cosmos line will provide inside-out tracking that will require less space and set-up time. Those are set to be the best VR headsets of the last year.
External sensors are a bane to some VR users' experience. If you are one of these people, maybe consider other VR headsets on this list. Even better, wait for HTC's upcoming launches. They've proven themselves worthy of providing the best VR headsets.
The Pansonite VR Headset is the best VR headset for mobile phones. VR headsets for PC are far from cheap. Even the cheaper headsets are not really cheap, to be exact; they are just less expensive. Pansonite does not give you the PC VR experience but it comes very close. It is designed with comfort in mind, too. Using soft materials and an adjustable headband, Pansonite's VR headset is a successful attempt at affordable VR.
Pansonite's VR headset also has an aux input. As you can see, this is compatible with a lot of smartphones already. So if your phone still uses a headphone jack, Pansonite sees you! It is common practice for VR users to expect light blocking around them since it's a key feature for an immersive VR experience. The Pansonite VR Headset does this successfully despite keeping space open for your camera.
Why does it leave space for your camera? Just in case you choose to play with augmented reality (AR) apps like Pokemon Go. Pansonite's VR headset seems to have considered it all. Your smartphone is a supercomputer, after all. If you do not want to spend on completely new equipment, the Pansonite VR headset is the best choice for you. Watch 360-degree Youtube videos, play VR apps, and save so much money in the process.
Following Samsung's Odyssey HMD is the Odyssey+. This line of VR headsets aim to boost Windows Mixed Reality's (WMR) public reputation.
What is WMR? It's Windows' own brand of Virtual Reality. WMR sports its own fresh content, headsets, and is inclusive of other famous VR platforms. So, there are no worries about missing out on other VR releases.
The Odyssey+ boasts recent access to HTC's subscription library and Viveport support. If you're looking for the best VR headset for Steam, Odyssey+ offers full Steam VR support. As for its features, its resolution is impressive. Samsung's latest offering has a staggering 2880 x 1600 resolution. More notably, it has an exclusive anti-screen door feature. Using fine-grain reduction, the Odyssey+ has almost an undetectable screen-door effect.
While definitely a rookie in the game, Samsung's HMD Odyssey+ is going to make remarkable strides in VR. Buying one already gives you access to thousands of games from Windows, Steam, and Infinity. If you want a light, clear, immersive VR experience, the Odyssey+ is for you. It is set to become one of the best VR headsets as long as they improve on the promise of WMR.
The Valve Index has the best VR hardware you can find. If you're the type to go for the cream of the crop, this headset is your guy.
In the VR game, the frontrunners are Oculus and HTC (Vive). If you base solely on visuals, one can include the Odyssey+ in that lineup. The Valve Index equals their prowess, if not even provide a better experience. The cherry on top? A 120 – 144Hz refresh rate.
Using a Valve Index means (a) no screen door effects, (b) delicate finger tracking on Index controllers, and (c) near-field speakers. This VR headset provides the best audio in the game. All this, including its comfortable materials, comes at a hefty price tag, however. This is usually where the Valve Index is questioned.
The Valve Index costs just shy of a thousand dollars, double the price of its competitors. This is worth the buy if you are a VR geek. It is much less so for people starting out in VR, though. Also, you have to make your verdict on the Valve Index quickly: its price tag does not scare people off easily. Orders for the Valve Index are being secured left and right, and stocks are running very low.
The choices for smartphone-powered VR headsets are expanding, and the Samsung Gear VR secures its spot in this space. This might be your best VR headset option if you're saving up on other luxuries. Samsung Gear's pride and joy are its controllers. It adds a layer of immersive virtual reality that not a lot of phone VR headsets offer.
If you are downgrading from the main VR brands, Gear borrows HTC's Vive controller designs. In contrast, this is a good start if you want to make up your mind on VR. The Samsung Gear VR is light and durable and has a USB-C connector that smoothly connects to your Samsung phone. The best phones for this are the Samsung Galaxy series. Like in every piece of respectable tech, a newer phone provides a better experience.
This is affordable, lightweight, and does the job well. It also shared an app and game library with the Oculus Go, so the Gear VR series is something to look out for.
VR Headset Buying Guide
Price Range
For the best VR headset, prices can either be cheap or expensive. Rarely is there a stark middle ground. As said above, even middle-class VR headsets are costly. Remember to check prices before you buy anything. The usual choices for PCs are the Oculus Rift series and the HTC Vive. The former is less expensive than the latter, but the specs do slightly differ.
If you're looking for something worth the buy, know what you want first. If you already have a PS4 or are planning to buy the PS5, the PSVR is the cost-effective choice. Scoring the perfect PSVR bundle can save you hundreds of dollars.
The cheapest of the VR headsets are those for your smartphone. Most of them cost less than a hundred dollars. Google's VR offering, though nothing more than a glorified cardboard to some, is only $30. This is perfect for those who want to try out virtual reality apps or use Youtube's 360 feature. The price of the best VR headsets ranges far and wide, so remember to know what you want out of your VR experience first.
Durability
Most VR headsets can withstand a dent or two. This will depend on the material they're made of, but durability is constant in VR headsets. The more expensive, hardshell headsets for PCs can endure a few minor falls. The cardboard VR headsets, not so much. Notably, the cheap VR headsets most likely hold your smartphone. Proper handling is especially important around them.
If you're doing a background check, remember that the best VR headset is one that suits your needs. If you are a clumsy person, you may need a heavy-duty VR headset. In comparison, preferring an easy and lightweight experience calls for a more compact VR headset.
Luckily for most of us, virtual reality headsets are starting to go wireless. There will come a time where tangled hardware will be near obsolete.
Controller compatibility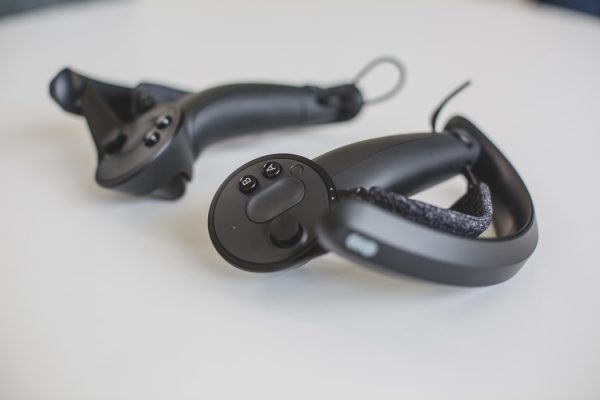 When you dabble in virtual reality, you want to plug in its world. Ideally, you are not only plugged in through your ears, eyes, and head: you want to interact with it too. The fantasy of "gripping" objects in a natural way is something all VR users want.
This is why VR controllers are also important and should be considered in your purchase. Make sure you buy a VR controller that you are comfortable with using. Additionally, get a VR headset with at least standard controllers. that mimic your gamepad. The best VR headset for gaming might be these.
You can check online if your gamepads are compatible with the VR headset of your choice. Also, Playstation users know of the Playstation motion controllers. If you have an all-Playstation VR gear, then compatibility is easy. As for other VR headset brands, there are exclusive gamepads per brand. The large price on the Valve Index is attributed almost exclusively to their finger-tracking technology. Other VR gears include full bodysuits.
Device availability
The easiest item in the what-to-look-out-for list is the accessibility of what you want to buy. Virtual reality is quickly penetrating the mainstream, and the number of people searching for the best VR headset is going up. With the market growing, high-end headsets are also producing these headsets faster.
Making your mind up on which VR headset is best for you may take a while. Reiterating our previous points, though, you should decide quicker. Inventory, especially for high-end VR headsets, is limited. They are vast, yes, but they sell like pancakes nowadays. Preorders are the name of the VR game now.
Comfort, Fit, and Space
This is self-explanatory: if you want to make the most out of your VR experience, it's best if you feel comfortable while doing so.
Standard VR headsets require a substantial amount of set-up. Some need tracking cameras that can capture as much as a 15 x 15-foot room. Consider how much space you're willing to make for a VR headset before buying one. Other VR headsets have built-in tracking to address any space issues. Consider getting these, as well as wireless VR headsets (Oculus Quest, anyone?) if you don't have much living room space to spare.
It also isn't surprising that one of the main concerns in VR is headwear comfort. These headsets are mostly made of hard plastic, and putting them on for hours is bound to become uncomfortable over time. On the topic of comfort, we suggest looking into three things: (1) what the headpiece is made of; (2) if said headpiece has cushioning; and (3) if it is adjustable.
Why Get a VR Headset?
Immersive Gaming Experience
The unique selling point of VR is the multidimensional gaming experience it offers. It brings an alternative to being laser focused on your screen for hours.
At best, Virtual reality feels like a Jumanji daydream. Instead of bringing the game to you, VR headsets bring you into the game. You will physically escape with your favorite characters, stories, and worlds. There is no limit to VR because it is founded on imagination. And as everyone knows, there is no limit to our imaginations.
VR is costly and there is no going around that. But it brings an endless amount of things to do, especially since the VR world is fastly growing.
No Other Hardware Required
Though this is not true for all VR headsets, the new roster of VR tech needs less to no hardware. The quick innovation of VR is making big strides in eliminating wires and other heavy hardware that breaks immersion. Earphones are beginning to be built in, too.
The release of the Oculus Quest is the tip of the iceberg. Know that there is no going back from here, so now is as good a time as any to buy the best VR headset you can find.
A Whole New Genre of Games to Explore
VR game libraries are wide. Most brands have their own VR stores with exclusive titles. The repository of VR games is growing by the hundreds; there is one for everyone at this point.
There is a category for everyone. You can play shooting games, sports games, role-playing games, puzzle games, and world-immersive games with your VR headset. You can virtually do whatever you want without consequences in the world of VR. You can become a superhero, a race car driver, a renegade zombie killer, or a magician. Sometimes, maybe all of them at the same time!
What Else Can You Do With a VR Headset?
Virtual Reality thrives on its endless possibilities. It is not only a medium for high-quality gaming, though. The best VR headset for gaming can also be great for other purposes. VR is adapted in entertainment, education, and even medicine!
Watch Movies
You can watch your favorite movies, TV shows, and YouTube videos on your VR headset. If you have your phone hooked up to your VR headset, then anything can be experienced in VR.
The best VR headset for mobile can make you feel like you're in a cinema. Actually, any of the high-end VR headsets can function like this. It is up to you if you're down to keep your headset on for a feature-length film.
Experience Things You Wouldn't Be Able to in Real Life
Virtual reality is even more relevant these days. It's hard to explore anything other than the four walls of your house nowadays. Missing out on travel destinations and trips this year does not have to be short of fun. And exploring sights and scenes in the world is costly even without a pandemic. The best VR headset you can find can be expensive, but that means you can take trips anytime at the comfort of your own home, too.
Not to mention, you'll see the world from an entirely different point of view. There are limitations to what a human body can fit through. With VR, you can see the world from a fish's, mouse's, and even a bird's point of view.
VR makes you see the impossible, too. Crossing over to a world of fantasy and/or horror has never been easier. Long story short? If you need an escape, your best VR headset has got you covered.
Emulate Life-Like Simulations
Immersive experiences are what VR is for. So, it's no surprise that it is being used for educational purposes. The medical practice benefits greatly from virtual reality because it can be used for lessons on human anatomy and surgery without risking a human being's body. VR creates ideal environments for practice operations and class discussions.
Therapy sessions also increasingly use VR. This technology is used by therapists for relaxation, rehabilitation, and phobia confrontation. Virtual reality brings you above the sky, under the ocean, and inside your imagination. It simulates realities without having them affect you in real life; it is a safe space for one's mind.
Artists can also have a ball by buying the best VR headset. Creating landscapes, buildings, and other three-dimensional art has never been easier and more efficient. Their creative minds are set free in virtual reality. They can express and sell their ideas better through VR technology.
Best VR Games and Apps to Try
No Man's Sky
Hello Game's original release of No Man's Sky was not made for VR. The game's concept, though, begged to differ. No Man's Sky is an action-adventure game that finds you exploring and experiencing different randomly generated worlds. With a VR release, No Man's Sky is now a completely immersive experience.
If you want your imagination to run wild without having to put the work in, get No Man's Sky.
PlexVR
Movies and TV shows are the best time killers. Being on your sofa is fun, sure. But what if you could watch your favorite films like you're inside a movie theater?
This will give you that sentimental sensation. Plex is a media streaming platform for Google Daydream's VR experience. Using Plex, you can not only choose to be in a movie theater but also a cozy luxe apartment. There are a lot of viewing environments to choose from, and there is one for everyone.
Even better: you can watch it with your friends. With Plex VR, you can invite up to three friends to watch your movies with you. You can also do voice chat while watching. Getting Plex for VR will make you miss your friends a little bit less. Isn't that lift what virtual reality is all about? Learn how to watch movies with friends easily, and you can do so in a pinch.
Defector
If you've ever wanted the Mission Impossible experience, get Defector. Game developer Wilson's Heart created this VR intense spy action game.
This is one of the most liked VR games of 2019. Using your best VR headset, get into a world of missions, action, and sleuthing while going through some of the best-rendered VR we have.
Iron Man VR
The most anticipated VR game release of 2020 is definitely Sony's Iron Man VR. In the 21st century, it's rare for anyone to not know Iron Man. Marvel has dominated media this past decade, and now we don't have to just watch them. You can finally experience being Tony Stark in your own home.
Set on a July 3 release, this VR experience gives you your own Iron Man helmet and JARVIS in the HUD. Sony is poised to win over VR fans with this immersive and graphically exhilarating experience. Learn how to control your own Iron Man suit and feel unstoppable with the Iron Man VR while also complete missions. You didn't pay for this game to just fly around all day!
Budget Cuts
Budget Cuts is a lived human fantasy. In this game, you are a recently fired employee wreaking havoc in your place of work. Robots are now taking over human jobs, so you stealthily destroy your former employers, TransCorp, by destroying their robots. Sneak around your office building and stab evil robots all day! It's your choice on how you want to want your previous company to fall. Prepare vengeful laughter.
Half-life: Alyx
First-person shooter games never go stale. Succeeding Half-Life (1998) and Half-Life 2 (2004) comes Half-Life: Alyx, a VR FPS game by Valve. You, Alyx Vance, are on a mission to steal a superweapon from the alien Combine. In doing so, you fight enemies, explore the virtual environment, and even make objects fly.
This game is a must-buy as it has fan-favorite aspects from the original. This includes a lot of physics puzzles and survival horror.
VRChat
VRChat is a journey to an alternate dimension. A dimension where you keep your consciousness but leave the physical world behind for a bit. In this app, you can do almost everything you do in the real world. VRChat is a platform where you can meet friends, attend classes, concerts, play games, and more. It is a 2000's AOL chat room come to life.
You won't be in one place because this is VR. You can go through portals that bring you in different dimensions. One moment you're in the medieval times, next thing you know you're on a spaceship! Meet people there, or just explore them with your friends.
There is a vibrant community in VRChat. It's a community where you can look however you look and do whatever you want to do! VRChat users claim that the platform helps them get through tough times. This is not surprising, because the community is a reflection of the human condition.