If you're looking for something to lift your spirits (or have them leave your body in fright), you can't go wrong with horror games. Horror games are arguably the most terrifying medium to experience anything spooky. When watching horror movies, you can simply cover your eyes or change the channel. But horror games? They put you in the shoes of the characters in the game, which means you can't scream at them for making dumb decisions.
There are so many creative ones to look out for, especially in the indie game community. If you're brave enough to handle it, here are some horror games you should definitely check out. From survival horror to psychological horror, we have a game for every kind of fear, perfect for this spooky season and even beyond.
Horror Games That Will Scare You Senseless
1. Little Nightmares
This beautifully designed puzzle-platformer is purposefully vague, and that makes it all the more creepy. In Little Nightmares, there is very little that we know of the story. You play as a small girl named Six, who must traverse through the ship called Maw. Along the way, you can pick up items, solve puzzles, escape the clutches of the ship inhabitants and, most importantly, hug the little Nomes.
Nobody knows exactly who Six is and why she was trapped in that ship. The story is up to the interpretation of the player. Its quiet yet unnerving atmosphere gives off a Tim Burton-esque vibe.  To top it off, there is no dialogue at all, so you won't get a feel of the story unless you're looking out for the clues. If you want something subtle and mysterious, this is the game for you.
2. Amnesia: The Dark Descent
The Amnesia series is a popular horror game that will make you feel like your sanity is slowly deteriorating. It follows you, as you uncover the secrets of the supernatural through journal entries and puzzles. You can collect items along the way, as well as keep track of your sanity as you go on.
The game does a good job of giving you an immersive experience with the sound effects and voice acting. The art style gives off an old, creepy Lovecraftian horror vibe. It's something you'll want to play, especially with the new installment, Amnesia: Rebirth, coming out.
3. Outlast 2
In this (literal) cult classic, you investigate the mysterious circumstances of a brutal murder. You play as Blake Lagermann, an investigative journalist; you and your wife end up getting separated in a plane crash. As you search for her, you discover the disturbing secrets of a mysterious cult and uncover its connections to a death in your past.
Outlast 2's cinematic gameplay makes it as enjoyable to watch as it is to play. You have a ton of new controls and features to use this time around. For instance, you can record and playback footage from a video camera, as well as see with night vision. The whole experience will give you an eerie feeling, and it's as if you're living through a horror movie.
4. The Watson-Scott Test
Ever wish Buzzfeed quizzes were just a tad existential, horrifying, and/or sentient? Then maybe you should check out the Watson-Scott Test. The game is quite simple. All you need to do is answer a multiple-choice question about your fears and anxieties. According to the game, it is meant to understand the root of the things you're afraid of. You have to answer truthfully each time because the game can tell if you're lying.
While it isn't horror per se, you are kept on the edge of your seat the whole time, wondering how this game will end. Ironically, this game does a good job of increasing your fears and anxieties. With a simple yet unique concept, this is an interesting game that you (probably) won't regret playing.
5. Sign of Silence
In this terrifying horror title, silence is literally the name of the game. It is a co-op game where you end up in a car accident underneath a bridge and somehow live. Lost in the middle of the woods, you must find your way out and around the horrifying monsters lurking in the dark
The objective is to find items to help you escape or distract the monster long enough for you to do so. You also have to sidestep a couple of obstacles on the ground that will attract the monsters. It is one of the most fun multiplayer online games that you don't want to miss.
6. Dead by Daylight
If you've ever wanted to experience being both the Final Girl and Jason Vorhees, Dead by Daylight is your game. It is another co-op game where you have to survive until the end. You are placed on a map with one killer and three other teammates. To escape, you have to fix the generators scattered across the map before the killer can get to you.
What's great about this game is that you can choose many characters from iconic horror movies. Steve and Nancy from Stranger Things are there, even the Demogorgon. You can even play as Michael Myers or Pyramid Head. Each character has a unique skill set, and killers even have special abilities based on their franchise. It's a fun game to play with friends and can be both a barrel of laughs or completely horrifying.
7. Phasmophobia
If you want to live out your inner Ghostbuster, you should check out Phasmophobia. It's another co-op horror game with a unique twist. The game relies on audio from the in-game voice chat to operate. In Phasmophobia, you and a ghost hunting crew have to complete a specific set of tasks inside a haunted location. This may include witnessing a ghost event, or even just taking a picture of a dirty sink.
To try and draw out the ghost haunting the area, you can shout out their name, and the game will pick it up. Afterward, you have to regroup with your teammates and figure out what kind of ghost was haunting that location and escape. You earn in-game money depending on what tasks you've completed, which you can use to buy specific items. Just make sure you leave with your sanity intact.
8. Deceit
Aside from Among Us, there are other creative ways to betray all of your friends. Deceit gives you the chance to do this, with a creepy twist. In Deceit, you either wake up as Innocent or Infected. If you're Innocent, you have to escape the asylum you are trapped in along with the other Innocents. If you're Infected, you have to kill all of the Innocents before they do so. Infected players can transform when the lights are out and try to infect other players.
The Innocents don't know who among them are the Infected, but raising suspicion and voting out who they think it is will help win the game. It's a lot of fun, especially if you know how to use Discord voice chat.
9. BioShock
BioShock follows Jack, an airplane crash survivor. Seeking refuge from the storm, Jack discovers a passageway to the underwater city of Rapture, a once glittering city meant to be a paradise for the most brilliant of minds. As Jack comes into contact with a man named Atlas, he is tasked to discover the secrets of Rapture, and encounter the forgotten creatures and inventions haunting the area.
If you're looking for something unnerving and layered with a little bit of mystery, you'll enjoy BioShock. The beautiful graphics breathe life into the underwater world of Rapture. Although not categorized as such, it has elements of survival horror that is sure to spook you out of your wits.
10. Until Dawn
We're all familiar with the cabin-in-the-woods movie trope, but have you ever played it? In Until Dawn, you won't have to berate characters for splitting off from the group or being blissfully unaware of the surroundings; you have all of the control.
You will get a chance to play all of the characters in a group of friends staying at a cabin in the winter. With a killer on the loose and accidents waiting around the corner, every decision you make will play an important part in the story. However, you can rely on totems to give you a glimpse of the future. It's another great playable horror movie that will have you reeling from its sheer intensity.
11. P.T. Silent Hills
You may know P.T. as the demo game that left many gamers hanging. P.T. (short for Playable Teaser) Silent Hills blew up in the gaming community, making us realize the dangers of dark and seemingly empty hallways. It banks on that eerie feeling creeping up on your neck that you are being watched, despite being completely alone.
The psychological horror is set in one corridor, as you loop back, again and again, to discover new surprises at every turn. As you meander about the hallway, you discover little bits and pieces of the story come together. Feeling lonely? Then you should play P.T. Silent Hills so you always get the feeling that someone is behind you. As of writing, you can only re-download the game on PS4 if you've already had it before, but we're hoping for a remake sometime in the future.
12. Misao
Misao is a visual novel horror game. You play as a classmate of an often out of place and bullied girl, named Misao. After she goes missing, you must attempt to find her and restore everything back in order.
The game comes in pixel-style graphics and great voice acting. It's an eerie indie game that visual novel fans will surely enjoy.
13. Dead Space
This sci-fi survival horror game will surely make you anxious for what's to come. In this dark dystopia, you play as Isaac Clarke, a man on a rescue mission to save a distressed spaceship called the USG Ishimura. They arrive at the much larger, city-sized ship only to discover that it has been overrun by crewmate-turned-monsters.
Thanks to wreckage from their own ship, the crew must use technology from the Ishimura to escape. It's up to you, Isaac, to repair the ship and uncover its secrets. Just be wary of the many jump scares at every turn.
14. The Evil Within
The Evil Within is another third-person survival horror game that you should check out. In this dark and gritty horror, you are tasked to get to the bottom of several strange and unexplained murders that occur in Beacon Mental Hospital. Your character, Detective Sebastian Castellanos, observes that this isn't a simple crime of passion. And there is a much larger game afoot.
You must sidestep booby traps, avoid sudden monster appearances, and do whatever you can to get out alive. The monsters in this game are all unique in themselves and bring the game and its world to life. The hardhearted Castellanos is the perfect gruff protagonist needed to navigate through this gory and bloody game. It's surely the best horror game that any fans of the genre will enjoy.
15. World of Horror
With an art style reminiscent of the master of horror himself, Junji Ito, World of Horror paints a retro-like RPG you'll surely love. In this spine-tingling horror game, you have to interact with characters and make the right decisions as you participate in a "choose your own adventure" of sorts. You play as someone looking into the mysterious occurrences in a quaint Japanese town. After finding out that the town has devolved into chaos thanks to a god, you must investigate the five you find most suspicious.
The game's graphics provide the best of both worlds; living up to its retro aesthetic and giving us the macabre and grotesque horror we came for. The battle scenes are superb, highlighting the interesting characters you meet along the way. This horror game has everything you are looking for and more, so make sure to check it out now.
16. Alice: Madness Returns
Wonderland is an unforgettable, whimsical fantasyland — but it's easy to mistake delusion for whimsy sometimes. At least, that is what it feels like for Alice once she loses her family in a fire. Struggling to differentiate madness from reality, Alice must get to the bottom of her family's murder in this thrilling sequel.
We follow Alice as she alternates between Victorian England and Wonderland, attempting to solve the mystery. With stunning cut scenes and visual effects, Alice: Madness Returns gives us a beautiful, dark, Tim Burton-esque take on the characters we know and love.
17. Alan Wake
Fans of Twin Peaks or Supernatural will appreciate this intriguing horror game set in the sleepy town of Bright Falls. Alan Wake, a popular author, is on vacation there with his wife, before she gets abducted by mysterious circumstances. The more he stays there, the more Alan realizes how weird things are getting in Bright Falls.
Your objective is to help Alan complete his tasks around town to figure out where his wife could be, and why this small town is riddled with anomalies.
18. Ib
In this pixel-style indie game, you play as Ib, a girl who gets lost in a museum. Thanks to a power outage, her world turns upside down thanks to a power outage that carries her over to another dimension. In this frightening alternate universe, the museum paintings come to life and become a looming threat over Ib.
Despite its cute graphics, the psychological horror game is filled with scares at every turn, willing you to look over your own shoulder. To play, you must solve puzzles and make choices to keep Ib alive and eventually escape.
19. Five Nights at Freddy's: Help Wanted
Everyone knows the Five Nights franchise that blew up in 2014. The player gets the night shift at a fast-food chain called Freddy Fazbear's, where the animatronics are haunted and come to life at night. It's your job to keep an eye out and manage to survive the night alive.
Best experienced with a VR headset, Help Wanted gives an extended look at the horrifying universe we once loved. In this game, we get access to several minigames containing characters from all of the FNAF games. This new VR version of the game is sure to make the experience even more horrific.
20. Layers of Fear
Layers of Fear's eerie and subtly unsettling atmosphere makes walking around in a big house downright terrifying. Like P.T., Layers of Fear's story relies on walking through hallways and piecing together puzzles to fully know what's going on. At first, you roam around and find notes from two people who seem to be arguing about something. You'll encounter other weird items like paintings that may or may not move, and dolls that may or may not run towards you.
The psychological horror will make you second guess yourself a lot, wondering whether or not what you saw was actually part of the game or just imagination.
21. Friday the 13th: The Game
Like Dead by Daylight, Friday the 13th allows you to play as both the killer and the victims. In this 1vs7 game, you get to be in the shoes of Jason Vorhees as you attempt to kill all of the other players before they manage to escape. Alternatively, the players' objective is to escape before this happens.
The game contains three maps, all inspired by locations from the actual film. Jason has special abilities that he can use as an advantage over the other players. You can make use of voice calls during the game to make it feel like you're living through a slasher flick.
22. Limbo
Limbo is a quiet puzzle-platformer with little-to-no dialogue but a rich — albeit slightly ambiguous — story. Much like Little Nightmares, there is little canonical lore we can glean from this game; it's all up to the interpretation of the player. In this harrowing adventure, we play as a young boy who wakes up in a monochromatic dark forest.
In Limbo, you soon discover that there are many ways you can be endangered in the forest—from nature to predators, to even other humans. As the boy journeys further down the line, he must use his wits to try and escape each time. The game has a unique ending that will make you want to replay it to look for clues as to what it could mean.
23. Stay Close
Stay Close is a co-op survival horror game where you and a few friends are dropped in a mysterious area with no clue what's going on. After exploring the map, you will eventually make your way to a man in a shop who will give you a set of missions to accomplish.
After completing your missions, you then have access to other areas on the map. You can look for hidden clues as to how you have found yourselves in this town. You need to complete several puzzles in order to complete each mission.
24. Pacify
Pacify is another great indie horror game you should check out. You can play with other friends as paranormal investigators that have to enter a haunted mansion and escape from a girl that switches from being passive or violent. To keep the girl pacified, you need to complete a set of tasks around the mansion.
If the girl turns evil, it will chase and attempt to kill you. There are several game modes you can play with Pacify, this includes either a single or multiplayer. You can also opt to do competitive gameplay where you need to complete more tasks than your other teammates. For an indie game, it has so many features packed that you wouldn't expect.
25. Silent Hill: Shattered Memories
Silent Hill: Shattered Memories centers on a single father's journey to regaining consciousness. This is the seventh installment in the Silent Hill series; however, it acts as a standalone with its own unique plot. It's an interesting and creepy horror game meant to make even the player think twice about what's real or not real.
Harry Mason, the protagonist, must search for his missing daughter in the middle of the sudden onslaught of a snow storm. You must solve puzzles, brave the adventure, and make smart decisions that will impact how the story flows. It's a melancholy and tragically beautiful horror game you won't regret playing.
26. Slender: Eight Pages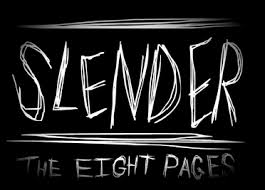 Slender Man has caused many a nightmare since the myth became widespread in Creepypasta subreddits. This adventure horror game is a unique take on this terrifying monster. In Eight Pages, you must collect every page before Slender Man can get to you.
It is part-puzzle and part-survival horror as you make your way through a thicket in a dark and gloomy forest. The experience is definitely hair-raising — there's nothing quite like being chased down by a tall, faceless monster in a suit.
27. Eternal Darkness: Sanity's Requiem
Eternal Darkness starts us off with the brutal murder of Alexandra Roivas' grandfather, in a sprawling and eerie mansion. She vows to investigate his death after being told that the police are coming up on dead ends. As she uncovers the secrets of the mansion, the game truly begins.
Although often compared to Resident Evil, Eternal Darkness has many unique features to make it a cut above the rest. It has a complex story that is better experienced than told. You may also make use of magic and weapons to face the onslaught of zombies that are out to get you.
28. Fatal Frame II
If you thought Fatal Frame was horrifying, then you're in for a treat in Fatal Frame II. In this not-quite-a-sequel, we follow twins Mio and Mayu and the Camera Obscura, a lens that will help you learn the stories of the ghosts it captures. It banks on the cultural belief that whenever you take a picture, you capture a soul.
The sisters use the camera to find and investigate the paranormal occurrences in a small village. There you will meet a gaudy and daunting cast of characters that will haunt you in your nightmares. If you want a horror game with a little bit of mystery and just a touch of magic, then Fatal Frame II is for you.
29. Fran Bow
Fran Bow is a hauntingly beautiful indie game about grief and processing emotions. This might not be the first thing you think of when you think of "horror games," but there are still elements of creepiness and terror to lull you in.
Heavily based on Alice in Wonderland, Fran Bow's quiet yet intense atmosphere often feels far more intense than the jumpscares you get from other such horror games. The art of Fran Bow is definitively creepy but also playful and childlike. It also manages to deal with the topic of mental illness in an informative and sensitive way. If you're looking for something beautiful and somber yet equally horrifying, Fran Bow is your game.
30. SOMA
SOMA is a combination of existential and survival horror that will drive sci-fi fans wild. In this dangerous, action-packed thriller, you, Simon, find yourself in a research facility beneath the sea, with no one to trust. Surrounding you are several artificially intelligent robots who have become almost sentient thanks to a rogue virus.
A majority of the game is spent solving puzzles and questioning your morality. All of this is set in a beautiful, underground facility with malicious creatures waiting just around the corner.
31. Amnesia: Rebirth
The latest installment of the series, Amnesia: Rebirth has shed some new light and lore into the games that we've loved in the past. In Rebirth, you wake up in a desert with no clue where you are, why you're there, and how to escape. This desert is filled with abandoned temples and other interesting locals for you to explore.
You must traverse through the barren land and piece together what the others meant to leave for you behind. In the process, figuring out why you ended up there and what it all means.
32. Metro Exodus
Metro Exodus is a post-apocalyptic horror game that takes place on a road trip in Russia. You're all aboard the Metro, staring out at the vast and empty desert. As the trip ends to a stop, you end up in the vast, gloomy ruins of Moscow. It's up to you to uncover how and why you got there.
In Metro Exodus, you get access to a myriad of new features available. For instance, you get new combat features as well as the ability to use binoculars. It's a great, dystopian survival horror game you'll enjoy.
33. Off-Peak
Commuting can be a nightmare, but never was it meant to be this creepy. In this brilliant indie horror game, you find yourself in a cathedral-like train station amidst a few curious-looking strangers. The station itself feels like it's holding secrets of its own, waiting to be uncovered.
The highlight of this game is its musical score, setting a slightly unnerving and yet tempting ambiance all over the train station. This game is meant to be played slowly, taking in the quiet whimsy of this not-quite horror game. With a beautiful art style and a wide map that will tickle your curiosity, this surely is a game you should check out. It is free to play on Steam.
34. Silent Hill 2
Silent Hill 2 is such a staple of the horror game genre that it needs no introduction. It follows the escapades of James Sutherland after he receives a letter from his dead wife. He returns to the town of Silent Hill, only this time with new characters and stories.
The game is lauded by many for its chilling horror and intricate puzzles, and for good reason. With a heartbreaking story and unsettling cinematic cutscenes, it's no wonder this game has been recognized by so many game journalists.
35. Alien: Isolation
Based on the classic alien horror movie of the same name, this is the story of Amanda Ripley, daughter of the iconic Ellen Ripley. It has now been a few years since they lost the Nostromo, and Amanda has grown into an adult. She is offered a job as part of the new crew on board, and she agrees, wanting to get closure for herself.
As soon as the crew takes off, she soon realizes that whatever plagued them before has come back with vengeance.
36. Stories Untold
In this age of games with beautiful graphics (like Genshin Impact or any of the new PS5 games coming out), it's rare to see a text-based video game. And, in the horror genre at that. With Stories Untold, we get the paradoxical experience of playing a simple game modernized for today's standards.
Stories Untold is best experienced without knowing too much about it. It includes four horror stories that will give you tingles down your spine. Each of the stories is unique in itself, more terrifying than the last.