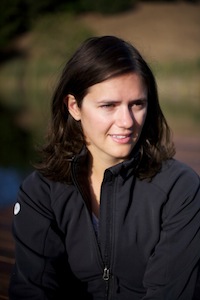 In Robots Podcast episode #93, Sabine interviews Erin Rapacki, who previously worked at DEKA, iRobot, and Anybots, and is currently Product Marketing Manager for Mobile Robots at Adept Technology. In the interview, she argues that robotics research should be more driven by real-world problems in need of marketable solutions, and that they should take advantage of available platforms, such as those available from Adept, rather than continually reinventing the mobility aspect of their projects. She also discusses the prospects for cloud robotics and states that many of the missing pieces roboticists have been waiting on have arrived, mentioning faster processors, tablet computers, and the Kinect. Ms. Rapacki recently authored a guest post on the IEEE Spectrum Automaton blog, titled "Dear Reader, I Have News for You: Robots Are Boring" in which she states:
What we need from robotics companies and roboticists everywhere are more boring robots: Robots that would be most appreciated when they complete a task in a manner that is smooth and economical; robots that investors and companies can trust building business models around.
As you might surmise from this snippet, "boring", as she uses it in that post, means approximately the same thing as the FDA's "safe and effective". And while it might sound like doublespeak, in most circumstances boring is good.
Read On
or
Tune In