According to the report published by Credence Research, the global value of the medical robotics market will rise to $20 billion by 2023. Nevertheless, not much has been said or heard about the rising trend of robotic surgeries. However, a lot has been happening in the fields of orthopedics, neurology, and laparoscopy.
Before we pry on the use of robotics in the medical industry, we will have a run through at the technology itself.
What Is Robotics Technology?
Robots are the next-generation saviors in the medical industry. This is because they can perform repetitive human tasks effectively and more efficiently. Robots are custom fit to respond to a particular environment, situation, or task. Blending robots with artificial intelligence has made them smarter. Moreover, AI has also made them capable of making decisions. This is what we call robotics technology. Integrating technologies for devising processes that automate mundane tasks. Furthermore, while enhancing the efficiency of the same, robotics technology has surfaced diversion over innovation.
And when the medical industry put such technology to work in, the benefits are far from just appealing.
Types Of Robotics
Robotics in healthcare is one of the trending facets of the medical industry today. With rising technological domination, the industry is witnessing a massive transformation. With the help of the variants present, aligning robotics and medicine is no longer an aggravating issue.
Rehabilitation
One that provides support to aged individuals by substituting one of their disinfected body parts. Furthermore, it helps them better with their body movements.
UV Disinfection Robots
It is used as part of the regular cleaning cycle. Moreover, it aims to prevent and reduce the spread of infectious diseases and other types of harmful microorganisms in the environment.
Biomedical Robots
Bio robots are the type of robots that help improvise the learning process of surgeons and dentists. These robots work in collaboration with human experts, imitate cognition, and train professionals by using a virtual environment to diagnose and cure diseases.
Surgical Robots
Remote surgeries were once considered fiction. However, scientists laid tremendous efforts to transform this fiction into reality. Today, we have surgical robots that perform surgical operations. They work under the influence of an expert or even in stand-alone conditions. Also, the precision rate of these remote surgeries is higher than one done by professionals.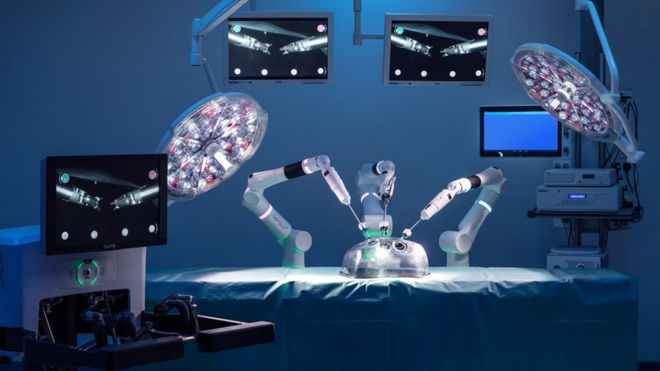 Telepresence Robots
Telepresence robots help professionals keep an eye on their patients remotely. Furthermore, these can move around, communicate, and tender effective patient care. A wheeled device with tablets and wireless connectivity, telepresence robots fall among the best implementation of robotics in healthcare.
Robotics In Healthcare – Application & Uses
Many of you would argue on the fact that robotics is just for automation and manufacturing industry. However, robotics in healthcare has experienced greater traction. More than 200 companies have invested in robotics technology. Moreover, they are seeking ways to expand this investment.
It is imperative to know what and how does robotics in healthcare transform the industry. In line with this, we listed some of its applications and uses.
Device Packaging
Medical supplies are fragile and open to the risk of contamination. Many believe that when humans are part of sterilization pieces before packaging, medical supplies are more prone to contamination. This can jeopardize the viability of the element. To avoid this, professionals today are making use of robots or to an extent, cobots to automate the entire process of packing and leverage the efficiency.
Lab Automation
We are aware that every day, millions of blood tests fill diagnostic labs worldwide. Collecting, assessing, and analyzing each takes a lot of time and is far more repetitive. The healthcare industry today revolutionizes the entire lab work by integrating robots to perform the same. Not only does this layers automation but also reduces time and cost burdens. Employing machines to perform critical tasks reduces the chances of human error and in a way, leads to precise results.
Surgeries
Surgical robots or cobots work in conjunction with medical experts. They are guiding them to perform surgeries or for that matter, invasive procedures effectively. Cobots are used to place a microscope in a position. It gives a better view of incision, thus enhancing the surgical procedure.
Bone Cuts
Laser bone ablation is one of the tasks done by CARLO system. This is a cobot which under the guidance of an expert, performs ablation process. It is where the bone is cut to remove the benign part. Furthermore, it has been found that the effect of cobots in ablation is better than the operation done by man.
What The Future Holds For Robotics In Healthcare
No doubt, robotics in healthcare has taken the lead on the front. This transition does not seem to stop. A research team as led by one of the best researcher, and the associate professor of robotics engineering and mechanical engineering at Worcester Polytechnic Institute, Gregory Fischer, is working on a model that aims to build a connected, high-precision surgical robot which would operate within the MRI scanner bore, electronic control systems, and also the software that works with to enhance the accuracy of prostate biopsy accuracy.
To build such a surgical robot, one that functions from within the MRI scanner, he, along with his team, faced tremendous technical challenges. As the MRI scanner has a very powerful magnet, the robot, taking along with the sensors and actuators, need to use nonferrous materials.
"On top of all this, we had to develop the communications protocols and software interfaces for controlling the robot, and interface those with higher-level imaging and planning systems," Fischer says.
An excellent initiative, though, a question that begs here is if robotics in healthcare would challenge human jobs. The pace at which the industry is accepting automation might lead to machines performing manual processes, in a way threatening human workers. However, it would be too soon to predict anything. Given the cost of technology and the essence of human touch, robotics in healthcare still has a long way to go.