There are many Star Wars Battlefront 2 mods to choose from. Each can shape the gameplay, story, characters, and even in-game effects. Others even go to these mods for custom loading screens. This all depends on what you want out of the Star Wars franchise and what its community can do for (and with) you.
With hundreds to choose from, knowing the most worth-it Star Wars Battlefront 2 mods can be a challenge. This article highlights your best choices for enhancing your gameplay.
What is Star Wars Battlefront 2?
Star Wars Battlefront Games
The Star Wars Battlefront games reimagine each player as a soldier in the Star Wars universe. It is a shooting game with first- and third-person options. Players can choose if they want to fight for the light side or the dark side, and each side have unique characters with abilities that can swing the fight in their side's favor.
The Battlefront series follows a classic combat structure with a Star Wars spin. The maps you play in are based on the films, with the developers paying as much attention to detail as possible. Replicas of the forests, planets, and even creatures you see in the movies are present in the entire Battlefront franchise.
Play as your favorite Star Wars characters and even meet fan favorites. Yes, this means navigating a mission with R2D2 by your side. Do all this by riding your X-wing that has the look and feel of the fighters that you see in theaters.
Battlefront 2, a sequel to the 2015 revival, updates the references and gameplay of the base game. It also gives players access to items from the latest Star Wars films, specifically The Rise of Skywalker. Adding to this is a single-player story mode that will tug on your heartstrings, if not make you more of a fan of the space opera.
Use the Force for good or bend it to your deepest darkest whims since Battlefront gives you the freedom to do both. Best yet, you get to play as any soldier and character that made an appearance in any of the Star Wars trilogies.
Platforms
The Star Wars Battlefront series, at least those that were released in 2015 and 2017, is available on all modern-day consoles. This includes the PlayStation 4 and the Xbox One.
Still, you also play the game through PC. You can get your copy of Star Wars Battlefront and Starwars: Battlefront 2 on Steam today. These are also available for purchase on the official EA website.
System Requirements: Minimum
Those interested in playing Star Wars Battlefront 2 on their PCs have to meet at least minimum system requirements if they want to play the game without any hitches. As the game packs a punch, your machine must be able to meet its minimum system requirements.
At the very least, your personal computer must be running on 64-bit Windows 7 SP1, Windows 8.1, or the Windows 10 operating systems. Its processor must at least be an AMD FX-6350 or an Intel Core i5 6600K.
You must also have a minimum RAM of 8 GB and a graphics card of either AMD Radeon™ HD 7850 2GB or NVIDIA GeForce® GTX 660 2 GB. Player hard drives must also have at least 55GB.
As for DirectX, you must at the very least have an 11.0-compatible video card or something of the same stature. Lastly, your internet must be 512 KBPS or higher to play Star Wars Battlefront 2 smoothly.
System Requirements: Recommended
Every gamer knows that the best way to enjoy a game is by meeting its recommended system requirements. By having this, you get the most out of your gameplay. For a universe as diverse and developed as Star Wars, making the most out of your game is what everyone wants.
EA recommends that players use operating systems running under 64-bit Windows 10 or later to play Battlefront 2.
As for processors, the best way to enjoy Battlefront 2 is with an  AMD FX 8350 Wraith or an Intel Core i7 6700 or equivalent. Your hardware's memory is recommended to be 16 GB RAM with a hard-drive space of 55 GB.
To run the game's graphics in the highest definition, EA recommends AMD Radeon™ RX 480 4 GB or NVIDIA GeForce® GTX 1060 3 GB graphics cards. It still also endorses that you have a DirectX 11.1-compatible video card.
If you want all of your Star Wars Battlefront 2 games to run well, you should have a 512 KBPS internet connection or higher.
Gameplay
Star Wars Battlefront games are simple: first, you have to choose between the Rebel Alliance or the First Order. By choosing your team, you are shaping how this game pans out for you. Will you be on the light or dark side? The answer to this will determine the characters, abilities, and locations you'll be able to play.
Battle zones are generally different, like in the movies. Since the maps are replicas of the Star Wars films' locations, each battle zone will vary in theme and size.
In general, this functions like every other shooting game you know. There are command posts in each battlefield that you have to either capture or neutralize (depending on your side). However, you must do this as you wean off enemies shooting at you in every direction.
Played often as a multiplayer experience, this is where your teammates come in. Generic characters make the playing field winnable for both sides. On the other hand, those with high-profile Jedis or Sith are most likely to quickly turn the battle in their favor.
Your goal is to capture or neutralize the command posts. Levels will mostly also have objectives that you have to meet at least once. Sometimes, players have infinite waves of opponents arriving to take them down, seeing how far they can go in the game.
These can be played on maps such as Hoth, Endor, Tatooine, Sullust, and more.
Graphics
The Star Wars Battlefront series have come a long way when it comes to its graphics. Available on modern platforms, the game is filled with detail and accurate replicas from the Star Wars universe.
Endor, for example, will have traces of Ewoks. While this does not necessarily change Battlefront's gameplay, it does do its job in making everything immersive.
There are not a lot of graphic differences when it comes to Battlefront. PC, PS4, and Xbox One players need not worry if they are making the most out of their games. Battlefront molds each console to fit its beautiful sceneries and almost open-world locations.
Best Star Wars Battlefront 2 Mods
Moose's 8K Darth Vader (Redux)
What better way to start this list of Star Wars Battlefront 2 mods than by having the best version of Darth Vader possible? This 8K Darth Vader (Redux) mod, made by a modder named Moose, renders the iconic villain in the highest quality for Battlefront 2. Everything about his character design, from head to toe, went through serious retexturing to look lethally stunning.
By getting this mod, you can also receive custom face-mask grills, fabric detailing, and game maps. The best feature of it all is the list of lightsabers you can choose from. Enhance your Battlefront 2 game by maintaining Darth Vader's menacing persona in 8K.
Get Moose's 8K Darth Vader (Redux)
Battlefront: Halation
There must be a lot of Star Wars and Halo fans because Star Wars Battlefront 2 mods like Halation just keep growing the base game's audience. With an active modding community and over 6,000 downloads (and counting), Halation is one of the best Star Wars Battlefront 2 mods you can get today. Basically, this mod incorporates Halo elements to your Battlefront 2 game. This includes two custom maps from the Halo universe, a customized heads-up display, and custom sounds and music from the beloved franchise.
The most important features of this mod are the playable UNSC and Covenant characters. This brings a feeling of the Halo universe into the world of Star Wars. Rounding off this mod are four new maps for every player to explore and battle on.
There is no need to worry about this mod being deleted due to copyright, either. Halation, according to its creators, falls under Microsoft's Game Content Usage rules. You will be playing safe and well with this mod.
Zombie Infection Mode
Almost all games are enhanced by any incorporation of zombies. Zombie Star Wars Battlefront 2 mods come and go, but there is only one celebrated Zombie Infection Mode. This game mode is similar to Deceit, a great and fun-to-play horror game.
Only playable on the Tantive IV, the Zombie Infection Mode has you facing intergalactic zombies. As a part of The Empire, you must hold the line for as long as you can to save your team. If you do not do this, everyone dies or, worse, gets infected. There is also an option for players to play as zombies. As the first zombie, your role is to infect everyone and reign supreme. Should this be your cup of tea, this mod has you covered.
While this mod is one of the best Star Wars Battlefront 2 mods you can have, please note its requirements. To play Zombie Infection Mode, you must have [RDH]Zerted's UnOfficial v1.3 Patch.
Without getting too specific, this has the timer and settings you need to run this mod. Also, note that this mod works on the older version of Battlefront 2.
Luke Skywalker (The Mandalorian)
The Mandalorian series is one of Disney+'s most popular TV shows. In fact, it is even one of the best Disney+ shows and movies you should watch right now.
Minimizing spoiler reveals, this mod changes Luke's appearance in your game. The beloved Jedi appears in The Mandalorian series, wearing a hood down for private measure. Reading on this series will reveal a few other The Mandalorian Star Wars Battlefront 2 mods. This is only the beginning, as the mod changes Luke's hair, gloves, clothes, and even his lightsaber.
Note that this will only represent Luke in his default character on The Mandalorian.
Get Luke Skywalker (The Mandalorian)
Better Loading Screens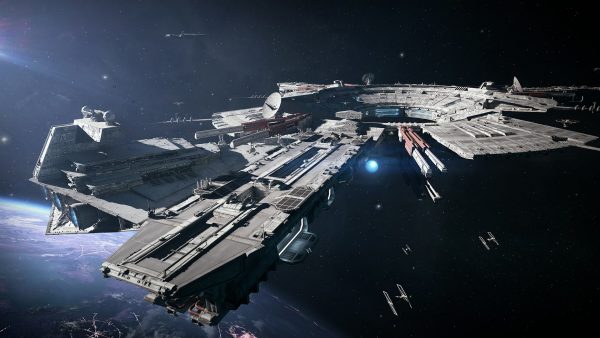 The concept for some Star Wars Battlefront 2 mods is simple. This is the case for Better Loading Screens. Self-explanatory, this mod, with over two thousand downloads, will change your game's loading screens. No gamer likes seeing their loading screen. If anything, getting to the game as quickly as possible is the goal. However, if you are to see one, you might as well enjoy what you are looking at.
According to the creator of this mod, Better Loading Screens "changes" each level's loading screens so that they are less boring to see. Some of the locations or shots used for this mod's loading screens are Endor, Death Star II, Starkiller base, Jakku, and Naboo. There are many other loading screens you can use through this Battlefront 2 mod.
Best yet, this mod is constantly updated with new loading screens. Download this and use a no-holograms mod to use this to its fullest potential.
Clone Commando Over Chewbacca
With a long name, this Battlefront 2 mod just replaces Chewbacca's first skin. It also swaps Chewbacca's bowcaster and sounds with Clone Commando features.
Clone Commandos are top-of-the-line members of The Galactic Republic. This will be a bit of an upgrade depending on how you look at it. If you were a big fan of Star Wars: Republic Commando, this mod is a must-have.
Get Clone Commando Over Chewbacca 
Deggial's Jango Fett 2020
A passion project for modder DeggialNox, Jango Fett 2020 brings an entirely new Jango Fett to Battlefront 2. A fan-favorite character, Jango Fett appeared in Star Wars: Attack of the Clones (Episode II). He was one of the first known Mandalorians in the series, making Disney+'s The Mandalorian possible.
Going back, Star Wars Battlefront 2 mods such as this one breeds customization. From the custom Jango Fett (never before seen in the game) to higher definition textures, all down to Jango Fett Starcards, this mod is for all Jango fans. There is even a custom WESTAR-34 Blaster Pistol that comes with this mod. It replaces Bobba Fett's EE-3 rifle and is reported to have a smooth transition in the game.
This mod has had over 21,000 downloads since its conception. It is truly a for the fans and by the fans project. Its latest update was in June 2020.
Instant Action Prequel Trilogy
Using the Instant Action Prequel Trilogy Battlefront 2 mod, you can replace the reinforcements and heroes of your game. More importantly, this also repositions your games exclusively to the timeline of the Star Wars prequels. Thus the characters, weapons, jets, skins, and more are based on the Star Wars prequels only. This mod removes the other eras of the franchise not because they are not good, but because you want to double down on the prequels!
Bring eight new characters in the mix, as this mod allows you to play as Ashoka Tano, Mace Windu, Jango Fett, Savage Opress, Captain Rex, and more. One of the best Star Wars Battlefront 2 mods you can get, this will prepare you to remember everything about the less talked-about prequels.
There are also many weapons and skins that come with this mod. Prepare to enhance your Darth Maul and play with the famous RELBY-V10 Rifle, DP-23 Shotgun (from the original Battlefront 2), and a modified Modified DC-15A.
Make the most out of your download with Star Wars Battlefront 2 mods like this one.
Get Instant Action Prequel Trilogy
Ortho's Obi-Wan Retouch
Those who have been following the Star Wars series know that there are many ways to depict Obi-Wan. Star Wars Battlefront 2 mods like Ortho's retouch your in-game Kenobi.
With this mod, you can render a higher definition Obi-Wan Kenobi with better skin, realistic facial features, and detailed costumes. Modder Ortho writes that this Obi-Wan mode makes "wrinkles more present around [Obi-Wan's] his eyes, which are now bluer and truer [to the character]."
As mentioned above, you can even change up the rendering of Obi-Wan's robes with this mod. This does not mean everything's good and shiny, though: should he go to battle, his robes will weather with him. You can set all of these texture qualities and more. Best yet, experience all of this possible in 4K. This mod will allow you to see what is possibly the best virtual rendition of Obi-Wan in Battlefront 2.
Mandalorian Mod
The Mandalorian is a successful branching out of the Star Wars franchise. While this is not the first time Star Wars released a TV show, it is its first successful live-action project. Because of this, many have been interested in this Mandalorian mod. Boasting over 16,000 downloads, this mod adds Din Djarin to your Battlefront 2 game.
Note that downloading this mod will get rid of a version of Han Solo, specifically his Beckett's Crew setting. This may be a worthy exchange to you, depending on how you see Han.
There are many Star Wars Battlefront 2 mods that replace set characters for fan favorites. However, this one manages to be very popular despite this.
Din Djarin is The Mandalorian, an intergalactic bounty hunter that finds a new mission of protecting The Child. His features include high-class armor and an even more iconic helmet. He was an active mercenary during the New Republic.
Bryce's Filmic Firefights
On the topic of changing up physical appearances and rendering the game in high quality, Bryce's Filmic Firefights is a mod that everyone will enjoy. This mod revamps your lightsaber's effects to the highest degree. Expect bright flashes, impacts, and blasts. You can also expect realistic renderings of the smoke from every battle.
Should you enjoy these, add-ons are even possible with this mod. You can customize your combat however you want. Immersing yourself in a realistic Star Wars battle scene is becoming less and less impossible.
Jedi Master Aayla Secura
Along with Ashoka Tano, Aayla Secura was a stand-out Jedi Master from the Clone Wars series. Hailing from Ryloth, she also has a strong connection to the Force, making her a force to deal with on her own.
Downloading Star Wars Battlefront 2 mods like this will create a bargain of characters in your game. For Jedi Master Aayla Secura, you will be replacing all of Rey's outfits.
This is not for naught, though. The features of this mod stack high both in number and quality. Expect custom hero portraits, star cards, weapons, and even emotes. It will be difficult to even believe that Aayla Secura did not come with the base game because of her over 70 voice lines.
Should you be willing to give up some hero time for Rey, go and experience the Aayla Secura way.
The Crazed Brother
Next up on this list is The Crazed Brother mod, another mod inspired by The Clone Wars. Darth Maul is a widely celebrated villain of the Star Wars franchise, which means there are many interpretations of him available online.
This mod borrows from The Clone Wars series and portrays Maul as a crazed, menacing warrior. While the original character has its fair share of ticks, this mod heightens that and makes him all the scarier. Specifically, this mod has custom weapons, lightsaber features, and facial details. Modder Genezhine, who created this Battlefront 2 mod, writes that he wanted a 'haunting' and 'scarred' Maul.
This is exactly what you get here. You have not seen Maul this detailed or emotive in your Battlefront games yet. Add this to your roster of Star Wars Battlefront 2 mods and you will not be sorry. Note that this is not compatible with other Darth Maul mods that change his weapons or body.
Better Force Lightning
On the topic of menacing, you can also shape how powerful the Emperor looks in your game. Powered by the dark side, the Emperor is known for his destructive lightning. The Better Force Lightning mod is self-explanatory at this point.
The Emperor is capable of far more than what Battlefront 2 shows you. Download this mod and make him shoot thicker and brighter lightning that looks as painful as it is. Grow his power and leave his opponents frightened of his dark aura and hang glow effects.
The Finest of 501st Ultimate Edition
Rounding up this list of Star Wars Battlefront 2 mods is The Finest of 501st Ultimate Edition. Based on the Clone Wars once more, this mod gives you access to the best 501st characters from the battles of the animated series.
To begin with, play with the four high-ranking and popular warriors from 501st. These are Commander Vill, Commander Bow, Commander Appo, and Captain Rex. You can even tap into the Hero of Umbara, who once won battles against Yoda, Obi-Wan, Anakin, and more in Clone Wars.
You can also expect weapon and vehicle change through this mod. Paint jobs for the AT-RT and LAAT are available, for example.
The cherry on top would be the custom loading screens that shape your Battlefront game into a true celebration of the best 501st characters.
Get The Finest of 501st Ultimate Edition
What Are Star Wars Battlefront 2 Mods Used For?
Mods are short for modifications, which will alter some (or all) aspects of your game. The Star Wars franchise deals with a galaxy far, far away. Because of this, there are too many possibilities for its features, characters, and stories.
The modding community celebrates this by shaping their Battlefront games into what they want from the Star Wars universe. You can use Star Wars Battlefront 2 mods to add characters, change up weapons, enhance effects, or even play new game modes.
A common reason to use mods is to add special features to characters and explore all-new maps. If you don't like the fact one character is not in the base game, these mods help you realize your dream Battlefront game.
The best thing about the modding community is that each upload and download gives fans more to look forward to. Developing games is a herculean task, and modding keeps the flame of a three-year-old game alive.
Final Word
You can choose from many Star Wars Battlefront 2 mods. Shape your gameplay however you want to, but take note of the requirements of each mod. Some of these can be big downloads, so it is best that you know you are getting the most out of it as possible.
Such is also the case for lower-stake games like The Sims 4 mods, which customize your game the way you like it.
Enhance your gameplay and celebrate the Star Wars franchise by downloading Star Wars Battlefront 2 mods.