The expansive catalog of Disney Plus shows and movies offers something for everyone. Because of this, everyone has experienced fatigue from choosing what to watch. If this rings true to you, do not blame yourself. There is only so much you can watch, and having FOMO is a stressful thing to have. 
To help you choose, this list runs down 53 Disney Plus shows and movies that you should check out right now. As a bonus treat, we have also included shows that you should look out for in the future.
Before we get on with the list, do you have a Disney Plus subscription? Or are you still deciding on whether you should get it or not? Beyond its catalog, there are other features in store for every Disney Plus member. This Disney Plus Review will tell you what kind of perks await if you subscribe to this streaming platform.
Disney Plus
Brief Description
Disney Plus is a streaming platform from Disney, one of the world's biggest media conglomerates. It has all your Disney favorites and classics, from The Mandalorian to Bambi. It also has top-of-the-line bonus features of Disney's best and most popular material, including but not limited to the Marvel and Star Wars franchises.
The platform would not be a Disney-owned service without the best kid-friendly content available: Disney Channel originals and every Pixar feature are on Disney Plus, too.
Any Disney Plus subscriber can attest to the benefits of having an account on the platform. If you know how to download Disney Plus movies, you can even enjoy these benefits offline.
Available Categories
Because of Disney's hold on several companies, The catalog of Disney Plus shows and movies is diverse and impressive. On Disney Plus, you can access content from Disney, Pixar, Marvel, Star Wars, and even the National Geographic channel.
The variety of content will change per show you access. Still, you can expect drama, comedy, animation, reality, and unscripted documentaries on Disney Plus. There are also new variety shows featuring the Muppets and beloved celebrities coming your way on the platform.
Visit the Disney Plus Official Website
25 Best Disney Plus Shows
The Mandalorian
Disney Plus shows were already expected to be great before the platform's launch. As the parent company of Marvel, Star Wars, and the National Geographic Channel, there were no limits to what Disney Plus shows could offer.
The most popular of their collection is The Mandalorian. Deemed by critics as a "Space Western", the Star Wars original series is about the titular bounty hunter named Din Djarjin. Played by Pedro Pascal, he is a lone wolf who is thrust into new responsibilities when he meets The Child.
The Mandalorian is one of the best Disney Plus shows you can access right now. With a second season underway, it will not hurt to get started on this galactic epic. Should you wonder about how this all fits into the Star Wars saga, The Mandalorian is between Return of the Jedi and the Force Awakens.
As a bonus for Disney geeks, The Madalorian is written and executive produced by Jon Favreau. If you do not know who he is, he is one of the brilliant minds responsible for the Iron Man franchise and the entire Marvel Cinematic Universe.
Watch The Mandalorian on Disney Plus
Agent Carter
Agent Peggy Carter (Hayley Atwell) trudges on after the events of Captain America: The First Avenger. Set in the 1940's, she works for Howard Stark and with his butler, Jarvis. Unfortunately for her, working with super geniuses always breeds conflict.
Good thing she's one of the country's best agents, though.
Agent Carter is not a Disney Plus original show. Still, it cements itself as one of their best offerings, especially if you like period pieces and Marvel lore.
Watch Agent Carter on Disney Plus
Marvel's Agents of S.H.I.E.L.D.
Speaking of Marvel Lore, everyone may remember Marvel's Agents of S.H.I.E.L.D. Released shortly after the first Avengers movies, Agents of S.H.I.E.L.D. focuses on Phil Coulson's team of spies and superheroes.
The difference between this and other Marvel ventures at the time was that this is a T.V. series. However, Marvel fans need not worry because this is the brainchild of Avengers' director Joss Whedon.
As for its plot, audiences get to join in on the day-to-day events of S.H.I.E.L.D. (Strategic Homeland Intervention, Enforcement and Logistics Division). Coulson and his agents investigate the peculiar and strange people in the world. By doing this, they deem them threats or allies while keeping every human being safe in the process.
Produced by ABC in 2013, Marvel's Agents of S.H.I.E.L.D. is a great choice from the roster of Disney Plus shows. It introduces Marvel fans to the not-so-little people working behind the Avengers. Characters here have backgrounds in biochemistry, espionage, hacking, and the martial arts, giving something for everyone.
Watch Agents of S.H.I.E.L.D. on Disney Plus
High School Musical: The Musical: The Series
High School Musical was a worldwide phenomenon for kids and teens alike. Released in 2006, this coming-of-age musical film covered themes of friendship, identity, and the status quo. Its influence sprouted a Sharpay Evans spin-off, a series of books, and a large collection of merchandise.
This series, though, uses High School Musical differently. Passing off a chance to reboot the franchise, Disney Plus offers an original take on your favorite Wildcats story. Borne out of this is High School Musical: the Musical: The Series.
This is a scripted series with 10 mockumentary-style episodes. In it, high school students are preparing for a production of High School Musical. If you loved the original film and give this series a chance, you will find a lot of laughs and nostalgia.
Disney Plus shows are great in knowing their audience, and this meme-filled take on a classic shows just that.
Watch High School Musical: The Musical: The Series on Disney Plus
Diary of a Future President
Included in the original Disney Plus shows you can watch now is Diary of a Future President. Produced by Gina Rodriguez, this is a series about the life of Elena Cañero-Reed, a 12-year-old Cuban-American girl. However, Elena is not just any girl because she's destined to become the U.S. president.
Through a rundown of her diary, you get to see her tumultuous life in middle school and how her experiences led to the leader she is today. Rodriguez plays the adult version of Elena, while newcomer Tess Romero stars as her 12-year-old version.
Watch Diary of a Future President on Disney Plus
Encore!
Many will know Kristen Bell as the voice behind Frozen's Princess Anna. Her success in the globally loved musical makes her one of the Disney greats. Now, she took the pleasure of producing a show that makes people reignite their love for music once more.
Encore! is a reality show that brings together the past cast members of different high school musicals across the United States. Once reunited, they are given the chance to stage their previous musicals one more time.
The secret sauce of this show is its heartwarming moments. This is especially true when you watch these people come to terms with memories and emotions from high school.
For most of these people, a lot of life has happened since their high school musicals. Encore! helps them reconcile who they were back then and who they are today.
This is easily one of the must-watch Disney Plus reality shows that is available in its impressive library.
Hannah Montana
In recent years, Miley Cyrus has come into her own as a unique and talented musician. Still, most people her age probably will always remember her as the star of the hit TV show, Hannah Montana.
Disney Plus shows and movies have a lot of new content, but that does not mean that they will be glossing over the classics. Hannah Montana is about a teenager named Miley Stewart leading a double life: she transforms into a record-breaking pop star once she dons her iconic blonde wig. Still, she deals with your average teenage problems like love, family, and friendship.
This is not only a great way to take a trip down memory lane, but also a great show to introduce to the younger generation. Hannah Montana is a feel-good show that continues to make a positive impact today.
Watch Hannah Montana on Disney Plus
Even Stevens
A natural TV trope for children is the rollercoaster relationship between two siblings. For Disney, this is most evident in Even Stevens.
Audiences worldwide now know Shia LaBeouf's name because of his work on the Transformers franchise and in several indie hits. However, there is a huge chunk of people that know him from his days in Even Stevens.
LaBeouf stars with Christy Carlson Romano as Louis and Ren, respectively. Louis is a mischievous boy who hatches many plans that often fail. Ren, on the other hand, is an overachiever with an uptight personality.
In Even Stevens, we see the siblings go through rivalries and team-ups to adapt to usual teenage problems. Through each episode, you are taken on a comedic journey of two siblings just trying to balance school, friendship, self, and family.
Watch Even Stevens on Disney Plus
The Suite Life of Zack and Cody
Another Disney channel show that thrives on the dynamic of two siblings is The Suite Life of Zack and Cody. This series is one of the most popular classics from the Disney Plus shows catalog.
Its premise is simple: Zack and Cody are twins who live in a hotel room with their mom. They wreak havoc and chaos in the hotel as they go on their adventures. These boys are not alone in their adventures, though: they often team up with the hotel heiress London Tipton and candy counter girl Maddie Fitzpatrick.
Watch The Suite Life of Zack and Cody on Disney Plus
Boy Meets World
Boy Meets World has a simple coming-of-age premise that is sure to win over your interest. Following Cory Matthews through sixth grade until college, young fans who watch Boy Meets World would feel less alone in their experiences.
While this show is fiction, its problems and topics are based on real-life problems a lot of teens go through. Matthews is joined by his best friend Shawn, his love interest Topanga, and his mentor Mr. Feeny as he matures into a young man.
As the characters grow up, Matthews and his friends learn about societal issues like poverty, harassment, and alcoholism. This show is very much rooted in reality and is somewhat a guiding light to teens struggling with similar problems.
The library of Disney Plus shows is better because of its inclusion.
Watch Boy Meets World on Disney Plus
Star Wars: Clone Wars
Any Star Wars fan would know that there is a three-year gap between Attack of the Clones and Revenge of the Sith. Star Wars: Clone Wars is an exploration of all the events that happened between the two prequel films.
Relive Anakin Skywalker and Obi-Wan Kenobi's best adventures as they lead the forces of the Republic against the Separatists. Also joining them is Anakin's padawan, Ashoka, who begins as the show's moral compass.
As time progresses, however, she begins to question the forces behind the Jedi Order and the Republic. Being Anakin's padawan, she sees things about these supposedly noble groups that she never expected. She begins to challenge who the forces of light and dark really are.
This show ran for eight seasons, with the last season being exclusive to Disney Plus shows and movies library. While the prequels leave fans of the series polarized, almost all would agree that Clone Wars is worth your viewing.
Watch Star Wars: Clone Wars on Disney Plus
The Simpsons
One would not usually associate the Disney Channel with The Simpsons, but the Disney Plus shows and movies catalog is full of surprises. Disney is now 20th Century Fox's parent company, so they can now distribute this cartoon and include it into their streaming service.
There is not a big plot to The Simpsons, but everyone knows that it is about a typical American family. This long-standing show makes references to pop culture and keep up with the times. Sometimes, they even serve parodies and satires to real-life events that affect American society.
This comedy has family heads Homer and Marge Simpson dealing with the dysfunctional events in Springfield. They do not have to deal with life alone, though, because they have their kids Lisa, Bart, and Maggie. Most of the time, the kids act like the actual adults of the show. That is The Simpsons' magic and the secret that has kept them on the air for more than three decades.
Watch The Simpsons on Disney Plus
Gravity Falls
There is new blood in animation, and Gravity Falls is one of the leaders of the pack. This two-season show from Alex Hirsch is one of the best animated shows in the Disney Plus shows catalog. It is so good that any age group can enjoy this bizarrely fantastic romp.
Gravity Falls is about the Pine twins, Mabel and Dipper, as they spend their summer with their Great Uncle Stan. Running the Mystery Shack with Wendy and Soos, Stan introduces the twins to a town full of secrets.
The two kids, along with their local friends, unravel the mysteries and peculiarities of Gravity Falls. There is so much more to the town than they first expected, and much more to their family than they knew.
Following in the footsteps of Adventure Time, Gravity Falls proves that animation is not boring or for kids only. With a brilliant plot line, Hirsch does not talk down to his audience. This show gives you puzzles, ciphers, and mysteries to solve on your own to make it an interactive experience.
Watch Gravity Falls on Disney Plus
Star Wars Rebels
Star Wars Rebels is the more recent addition to the impressive roster of animated Star Wars shows. This is only one of the many Star Wars content you can access in the library of Disney Plus shows.
Get a glimpse of The Rebel Alliance's activity five years before A New Hope. Heroes like Ezra, Hera, and Sabine emerge as the Empire hunts down the remaining Jedi who survived Order 66. As a group, they make bold decisions for the greater good of the galaxy while riding the Ghost, their rebel ship.
There is an authenticity to this show that is made possible only by a passionate director and crew. This is a favorite around the Star Wars fandom, so consider giving it a watch.
Watch Star Wars Rebels on Disney Plus
DuckTales
When Donald Duck decides to join the U.S. Navy, there is no one to take care of his nephews, Huey, Dewey, and Louie. These troublemakers need a temporary caretaker, and the only one suited for the job is Scrooge McDuck.
For those aware of anything and everything Disney, Scrooge McDuck is Donald's very rich uncle. He is a billionaire with a natural curiosity for how the world works, and he is the richest duck alive. As one can imagine, Scrooge is thrusted into mischievous adventures worldwide when joined by Huey, Dewey, and Louie.
Taking care of three ducklings is harder than he thought. He has to face Vikings, pirates, and dangerous creatures with them in the process.
Wacky and fun-filled adventures await them and you, should you decide to join them on their voyage around the world. You can access this in the library of Disney Plus shows now.
Watch DuckTales on Disney Plus
The New Adventures of Winnie the Pooh
Following the release of 1977's The Many Adventures of Winnie the Pooh is this series on Pooh and his friends. Join them in the Hundred Acre Woods as they experience and tackle day-to-day problems.
The New Adventures of Winnie the Pooh is a feel-good series. It stands for one's childhood dreams and curiosity. Pooh wanders around his neighborhood and faces a small conundrum with his neighbors everyday.
Expect appearances from the series' iconic characters like Tigger, Eeyore, Piglet, and Christopher Robin, Pooh's best friend. This is full of wonderful stories about friends and family that tugs on the heartstrings of many across the world.
Watch The New Adventures of Winnie the Pooh on Disney Plus
Phineas and Ferb
Another classic Disney sibling tandem is Phineas and Ferb. What makes them stand out from the others though is their good intentions. They do not scheme against anything; they just complete massive projects for fun.
By massive projects, we're talking rollercoasters, trips to outer space, and maybe even a successful love band.
This show from Dan Povenmire and Jeff "Swampy" Marsh stars an ensemble with a character everyone can relate with. Phineas and Ferb's older sister, Candace, is a well-meaning but uptight sibling that wants nothing more than to bust her brothers' activities. Their mom, always out for errands or doing chores, never seems to catch her sons doing anything dangerous.
To wrap it all up in a bow, their house pet is a platypus that leads a double life as a secret agent.
This is one of the best shows from Disney channel and is certainly one of the best offerings in the Disney Plus shows catalog.
Watch Phineas and Ferb on Disney Plus
Kim Possible
Kim Possible is a feminist animated show that anyone of any age can enjoy. Notoriously self-aware and smart, Kim Possible is a teenager who saves the world while maintaining straight A's and being the school's most popular cheerleader.
Joining Kim is her best friend and sidekick, Ron Stoppable. While he's not as good as Kim at what they do, he is the comic relief and heart of the show. He also always has his pet and own sidekick, Rufus, with him at all times.
They face adolescence and the world's most evil villains together. Often, they battle the blue-skinned evil Dr. Drakken and his sidekick Shego. On the down low, they try to ace exams, get dates, and maybe even get a part-time job.
The Disney Plus shows and movies library would be incomplete without Kim Possible. This is one of Disney's best animated shows, and now a whole new generation can get in on the fun.
Watch Kim Possible on Disney Plus
Recess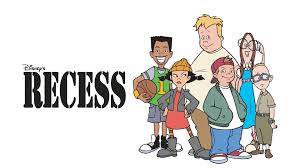 Recess introduces audiences to a classic animated ensemble of fourth graders with different personalities. There's T.J., their laid-back leader; Spinelli, their ruthless and tough member; Gretchen, the group's brain and moral compass; Vincent, their resident jock; Mikey, their sensitive big-boned heart; and Gus, their newest and nicest addition.
Even though this is the case, they are friends ready to take on anything school has in store for them. This includes cliques and bullies, sometimes even status quos and laws they have to break.
While it's an old show, Recess is a testament to the animation greats you can access on your library of Disney Plus shows. It is about the lives of kids, but it also is a larger reflection of society.
The Big Fib
For a feel-good game show, you can find The Big Fib in the library of Disney Plus shows. Hosted by Yvette Nicole Brown, this has its kid contestants guess who among the adults are lying and telling the truth.
To "fib" is to tell a white lie, and this show puts kids to the test. Another special treat for kids is C.L.I.V.E., or Computerized Library of Information and Virtual Expert. C.L.I.V.E. is Brown's robot sidekick sure to make a big impression on everyone's screens.
Watch The Big Fib on Disney Plus
Cosmos: A Spacetime Odyssey
Cosmos was produced by the National Geographic Channel in 2014 and has since been canceled. Fortunately, you can now access this on Disney Plus shows and movies' library thanks to Disney's ownership of the channel.
Join famous science icon Neil deGrasse Tyson as he takes you on a journey through time and space. In Cosmos, you will learn about the laws of nature and how we have adapted to the universe as we know it. It takes grand ideas and condenses them into bite-sized pieces of knowledge that anyone can understand.
Going through human beings' relationship with the universe, Tyson leads you to a more enlightened life by better understanding the world and the universe. He makes you think, wonder, and question all at the same time.
Watch Cosmos: A Spacetime Odyssey on Disney Plus
Gordon Ramsay: Uncharted
A cooking show is something every streaming service has. Because of its hold on the National Geographic channel, Disney Plus' entry is Gordon Ramsay: Uncharted.
A lot of people know Gordon Ramsay as a hot-tempered celebrity chef. His meals are Michelin-starred, and his opinions on food are weighty. In this show, though, we see him stripped down and humbled.
Gordon Ramsay: Uncharted has the chef exploring different parts of the world, learning about their culinary cuisines and methods. Broadening his horizons, the audience sees Ramsay as a student and not as a teacher. He eats bugs, cooks on wood, and tries flavors he has never tasted before.
Watch Gordon Ramsay: Uncharted on Disney Plus
The World According to Jeff Goldblum
One of the more creative endeavors of Disney Plus is The World According to Jeff Goldblum. Get a glimpse of the eccentric actor's take on the simplest things like denim and ice cream.
A show from Disney's National Geographics arm, this is an exploration of the smaller wonders of life. Through Jeff Goldblum's lenses, audiences can experience what it means to not take things for granted. Audiences will also learn about these items' connection to science, history, and humankind.
The World According to Jeff Goldblum gives you a chance to experience the world as it happens to Jeff. A self-professed late (gold)bloomer, he takes on these challenges and teaches you that it is never too late to learn something new.
The Disney Plus shows catalog is even better because of this original production.
Watch The World According to Jeff Goldblum on Disney Plus
Into the Unknown: Making Frozen 2
It takes an army to make an animated film. Through Into the Unknown: Making Frozen 2, you get a behind-the-scenes look at what this phrase actually means.
The series highlights the creative process of the blockbuster sequel to Frozen. You will see the challenges the crew had to face in terms of scheduling, artistry, and creativity.
The hard work the cast and crew put into Frozen 2 is not a feeble attempt. This is a good watch for anyone who is not only a fan of Frozen but also just a fan of animation. Audiences will learn about what it takes to run a team of creatives and animators in Disney.
Watch Into the Unknown: Making Frozen 2 on Disney Plus
Muppets Now
As variety shows come and go, there is nothing quite like the Muppets. However, the spotlight shines towards secondary character Scooter's direction in Muppets Now.
For those of you who do not know Scooter, he is the Muppets' backstage manager. Throughout the series, you will get to see what it is like for him to run the Muppets stage. Of course, that is not all; you will also watch the show he is managing in real time.
Expect a talk show by Ms. Piggy where she offers lifestyle tips to Hollywood celebrities. You can also expect a cooking show from the Muppets themselves. Most of all, expect the unexpected. Because this is a variety show, activities will change per episode. You will uncover the secrets of your favorite Muppets in one episode and watch them do safe but taunting experiments in another.
Disney Plus shows are not always unscripted, but this one totally is. Behind the Muppets are a team of creative individuals, and Muppets Now shows it.
Watch Muppets Now on Disney Plus
28 Best Disney Plus Movies You Should Watch Now
Avengers: Endgame
One of Disney's biggest mergers is with Marvel Studios. Thanks to the combined influence and resources of the two, Avengers: Endgame exists.
The last instalment of the original Avengers saga, Endgame finds its heroes grabbing a second chance at saving the world, five years after losing to Thanos.
This movie follows the events of Avengers: Infinity War, which was one of Marvel's most successful films to date. Still, Endgame is in a league of its own, since it is the highest grossing film of all time.
All Avengers films are available to binge-watch on Disney Plus.
Watch Avengers: Endgame on Disney Plus
Black Panther
Another Marvel film that continues to be revered by so many people worldwide is Black Panther.
In this film, you join T'Challa as he adjusts to his new role as the King of Wakanda and the Black Panther. He is both their leader and their first-in-line warrior. With both of these responsibilities laid out to him, his most difficult challenge arises.
Starring the late Chadwick Boseman and Michael B. Jordan, Black Panther explores deep themes such as identity and nationalism throughout its two-hour runtime. This is one of the best Disney movies you can watch on the Disney Plus, and this can make the monthly subscription fee worth it.
Watch Black Panther on Disney Plus
Thor: Ragnarok
A Taika Waititi take on the Thor universe, Thor: Ragnarok is also available on Disney Plus.
In the third instalment of the Thor saga, Thor and Loki meet their match through their ruthless sister, Hela. She is the goddess of death who plans to bring an end to Asgard.
As her plans take shape, Thor is stuck in a planet worlds away from his home. He meets Valkyrie and Korg while on this planet. He also reunites with a then-missing Hulk.
In Thor: Ragnarok, you have an all-new look into Asgard and Thor's character. This is one of Marvel's most critically acclaimed films, and a quick watch on Disney Plus will reveal why.
Watch Thor: Ragnarok on Disney Plus
Captain America: The First Avenger
Steve Rogers dreams of defending his country during the second World War. Unfortunately, his weak stature makes him a liability to the army. Because of this, he ends up as a subject for Dr. Erskin's Super Soldier Program.
The success of this experiment transformed Steve into Captain America, and his first real mission was to take down a Nazi organization led by the Red Skull.
This film introduces Captain America, Bucky Barnes, and the Red Skull to the Marvel Cinematic Universe (MCU). If you need a guide on how to watch the MCU movies in order, Robots has an ultimate guide for you.
Watch Captain America: The First Avenger on Disney Plus
10 Things I Hate About You
A modern take on Shakespeare's The Taming of the Shrew, 10 Things I Hate About You is one of the best flicks you can watch on Disney Plus now.
Set in a high school in the 90s,  Cameron pays Patrick, another student from his class, to woo Kat, an antisocial teen. By doing this, Cameron hopes to finally get a chance to go out with Kat's sister, Bianca.
With a simple premise, 10 Things I Hate About You cements its name in one of the great coming-of-age classics of all time. It became a breeding ground for seasoned actors such as Heath Ledger, Julie Stiles, and Joseph Gordon-Levitt.
Watch 10 Things I Hate About You on Disney Plus
Edward Scissorhands
If you asked anyone today what they knew about Tim Burton, you would most likely hear about his gothic aesthetic. This is very true—especially in one of his best films, Edward Scissorhands.
In the film, we meet a young man with scissors for hands. People deem him a monster, but a family in the suburbs takes him in as their own. Slowly but surely, he falls in love with their teenage daughter while facing increasing amounts of ridicule from the public. Still, there is an unraveling of the real and compassionate man he is underneath.
Johnny Depp and Winona Rider play Edward and his love interest, Kim, respectively. Despite its gothic and surreal aesthetic, this film found its home in Disney Plus.
Watch Edward Scissorhands on Disney Plus
Mary Poppins
It would be a huge amiss if Disney Plus did not include classics such as Mary Poppins on their catalog. As one of the first films Disney ever produced, this title deserves a spot in their growing catalog.
If you are one of the few people who do not know who she is, Mary Poppins is a nanny to Mr. Banks' two children. Her angelic persona and bright personality make her a delight to the senses, played so well by Julie Andrews.
While this film is most wonderous to children, the sentiment beneath it makes it perfect for anyone of any age. Its sets, songs, and the shot of Mary Poppins flying away with her umbrella, have a special place in the hearts of children worldwide.
Watch Mary Poppins on Disney Plus
The Sound of Music
Another Julie Andrews classic lands itself in the catalog of Disney Plus. The Sound of Music has similar themes to Mary Poppins, but there's more children to go around.
This musical has a selection of songs that are still played today. From So Long Farewell to Do-Re-Mi, one can picture themselves as the Von Trapp siblings while they sing away.
Julie Andrews plays the governess of the seven Von Trapp siblings' home as the events of the first World War leave the family scarred. Her love and light bring joy back into their home, giving them a safe haven during the setting's trying times.
Watch The Sound of Music on Disney Plus
Splash
What is great about Disney Plus is that it is a platform for people to discover films from different time periods. Before the Little Mermaid, for example, there was Ron Howard's Splash.
This rom-com is special because it is Oscar-nominated. This film did a lot of wonders for the mermaid genre in Hollywood. It features Tom Hanks as a successful businessman who has everything except love. To his and many others' surprise, his heart finds a home with a mermaid who saved his life.
They face both usual and unusual scenarios people experience in budding relationships. Still, they probably face the former more than the latter.
Rogue One: A Star Wars Story
An ode to the soldiers of the Rebel Alliance, Rogue One is one of the best Star Wars films ever made. It was a success not only in the box office, but also among critics far and wide.
This story follows a group of people from the Rebel Alliance, specifically Jyn Erso. She and her group take on the biggest task they have ever faced: steal the plans to the Death Star. As this film precedes the events of A New Hope, the audience is spoiled that the plans do get stolen. What this film does so well is make its audience realize the stakes of getting those plans in the first place.
Do not miss the chance to watch this on Disney Plus, because this film makes paying the subscription fee more than worth it. Starring Felicity Jones, Diego Luna, Donnie Yen, Alan Tudyk, and many more, Rogue One: A Star Wars Story is the movie you never knew you needed.
Watch Rogue One: A Star Wars Story on Disney Plus
Star Wars: Episode III – Revenge of the Sith
Revenge of the Sith is the third and final installment of the polarizing Star Wars prequels. Whether you enjoy them or not, Disney Plus gives you the chance to revisit their tales as you scroll down the Disney+ catalog.
Three years after the Clone Wars, a new threat rises against The Republic. The Jedi council appoints their best young Jedi, Obi-Wan Kenobi and Anakin Skywalker, to get down to business. As the two face kidnappings and the Separatists, tension begins to brew between the two of them.
Unknown to Obi-Wan and everyone else, Anakin faces temptation amidst fear. The Sith's plans are underway, and Darth Vader is born.
Watch Star Wars: Episode III – Revenge of the Sith on Disney Plus
Star Wars: The Last Jedi
The Resistance, yet again, finds itself holding the shorter end of the string. In The Last Jedi, Rey has to find Luke Skywalker to restore balance to the universe and discover the ways of the force. As a young jedi, Rey's abilities must be honed to match the capabilities of Kylo Ren.
This film by Rian Johnson is the sequel to the blockbuster that is Star Wars: The Force Awakens. However, what makes this film great is that it does not slide into sequel tropes. It has a strong foundation of character, morale, and plot.
Watch the Rebels try to preserve what is left of them in the galaxy. At the same time, witness the First Order usher their second renaissance.
Watch Star Wars: The Last Jedi on Disney Plus
Star Wars: Episode IV – A New Hope
Following the events of Rogue One: A Star Wars Story, Princess Leia, leader of the Rebel Alliance, has the map of Darth Vader's Death Star. This instrument is a weapon of mass destruction that can kill planets at a time.
As the leader of the galaxy's most evil forces, Darth Vader, captures Princess Leia. By doing so, Vader hopes to put a stop to the group's plans to overthrow the Galactic Empire and restore balance to the galaxy.
Two young men hope to thwart Vader and save the princess from his clutches. Luke Skywalker and Han Solo, along with their droids R2-D2 and C-3PO, come to Leia's rescue using the Millennium Falcon. Of course, things do not always go to plan.
This is the movie that launched the incredibly successful Star Wars franchise. Like others on the Disney Plus shows and movies catalog, it has a special place in the hearts of many. Its sentimental value is unparalleled, and you should give A New Hope a watch.
Watch Star Wars: Episode IV – A New Hope on Disney Plus
The Little Mermaid
Years after the release of Disney's first princess movies comes The Little Mermaid. This film was not the biggest box-office hit, but its lasting impression in society hails it as one of the first films in the "Disney Renaissance".
A young mermaid named Ariel wants to explore the world above the sea. However, she has duties to attend to in Atlantica as a princess from a line of royal sisters. Still, she finds a way to connect with the land above, especially when she sees the young and dashing Prince Eric.
She makes a deal with a sea witch called Ursula to grab a chance at experiencing life above ground. However, Ariel signs off more than what she expected to. If you want to relive this experience, watch this classic on Disney Plus.
Watch The Little Mermaid on Disney Plus
Lion King (1994)
Another premium selection off the Disney Plus shows and movies catalog is The Lion King. Another catalyst of the "Disney Renaissance", The Lion King is Disney-fied take on Hamlet, another Shakespeare classic.
Simba deals with the death of his father, which he believes he caused, by escaping the Savannah. He grows up away from his royal family and avoids his destiny as their pride's next king. As this happens, his evil uncle is crowned king and terrorizes their land.
Left haunted by his past, Simba now has to decide whether staying away from his family and his people benefits his peace much longer. He cannot run away from being the true Lion King.
Watch The Lion King on Disney Plus
Hercules
A Disney classic, Hercules is streamable on Disney Plus right now. This Americanized take on Greek mythology leaves people laughing and crying after watching.
Born to gods Zeus and Hera, Hercules is a powerful baby with a loving home in Mount Olympus. Things go awry after his baby party, however.
Because of Hades' jealousy of his brother Zeus, he hatches a plan to steal Hercules and turn him human. That way, there will be no one standing in his way when he plans to take over Mount Olympus.
Hades' minions steal Hercules and take him to Earth, but they do not completely turn him human. With his superhuman strength, Hercules now becomes the people's champion. This means he has to defend them from anything, even from an angry and vengeful Hades.
Besides the riveting plot and characters, this film also brings you Michael Bolton's song, "I Can Go The Distance". A karaoke favorite, it adds a great touch to the film's arc.
Fantasia
Fantasia is a treat to the senses. Despite being released in the 1940s, the film holds up in its beauty. Nothing like it has been done since its release, making it a unique work of art for everyone to enjoy.
If you are yet to see Fantasia, it is a passion project of Disney animators. In the 1940s, there were not a lot of animated films to go around. Fantasia showed the capabilities of animation as an artform by pairing it with classical Western music.
Conducted by Leopold Stowski, the Philadelphia Orchestra served as the musicians for Fantasia. They played "The Sorcerer's Apprentice", "The Right of Spring", and even "Ave Maria" among a list of impressive classical masterpieces.
Possibly the most popular section of Fantasia is "The Sorcerer's Apprentice", where you find Mickey Mouse struggling to contain the magic he borrowed from a Sorcerer.
The Nightmare Before Christmas
The Nightmare Before Christmas is a Tim Burton-produced animated film. It reached critical and commercial success at the time of its release. Available on Disney Plus, this film is a one-of-a-kind experience for children and adults alike.
Jack Skellington is the king of Halloween Town, a gothic wonderland full of the creepiest and scariest things. One day, he takes a peek into Christmas Town, and wants to recreate its bright appeal by celebrating the same holiday.
Watch Jack discover what his identity really is, and who he is underneath all the dark clothes and bones.
Watch The Nightmare Before Christmas on Disney Plus
Who Framed Roger Rabbit
Who Framed Roger Rabbit is a unique match of animation and live-action media. Serving as a time capsule for its era, it is a collaboration between filmmakers Spielberg and Zemeckis. You should definitely check out this film on Disney Plus.
Roger Rabbit is a Maroon Cartoon actor framed for killing a wealthy Toontown owner Marvin Acme. The wealthy business owner had an affair with Roger's wife, making people suspicious of the rabbit.
Eddie Valiant, a mean-spirited detective, helps Roger clear his name.
Watch Who Framed Roger Rabbit on Disney Plus
Coco
A young boy named Miguel wants to become a world-renowned musician like his idol, the late Ernesto de la Cruz. However, polishing his skills proved to be hard because his family has music banned in their household.
In an attempt to perform in the Day of the Dead, Miguel finds himself in the Land of the Dead instead. With the help of his dog and a man named Hector, he looks for a way back to the living. However, he does so not before he meets de la Cruz for himself.
As they scour the Land of the Dead for a way out, Miguel and Hector come by truths that they never sought to discover.
Cementing the power of Pixar and Disney, Coco is a heartwarming story on family, destiny, and forgiveness. It is a riveting story that you can find in Disney Plus' shows and movies catalog now.
Toy Story 4
After the release of Toy Story 3, many wondered if that was the last arc to the Woody and Buzz story. It was a definitive ending to their time with Andy, but Toy Story 4 proves that there is much more life to be lived by the inanimate toys.
During a road trip with Bonnie, Woody, Buzz, and the rest of the toys come by their old friend Bo Peep. Their reunion makes Woody rethink what he wants from his life and what it means to be a toy. This drives the conflict for the rest of the film, holding Woody and Buzz's friendship on the line.
Movies like Toy Story 4 reveal the benefits of having a Disney Plus account. This film was available for streaming less than a few months after its release.
Watch Toy Story 4 on Disney Plus
Inside Out
Inside Out is one of Pixar's best movie offerings available on Disney Plus. It is an Academy Award Winner for Best Animated Feature and features an all-star cast voicing its characters. For starters, its stars include Amy Poehler, Mindy Kaling, Bill Hader, and Phyllis Smith.
A film about the importance of holistic mental health, Inside Out is about an eleven-year-old girl named Riley who comes to grips with her recent move to San Francisco. Leaving a fun and full life in Minnesota, she struggles to cope with her new normal. She is joined by her emotions, Fear, Anger, Joy, Disgust, and Sadness, in adjusting to recent events.
Watch Inside Out on Disney Plus
Finding Dory
The follow-up to 2003's Finding Nemo is Finding Dory, a tale about Marlin's blue tang friend, Dory.
Being an amnesiac makes it difficult for Dory to track her past, but flashes of her memories have been helping her track her parents. With the help of Marlin and Nemo, Dory challenges herself to grow into the fish she never thought was possible.
Ellen DeGeneres reprises her role as Dory, a blue tang fish with short-term memory loss. Her fellow cast mates include Ty Burell, Ed O'Neil, and Albert Brooks, and they all play undersea creatures that make you smile.
Watch Finding Dory on Disney Plus
Queen of Katwe
Based on a true story, Queen of Katwe is a riveting tale about perseverance in times of adversity. Starring Academy Award winner Lupita Nyong'o and introducing Madina Nalwanga, this film is also available on Disney Plus.
The story for this film revolves around a young Ugandan woman named Phiona who is set to become the first titled chess player in her country. Despite the turbulence of living in poverty and the slums, she works hard in becoming a seasoned chess player. Her efforts win her not only titles but also the hearts of those around her.
Watch Queen of Katwe on Disney Plus
Black is King
For those looking for a deep aesthetic exploration into culture, streaming Black is King on Disney Plus will not disappoint. This is Beyoncé's project partnered with the release of the live-action Lion King.
In this film, you will find the freshest and most driven black artists of our time. It features their art, ranging from visual to music, and even cinematography. Beyoncé called this a "Love Letter to Africa", and that is exactly what you will be getting.
Watch Black Is King on Disney Plus
Stargirl
It does not seem that long ago when the world was captivated by the music of Grace VanderWaal in America's Got Talent. Building her career from the ground up, she is now the lead of the Disney Plus original, Stargirl.
A short but sweet film, Stargirl is about a boy named Leo Borlock meeting a colorful student named Stargirl. Her personality makes her shine in an otherwise normal Mica High School. As she wins the affections of the student body, she also teaches Leo a lesson on individuality and being your true authentic self.
Stargirl is about the kindness and friendship that can bloom from anywhere and with anyone. This is best enjoyed with children as they might be infected by Stargirl's bright energy, too.
Hamilton
There is a large number of Broadway fans that illegally get access to their favorite musicals. Hamilton is probably one of the most popular of these.
No need to worry anymore, though, because Disney Plus has your viewing of this critically acclaimed musical covered. This hip-hop musical brings light to the story of Alexander Hamilton, one of the United States' most overlooked Founding Fathers.
Beginning with his immigration to New York, Hamilton explores Alexander's personal and political relationships.
A cool history lesson, Hamilton is great for anyone who wants to learn more about American history. Its themes also cover love, loyalty, and nationalism.
This musical is noted for its work in casting people of color for their main roles. It makes a statement about modern North America and has always a conversation piece amongst the youth.
Lady and the Tramp
Disney Plus has not only the freshest new films but also the classics. Lady and the Tramp is a feature length cup of nostalgia to anyone who grew up with Disney.
For those who have not seen this, this is about the relationship of two dogs leading very different lives. Lady is a female dog that grew up in a sheltered home with Jim and Darling. Meanwhile, the "Tramp" lived a more carefree lifestyle near the streets.
When Lady runs away from her home out of fear, she and the Tramp explore city life without owners.
Watch Lady and the Tramp on Disney Plus
Upcoming Disney Plus Shows
What If…?
There are a lot of Marvel projects coming your way in the library of Disney Plus shows. What If…? is a more creative and experimental take on Marvel's offerings.
This show will be an anthology of possible outcomes of the Marvel Universe if things went differently. Imagine if Loki won the first battle of New York, or if the Avengers were down by several members. These unimaginable probabilities are made real by What If…?
There are many ways to watch the Marvel Cinematic Universe, but What If…? takes the cake for the most inventive one.
WandaVision
The trailer for WandaVision came out only this September, and it left its audiences knowing less about it than they did prior. Looking experimental, WandaVision is a sitcom-esque take on Scarlet Witch and Vision's love story.
Of course, seeing the trailer shows that it is more than a sitcom; there is a mystery and heavy plot lurking underneath its seemingly cheerful exterior.
Not much can be revealed about the plot without spoiling the Avengers franchise. If you have seen the Avengers movies, you might have an idea of Wanda's motivations in WandaVision. Should you be planning to watch it, Robots has a Marvel Cinematic Universe viewing guide for you.
The Falcon and the Winter Soldier
After the events of Avengers: Endgame, many concerns about the Marvel Cinematic Universe come to mind. First of which is what happens to the second generation of Avengers.
For Captain America's two closest Avengers, Sam Wilson and Bucky Barnes, the events of Endgame mean taking on worldwide adventures together. With only six episodes, you can be sure that this series packs a punch in beginning Marvel's Phase 4.
Monsters at Work
There are animated series arriving in the library of Disney Plus shows, too. One to look out for is a spin-off of the Monsters. Inc movies, Monsters at Work.
In this series, you follow the story of Tylor Tuskmon, a fresh graduate from Monsters University (where original stars Mike and Sulley studied). He wants to go up the ranks in Monsters, Inc. and eventually work with his favorite scarers, including Mike Wazowski and James. P. Sullivan.
For those wondering, this happens six months after the events of the original film, Monsters Inc. It will be during the company's transition from screams to laughter.
Lizzie McGuire
For former Disney Channel kids, Lizzie McGuire was a childhood staple. That is why the announcement for Lizzie McGuire the series was a big one for Disney Plus.
Reports of shooting for this Disney Plus show began sometime this year. However, those following its production know that there were a lot of creative challenges that pushed back the release of this series.
The plot was supposed to be about Lizzie dealing with life in her 30's. This was supposed to begin with her moving back to Los Angeles after a series of life-changing events.
Final Words
This list is just the tip of the iceberg. There are a lot of categories and libraries to choose from on Disney Plus. Whatever Disney Plus shows and movies you want to check out now, know that there is more coming your way.
So you might as well get started and subscribe today! There's plenty of incredible content waiting for you.