Watching Marvel movies in order is an attractive pursuit now that most of us are staying at home. With over 20 films to go through, people have different viewing methods that make the most out of the Marvel Cinematic Universe (MCU) experience. For an extensive guide of each film, and the orders you can watch them in, read on. As a special treat, there is also a list of the upcoming Marvel movies for their Phase 4 era. If you are interested in experiencing the best-reviewed films, we have them lined up for you, too.
Don't know where you can access Marvel movies for your marathon? Discover different platforms in this "Where and How to Watch Marvel Movies" guide.
In What Order Can You Watch the Marvel Movies?
By Phases
Marvel releases their movies by phase. If you're an avid MCU moviegoer, this is the order you watched Marvel movies in. Although, as you may know, these movie releases are not chronological. For example, Iron Man premiered before Captain America, but Cap's storyline takes place in the 1940s. This is over 60 years before Tony's story begins.
There are reasons why Marvel plots their films in a non-chronological order. Storytelling is not always from Point A to B, after all. The best stories are woven tightly together, and this is what the Marvel Cinematic Universe's main goal is. Phases 1 to 3 have their own internal story arcs, culminating in a final movie for each phase. As you might have guessed, the final movies bridge the next phase/s together.
As of recent, Marvel finished Phase 3 with the box-office juggernaut, Avengers: Endgame. But let's not get ahead of ourselves. Chronologically, you have 21 movies to go through before you can grasp all the events of Endgame.
Chronological
Most moviegoers, in the advent of Endgame, search for the chronological timeline of the MCU. This way, you see how characters' stories affect each other, like dominoes. It is also a treat for people who enjoy noticing the minute details of movies. By watching the Marvel movies in chronological order, you uncover the timeline of the Infinity stones. You see the Tesseract wreak havoc in Captain America's storyline, for example.
In the first Avengers film, you will see the Tesseract again. This is a few movies down the line, but you'll see this stone's journey from First Avenger to The Avengers. The chronological order helps you keep tabs on the journey of each character and each prop. For blockbuster comic-book films, it is all in the details.
When you start watching the MCU in this order, keep your eyes peeled. You will notice things you have never noticed before.
Marvel Movies in Chronological Order
Before you dive deep into MCU lore, you must know that "chronological" viewing is impossible for films that take place at the same time. This is specifically a reference to the events of Phase 1. The Incredible Hulk, Iron Man 2, and Thor happen within the same year. You can switch these movies together, especially if you are a Tony Stark fan. Watching Iron Man and Iron Man 2 side by side leaves you with little Tony Stark content left before you reach Avengers: Infinity War and Endgame.
This is the closest blueprint you will get to viewing the Marvel movies in order, though. Get your popcorn ready, and your streaming services open. Know which streaming platform is for you by reading this comparison between Hulu, Amazon Prime, and Disney+.
1942 – Captain America: The First Avenger
The first movie on the list is none other than Captain America: The First Avenger. Despite being the fifth movie released, it is the story that sets up the Avengers' storyline. You begin the Marvel movies in order with this film. Taking place in World War II, this movie finds meek man Steve Rogers participating in a super-soldier initiative by the U.S. government.
The film debuts several Marvel plot points, most important of which is the Tesseract, which is the first Infinity stone we discover. It drives the plot from here to The Avengers, and ultimately to Avengers: Endgame.
Other notable debuts include Howard Stark, Tony's father, terrorist organization Hydra, and stone keeper Red Skull.
Watch Captain America: The First Avenger
1995 – Captain Marvel
The movie that follows, when watching Marvel movies in order, is set five decades after the First Avenger.
Captain Marvel, despite being one of the latest Marvel releases, is the second movie on this list. It follows the story of Carol Danvers in 1995, who falls to earth while on the hunt for Skrulls. She teams up with young agent Nick Fury and discovers more about herself in the process.
Skrulls, if you are not aware, are shape-shifting aliens. You will need this information moving forward to the Guardians of the Galaxy plotlines, as these beings are often discussed side by side with Kree.
As this story unravels, you learn more about the origins of Nick Fury, Agent Phil Coulson, and Ronan the Accuser. In Nick's case, you are also introduced to The Avengers' Initiative. This is what sets the story in dynamic motion for the 21 movies to come.
Marvel films have a way of giving you more perspective as you watch on, but these origin stories are fulfilling on their own.
2010 – Iron Man
The film that changed the entire MCU is the 2008 release of Iron Man. The release of this origin story, starring fan-favorite Robert Downey Jr., set the gears in motion for the Avengers. This is especially true budget-wise because Iron Man's success planted the seeds for all succeeding MCU releases.
Directed by Jon Favreau, Iron Man is about a billionaire genius playboy and weapons producer (and eventual philanthropist) named Tony Stark. He is captured by a terrorist organization that uses (and wants more of) his weapons. Because of circumstances, he forces himself to create his first Iron Man suit.
From then on, he became Iron Man. The rest of MCU history is made from there.
2011 – Iron Man 2
Iron Man 2 is yet another character study about Tony Stark, albeit a more confusing one. There are a lot of plot points the movie wants to explore, but most of the journey lies with Tony's "Iron Man" identity.
It is once again a battle for Tony's latest weapons. The technology for "Iron Man" is of interest to several potential stakeholders, including the government. This movie introduces two key players for the Avengers' Initiative: Black Widow (Scarlett Johansson) and War Machine (Don Cheadle).
Best to mention that you can switch this movie with The Incredible Hulk, if you want to savor Tony Stark's story.
2011 – The Incredible Hulk
The most skippable movie on this list is The Incredible Hulk, but for the sake of continuity, you might as well watch it, if you are watching the Marvel movies in order. Nick Fury appears in the post-credits scene, though not a lot of people remember it happening.
Bruce Banner, played by Edward Norton, is hiding from the US Military. The hunt's leader is General Thunderbolt, who, frustrated, creates a "Hulk" of his own. This does not pan well for either side of the coin.
There are not a lot of set-ups in this movie, especially since Edward Norton was replaced by Mark Ruffalo for the Avengers. Still, this is still the big, green, hero's origin story. If you are committed to the MCU, this film is on your must-watch list.
2011 – Thor
Thor (Chris Hemsworth) and Loki (Tom Hiddleston) are MCU staples, appearing in many films, even as post-credits features. These Asgardian gods debut in Kenneth Branagh's Thor.
Thor, the God of Lightning, lands on earth as a result of banishment from his father's kingdom. On Earth, he cannot use his hammer, Mjolnir, unless he is "worthy." As he proves his worth to his father and their kingdom, he meets scientist Jane Foster. They work together to prove his worth and defend Asgard from Loki's treachery.
MCU movies, especially for Phase 1, have a knack for teasing audiences with future characters. This movie is not any different, as this contains the subtle debut of Jeremy Renner as Hawkeye. There are also S.H.I.E.L.D. employees you should keep an eye out for. You may need them for your future viewing of the Captain America films.
2012 – The Avengers
Phase 1 culminates in the critically acclaimed box-office hit, The Avengers. At this point, you have been watching Nick Fury appear in post-credits after post-credits scene, recruiting members for The Avengers Initiative. Iron Man, Captain America, Thor, Black Widow, The Hulk, and Hawkeye come together to face Loki, who has the Tesseract (yes, from The First Avenger) in his possession. Nick Fury calls the group to locate the Infinity stone and end Loki's reign of terror.
This movie culminates in an alien invasion, starting an iconic intergalactic war in New York City. To this day, The Avengers remains on everyone's must-watch list. The pay-off in this film is unmatched: there is a fantasy fulfillment to this story. Though not a deep narrative, the movie is a lot of fun for viewers of all ages. Not to mention, it sets up the upcoming phases. This war wounds our heroes, and we'll watch them deal with it in the movies to come.
Also: Thanos. But we're getting ahead of ourselves if we start discussing that.
2012 – Iron Man 3
Phase 2 commences with Iron Man 3. Though this list is not about the MCU's phases, it is worth mentioning that with Iron Man 3, things start to happen in "real-time." Watching the Marvel movies in order is easier from here on out.
The post-Avengers movies were, for a time, reactions to the events of the battle in New York. In Iron Man 3, we find Tony six months after the battle for his life and planet. He deals with the trauma of this war by building more Iron Man suits. These suits of armor become his comfort zone, inciting damages to his personal life.
From there on out, he is haunted by people from his past and what is becoming of his future.
This is the last stand-alone Iron Man film. Do not fret: he appears in the next three Avengers movies, as well as Captain America: Civil War.
2013 – Thor: The Dark World
Thor: The Dark World joins 2008's The Incredible Hulk in the roster of less enjoyable MCU films, though this is not a skippable film. It serves big plot points for Phase 2's momentum. Specifically, the movie introduces another Infinity stone.
In the film, Thor returns to his kingdom, Asgard, a year after the battle of New York. Still reeling from the damage by Loki, he is called yet again to face another alien species. The Dark Elves attack their kingdom because they want to get their hands on the Aether, a powerful weapon that can control dark matter and reality.
While the film is not the MCU's most memorable, it does feature fan-service moments, especially for Loki fans. Throughout the movies, Loki develops a larger and larger following. If you are one of these people, do not skip Thor: The Dark World.
2014 – Captain America: The Winter Soldier
Director-siblings Anthony and Joe Russo took over the Captain America franchise in 2014. Their debut, The Winter Soldier, was met with acclaim from both critics and the fans. Captain America, as of this film, has been working for S.H.I.E.L.D. During his time with them, he begins to see that there is more to this organization than "protecting the world." His morals clash with the direction S.H.I.E.L.D. plans to go in.
At the same time, Steve Rogers discovers the lore surrounding another super-soldier called The Winter Soldier. This film is riveting enough to be watched as a stand-alone film. It tackled political controversies and conspiracies and began infringing on Captain America's moral compass. While it takes off from the post-Avengers storyline, it is a drama-action film at its core.
If this still does not bait you into watching The Winter Soldier, this is the debut of another fan-favorite character: The Falcon. Played by Anthony Mackie, The Falcon also appears in Ant-Man, the last film in MCU's Phase 2.
Watch Captain America: The Winter Soldier
2014 – Guardians of the Galaxy
Chris Pratt debuts as a Marvel leading man in Guardians of the Galaxy, the first ensemble debut of the MCU. (Technically The Avengers is a culmination of the debuts of their Phase 1 heroes.)
This film introduces us to a group of galactic renegades, bound together by their questionable life choices. Peter Quill (Pratt) is their leader, a scavenger that discovers an Infinity Stone during a solo adventure. After this is stolen by Ronan the Accuser, he organizes the Guardians of the Galaxy. Together, they stop Ronan from destroying the universe using the Infinity stone, which is the fourth stone (of the six) to be shown at this point.
This movie is a lot of fun for people of all ages. Behind the scenes, Director James Gunn leads an all-star cast—Chris Pratt, Zoe Saldana, Bradley Cooper, Dave Batista, and Vin Diesel. Like The Winter Soldier, this film offers stand-alone entertainment. Not to mention, it also offers a large piece of the MCU puzzle: another Infinity Stone.
Notable character debuts also include Nebula and Thanos, and Gamora's (Saldana) sister and father. No need to explain them, just remember to keep watching.
2014 – Guardians of the Galaxy 2
The Guardians of the Galaxy 2, released in 2017, takes place only months after the first film's time setting.
This ragtag team is beginning to bump heads with one another. As they all start to get on each other's nerves, Peter (Pratt) finds himself closer to Gamora than ever before. Confronting all of their group's internal conflicts takes a back seat when they meet Ego, a god.
Guardians of the Galaxy 2 is an exploration of Peter Quill and the group's dynamics. It forces this self-destructive set of people to play nice with each other because, at the end of the day, they are all they have. This is still a Guardians film, though, so there is a balance of heartwarming and laugh-out-loud moments. Joined by Kurt Russell as Ego and Pom Klementieff as Mantis, this film is bigger than its predecessor.
Watch Guardians of the Galaxy 2
2015 – Avengers: Age of Ultron
At the time, Age of Ultron was the bell of the ball. After the success of The Avengers, everyone wanted another sequel immediately. The build-up for this film started with Iron Man 3, where Tony had to grapple with the events of the first Avengers movie. Now, the team is consistent in working with each other, keeping the world safe from harm.
In an attempt to protect humanity, super-geniuses Tony Stark and Bruce Banner create an Artificial Intelligence named Ultron. Problems ensue when their side project goes out of hand, endangering the world and the Avengers as you know it. Of course, this is not just any MCU film. With a blockbuster like this, Marvel was sure to tease the next chapter of their story. Adding to their roster of heroes are Scarlet Witch (Elizabeth Olson), Quicksilver (Aaron Taylor-Johnson), and Vision (Paul Bettany).
This film was not met with the high praise the first film did, but it does its job well. It propels the story forward, at least closer, to the events of Infinity War and Endgame. How so? It is the take-off place of Captain America: Civil War. Before you get to that, when watching the Marvel movies in order, you have to watch Ant-Man first.
2015 – Ant-Man
Despite a change of directors, Ant-Man was made into an entertaining film with light-hearted fun.
It follows the story of Scott Lang, a man who is trying to get his life together by moving on from his criminal ways. As fate would have it, he is recruited by Hank Pym, who has the technology to shrink Scott into the size of an ant. Not only that, but it can also have Scott talking to the ants. Thus the name Ant-Man.
Scott's mission is to keep this technology from falling into the wrong hands. This does not keep people, or former Pym employees, from trying to recreate the technology, though.
Ant-Man is the Nth Avenger to debut at this point, and while people want to skip this lesser-known hero's story, we urge you not to. Paul Rudd is fantastic as the film's titular character, portraying a meek, laid-back but also chaotic Scott Lang. He also appears in the next film on your list, Civil War.
By this point in your watch session, you might want to review all the characters you have met. Civil War is the last Captain America film but feels much like an Avengers film on its own.
2016 – Captain America: Civil War
Following the events of Age of Ultron, the Avengers are divided on their roles in society. This causes a rift within the team, and a large one at that, because superhuman disagreements get messy.
The two sides are led by the pseudo-leaders of the Avengers: Captain America and Tony Stark. As the two recruit members for their teams, we meet two new heroes: Spider-Man and Black Panther.
Played by Tom Holland and Chadwick Boseman respectively, these two characters bring us to the (as of now) the final leg of our heroes' stories. Think of this film as the "beginning of the end."
Captain America: Civil War is another project by Russo Brothers, as is The Winter Soldier. This film is the final one in the Captain America series, but it is also just the start of the Avengers plotline.
The film does irreversible things to the lives of their characters. Civil War is a journey you take with the Avengers, and you will also not emerge from it unscathed.
Watch Captain America: Civil War
2016 – Spider-Man: Homecoming
As the Avengers reel from their internal conflicts, you are now to take a detour inside the life of Peter Parker, who was a Stark recruit for Civil War.
This is the third debut of the popular comic book character. There have been two iterations of Spider-Man by this film's release. This will be the third, which is why it skips your typical origin story and goes straight to the conflict.
Wanting to prove his worth to his mentor, Tony Stark, Peter hunts down a local weapons dealer (played by Michael Keaton). While doing this, he also discovers what it truly means to be Spider-Man.
This is a coming-of-age film at its core. Watch your favorite web-slinger navigate the world with a large secret and a longing to be an Avenger, all while attending school, having crushes, and going on debate tournaments.
Tom Holland is the film's star, playing Peter Parker with so much youth and idealism. His chemistry with Robert Downey Jr. is another reason why people enjoy this film.
Spider-Man: Homecoming is a great MCU watch. There is enough emotional and narrative meat here that pays off well in the next MCU films.
2016-2017 – Doctor Strange
If you have been keeping your eyes and ears open during The Winter Soldier, you might have heard that S.H.I.E.L.D. keeps track of a man named Stephen Strange.
Stephen, played by Benedict Cumberbatch, is a rich, arrogant surgeon that goes through a traumatic change in his life. His suffering has him searching for a chance to regain his self-dignity, but he finds something more. Stephen trains to become Doctor Strange, harnessing his powers from ancient magic.
This film introduces us to yet another Infinity Stone. The Time Stone plays a large role in the sometimes psychedelic aesthetic of the film. Beyond this, there is an Avengers film called Infinity War, so you can deduce the Time Stone's importance in that context yourself.
2017 – Black Widow
Set for a 2020 release, the Black Widow film, when watching the Marvel movies in order, is set around this time. Though its further details are to be announced, we do know that it takes place before Avengers: Infinity War and Avengers: Endgame.
This is not super-spy Natasha Romanov's debut film, but it is her first standalone film. The details released by Marvel so far say that Black Widow follows the life of Natasha during her "period of exile."
Looking into her past, she reconnects with the Red Guardian (to played by David Harbour) and her old friends and family.
Diving deep into Black Widow's story post-Avengers is less than premature. Still, it is better late than never.
Watch the trailer for Black Widow
2017 – Black Panther
Black Panther is another debut film that results from the events of Captain America: Civil War. Spider-Man was Tony's recruit, but Captain America's team had Black Panther with them.
Black Panther, or T'Challa, comes home to Wakanda after Captain America: Civil War, poised to be the next king. His throne is challenged by a man named Eric Killmonger (Michael B. Jordan), a product of T'Challa's father's time. As this conflict brews, the problems within Wakanda's isolation system reveal themselves to T'Challa. In an effort to make things right, he has to face Killmonger for the future of Wakanda.
While all Marvel films hold some record of their own, Black Panther by far has the most [broken records]. The film stars an all-black cast and borrows themes from African culture. It also has a stronger socio-political undertone, with Killmonger hailed as one of the best movie villains ever.
Praise for the film was not only by its audience but also by its critics, and more notably, the Academy. This MCU film was nominated for Best Picture at the 2019 Oscars and won a Screen Actors Guild Award for its cast.
2017 – Thor: Ragnarok
Thor: Ragnarok is a reinvention of the Thor series since the God of Thunder took himself very seriously in his last two films. They brought in a new director, indie filmmaker Taika Waititi, for Ragnarok. Waititi breathed new life into Thor's story, and this is why Ragnarok is one of the most celebrated MCU releases.
In this film, Thor meets his long-lost sister, Hella (Cate Blanchett), who is the Goddess of Death. Their meeting goes awry as Hella has dangerous plans for Asgard. Despite current family complications and a few missing weapons, Thor teams up with Loki in defeating their sister.
Ragnarok is a treat for Marvel fans as it has the two gods forming a group with the Hulk and Valkyrie (Tessa Thompson). The four of them hatch a plan to save Asgard from destruction.
2017 – Ant-Man and the Wasp
The events of the Civil War took a toll on all the Avengers. For Scott Lang, it meant taking a step back from his usual antics as Ant-Man. That is, until the Pyms need his help to uncover their long lost matriarch, Janet van Dyne (the Wasp). She is alleged to be stuck in the Quantum Realm, and Scott needs to save her.
As per usual, as this all unfolds, new enemies come their way. Scott and the Pyms discover new iterations of their suit, from new people.
2017 – Avengers: Infinity War
At this point, you have gone through at least 20 MCU movies. This culminates in Avengers: Infinity War and Avengers: Endgame. The characters introduced in the previous films come together to defeat the ultimate Marvel villain, Thanos.
Without revealing too much, Thanos has been around for longer than most would believe. Previous conflicts, at least for the Avengers, do have a touch of Thanos' power.
In this film, Thanos journeys across the universe to retrieve all the Infinity Stones. He plans to use them in restoring "balance to the universe," or so he believes. The Avengers, contained in different parts of the galaxy, are the only ones capable of stopping him. Their previous encounters with the Infinity Stones give them an edge, and their teamwork is put to the test.
This movie is a juggernaut of a film. It boasts an all-star cast, and a tightly woven plot, covering over a decade of the MCU.
When watching the Marvel movies in order, the pay-off is in Infinity War and Endgame. Do not consider starting your movie marathon with this film, the build-up is an experience of its own.
2018-2023 – Avengers: Endgame
There is not a lot to be said about Endgame that will not surely spoil the film. But here is the main takeaway: it is the biggest movie of all time.
Endgame is the highest-grossing film ever, complete with all the fan-service a blockbuster cast can provide. It is also a formal goodbye to the MCU's past three phases and a bridge to their future ones.
Running for three hours long, it is best to watch this with a group of people. There will be a lot of intense scenes, covering emotions and fighting, but this is why people gravitate towards the Avengers. These characters will feel like family by the time you get to Endgame, granted you have seen most of the MCU films.
It took Marvel over 20 movies to get to Endgame, and this film is their biggest culmination. All characters are led once more by Captain America and Tony Stark to face off with Thanos.
"Avengers Assemble" is the name of the game. Endgame is the ultimate Avengers assembly. Chances are, if you are reading this, you want to experience the build-up towards Endgame. So, do not skip this movie.
Endgame is why you start watching in the first place, even for people who did not know it was coming.
2023 – Spider-Man: Far From Home
Spider-Man: Far From Home had the (unfortunate) privilege of following Endgame, both on the MCU phases and chronologically.
While it is not the blockbuster tat Endgame is, Far From Home offers great insight into the world post-Endgame.
In the film, we see Peter Parker deal with the events of the last five years, or rather, move on from them. With a class trip to Europe, Peter looks forward to time spent with his friends, MJ and Ned. His trip with his classmates takes serious detours, though, when Nick Fury surprises Peter with a mission.
Peter teams up with Mysterio (Jake Gyllenhaal) to fight Elementals. These beings wreak havoc in different parts of the Earth.
Far From Home provides more light-hearted fun compared to the Avengers movies, where everything was done on a gargantuan level. Spider-Man's story has the stakes pushed higher than ever before, but it is also a friendly-neighborhood-type of story.
The post-credits scene leaves people's jaws dropping. Marvel knows how to keep their viewers on their feet.
Watch Spider-Man: Far From Home
Marvel Movies in Order by Phase
If you want to watch the Marvel Movies in order, you can also try watching them by Phase. Here is a breakdown of each Phase, so that you know which characters to expect when watching them.
Also, this list will help anyone planning to follow one specific plot point, whether it may be Iron Man's arc or Captain America's. Should you be planning to watch Endgame-specific movies, read on. We get into that in the next section.
Phase One
Phase One movies happen simultaneously. There are four origin stories in Phase One: Iron Man's, Captain America's, Thor's, and the Hulk's.
Each character discovers what it means to be their authentic selves, and all begin evolving into the heroes they are in Endgame. These people overcome their arrogance and their fears and face themselves for the very first time.
These are the origin stories the MCU is built on. Without their success, little might be known about the world of Marvel.
Though no origin stories are present for these characters, we also meet Nick Fury, Natasha Romanov (Black Widow), Hawkeye, and Agent Phil Coulson. When coupled with the other four heroes above, we get The Avengers.
Here are the Marvel movies in order for Phase One:
Iron Man (2008)
The Incredible Hulk (2008)
Iron Man 2 (2010)
Thor (2011)
Captain America: The First Avenger (2011)
Marvel's The Avengers (2012)
Phase Two
Phase Two pushes our heroes to new heights, once again letting them reflect on their ethics and morality. The post-Avengers world is a much more complex one, and Phase 2 deals with each character deconstructing what it means to be an Avenger.
The final leg of Tony's trilogy and the sequels to Captain America's and Thor's begin this Phase. Throughout these films, we also meet the Guardians of the Galaxy and Ant-Man, future Avengers members.
As for the bad guys, we get a strong roster of evil in Phase 2. You will meet Thanos, Ultron, and modern-day HYDRA in this MCU era.
Here are the Marvel movies in order for Phase Two:
Iron Man 3 (2013)
Thor: The Dark World (2013)
Captain America: The Winter Soldier (2014)
Guardians of the Galaxy (2014)
Avengers: Age of Ultron (2015)
Ant-Man (2015)
Phase Three
Phase Three is where the team dynamics of the Avengers get put to the test. The larger the roster of heroes, the more internal conflicts there will be. This Phase is the most intense to watch, and you will get a bit lost if you have not watched movies from the other Phases.
But the MCU will not stop there. There are also three new origin stories to explore: Doctor Strange, Captain Marvel, and Black Panther. Since this is the third iteration of Spider-Man, Marvel chose to skip his "origins." Instead, we get a coming-of-age film for Peter Parker. This story takes off after the events of his debut in Civil War.
There are also a handful of follow-up movies in this Phase. There is one for Captain America, Thor, the Guardians of the Galaxy, and Ant-Man.
Phase 3 is by far the most daunting phase for MCU filmmakers. The Russo Brothers, specifically, take the lead in three films: Civil War, Infinity War, and Endgame. Yes, you read that right. They handled the three ensemble movies in one era.
They've since retired from directing Marvel movies.
Here are the Marvel movies in order for Phase Three:
Captain America: Civil War (2016)
Doctor Strange (2016)
Guardians of the Galaxy Vol. 2 (2017)
Spider-Man: Homecoming (2017)
Thor: Ragnarok (2017)
Black Panther (2018)
Avengers: Infinity War (2018)
Ant-Man and the Wasp (2018)
Captain Marvel (2019)
Avengers: Endgame (2019)
Spider-Man: Far From Home (2019)
Marvel Movies to Watch Leading up to Endgame
There is a lot of content to sift through when it comes to the MCU. The mere fact that there are different ways of watching this cinematic universe tells you all there is to know about how tightly woven their plot lines are.
If you want to get to the "meat" of the story, here are the Marvel movies in order for an Endgame journey.
Captain America: The First Avenger (2011)
Iron Man (2008)
The Avengers (2012)
Captain America: The Winter Soldier (2014)
Guardians of the Galaxy (2014)
Avengers: Age of Ultron (2015)
Captain America: Civil War (2016)
Spider-Man: Homecoming (2017)
Thor: Ragnarok (2017)
Ant-Man and The Wasp (2018)
Avengers: Infinity War (2018)
The Top 5 Critically-Acclaimed Marvel Movies
Movie buffs would know that not all MCU's offerings are created equally. Some fall far from grace, like The Incredible Hulk and Thor: The Dark World. Others are Oscar-nominated films and push the boundaries of what it means to be a superhero film in the 21st century.
For example, The Winter Soldier, rooted in political controversy and conspiracy, feels less like your run-of-the-mill superhero film. Watching it gives more of an action film ala-James Bond type of feel.
If you want to watch the best-fairing MCU films, check out the list below. They are superhero films done in different ways, but have two things in common: 1) They're a part of the MCU, and 2) They are good.
Ratings are from Rotten Tomatoes.
Black Panther
Black Panther is the first all-black superhero film to ever exist. This movie was an instant hit because it finally gave the diversity fans have been clamoring for after all this time. The MCU has been glossing over representation of different cultures and narratives before this film.
Not only this, but Black Panther's story runs deep with sociopolitical tones. The movie explores themes of purity, ignorance, and the modern effects of historical racism.
Black Panther was nominated for several awards, most noted of which is an Oscar. Ryan Coogler, their director, is coming back for the Black Panther sequel. You might as well get started on this film now.
Avengers: Endgame
The highest-grossing movie of all time deserves your attention. Once you see the large cast and intimidating storyline, you will wonder to yourselves how the Russo Brothers did it.
This three-hour film is the biggest Marvel release to date, both in budget and in coverage. All the Marvel characters are here. Everyone must see this for themselves, as this is a part of history.
Iron Man
Many folks describe Iron Man as the "film that started it all." This is the truth.
Jon Favreau's Iron Man came to theaters in 2008 and made waves in the box office. At this point in time, Robert Downey Jr. was bouncing back from a couple of bad career decisions, and being Iron Man became the ultimate comeback role for him.
This film is also before Disney acquired the rights to the Marvel films, so it is more raunchy than its successors. This tone fits Tony Stark's character though, so everything fell into place.
Thor: Ragnarok
The Thor movies, at least the first two, are not often included in "must-watch" Marvel films.
However, when director Taika Waititi was brought into the mix, everything changed. Ragnarok drove the Phase 3 plot towards Infinity War, and it had so much fun getting there.
The tone of the film is humorous, coupled with a lot of bright colors, new characters, and a feature from the Hulk. It makes fun of the superhero genre while also being brave enough to reinvent it.
Waititi is set to write and direct the next Thor movie, Thor: Love and Thunder. This will be the fourth movie in the Thor series.
Spider-Man: Homecoming
Peter Parker is the youngest character in the Avengers, yet has had the most revivals in the last two decades. Tom Holland is the third person to play Parker, so Spider-Man: Homecoming had its challenges.
Director Jon Watts took this film a few notches down from a big, blockbuster plot line. The stakes were relatively low, and this made for a very good character study on Peter Parker.
Stripped off his Avengers' persona, we see Spider-Man as your friendly neighborhood hero. He is not removed from society, like Stark, not full of wisdom like Cap, and not possessing the powers of a god, like Thor. He is most like us, the audience.
Watts made Spider-Man accessible again. With a coming-of-age film, the Peter Parker vs Spider-Man narrative felt new and very real.
Parker is in high school for most of Homecoming. It makes you think why the first two iterations of this web slinger focused so little on his high school experience.
Upcoming Marvel Releases
MCU's Phase 4 debut is delayed because of COVID-19. There is a lot of push back in shooting schedules and release dates because of the worldwide pandemic. Marvel fans will have to wait a year or two longer before they meet new heroes and reunite with old ones.
Still, you can expect these movies out of the MCU's Phase 4. We are yet to see how they can fit in your watch party for Marvel movies in order.
The Eternals
Followers of the Guardians of the Galaxy series would know about the Celestials. Their ethereal glows and god-like powers make them unforgettable in the MCU, despite limited screen time.
The Eternals are an alien race made by the Celestials, defending the Earth in secret from Deviants.
This film has a large, accomplished cast on its back. Kit Harrington, Gemma Chan, Kumail Nanjiani, and even Angelina Jolie signed on to do this film. Marvel is not done with ensemble casts, and the first official Phase 4 movie is proof of that.
Shang-Chi and the Legend of the Ten Rings
Not much is known yet about Shang-Chi and the Legend of the Ten Rings, even though it has been in development since 2001.
The movie will be following the life of Shang-Chi (Simu Liu), a martial artist, as he faces The Mandarin (Tony Leung), leader of a terrorist organization known as the Ten Rings.
This would be Marvel's first Asian title hero to get a film of his own, which is great news, following the big changes brought by Black Panther. Hopes for the film are high, and are going to go higher once Marvel reveals more details.
Doctor Strange in the Multiverse of Madness
The sequel to Doctor Strange is predicted to be more experimental than the first one. How could it now be, since Endgame amped up his powers and abilities?
The plot for Doctor Strange in the Multiverse of Madness is also unknown, but we do know that Wanda Maximoff, or Scarlett Witch, will be joining him in this movie. Both of these characters' abilities come from an Infinity stone, so expect a burst of magic and superpower.
Untitled Third Spider-Man Movie
If you have seen Spider-Man: Far From Home, you would know how much higher the stakes are for the third Spider-Man movie on-screen.
Off-screen, however, the high stakes are similar. This film was almost dropped from the MCU as we know it and was to be produced solely by Sony. The Spider-Man character has had a history of ownerships and contract disputes, and it will not stop.
Still, Sony and Disney managed to sort out their differences. Peter Parker will finish his arc in the MCU for the time being. Tom Holland is also signed on to do one more cameo for a future Marvel movie.
Thor: Love and Thunder
Taika Waititi's next film with the MCU is Thor: Love and Thunder. Thor, so far, is the only original Avenger coming back for a fourth solo film. Chris Hemsworth will be reprising his role as Thor, joined by Natalie Portman as Jane Foster/Mighty Thor.
Like the films above, people do not know much about this film yet. However, people are excited for Waititi's next imagining of Thor's world and story.
The Final Phase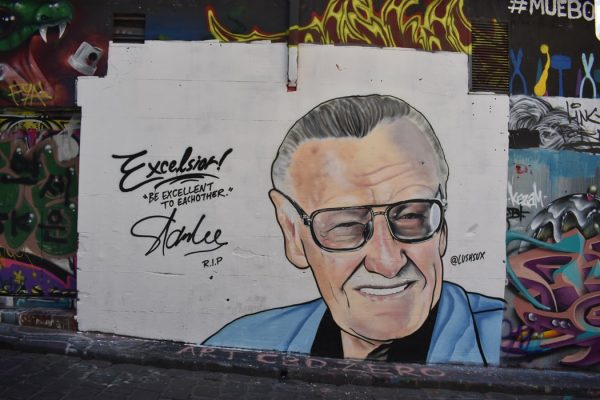 The Marvel Cinematic Universe is packed with films, all parading their own characters, themes, and story arcs. Yet, there are many more coming your way.
There is no one right way to experience Marvel's narrative, obviously, the MCU decided that phases are the best ways to share their stories. Watching the Marvel movies in order is an inventive twist on the MCU journey.
Expect a strong connection to these characters when you finish your movie marathon. The people watch for them, at the end of the day. While big fight sequences and CGI keep their stories bright, it is their characters and the time devoted to each of them that make them special.