The Scott Pilgrim vs. the World game was somewhat of a marketing tactic to enable the success of the Scott Pilgrim vs. the World movie. Released in 2010, the movie made a name for itself in entertainment and has been a cult classic ever since.
After over a decade, many still talk about the franchise: its characters, references, and one-liners. Because of this, Scott Pilgrim vs. The World: The Game found a second life in newer consoles.
But is it still worth a buy this time around?
What Is Scott Pilgrim vs the World?
What Kind of Game Is It?
A 16-bit action fighting game, Scott Pilgrim vs. the World: The Game is based on the Scott Pilgrim vs. the World comic series. In this game, people can play with up to four of their friends and go through increasingly difficult levels of facing Ramona's "evil exes." It follows a "beat 'em up" format that makes it easy for anyone to play.
While this is a licensed game released along with the Scott Pilgrim vs. the World movie, this game is in a league of its own. The Scott Pilgrim vs. the World game manages to capture the hearts of people many years after its first release.
How? Its source material is very much inspired by video games too. This makes it natural for Scott Pilgrim vs. the World: The Game to transition seamlessly from story to game to graphics. There is not much imagining left for them to do: the comics laid out a plan for them already.
Scott Pilgrim vs. the World Comics
Made by Bryan Lee O'Malley, the Scott Pilgrim vs. the World comics is a series of graphic novels released around 2004 to 2010. It focuses on a young man named Scott Pilgrim and his quest to win over Ramona Flowers, all while being a good roommate, bandmate, and boyfriend (to Knives Chau).
As Scott tumbleweeds his way into Ramona's heart, he must face her seven evil exes. This includes an old school flame, Matthew Patel, a now-famous superstar Lucas Lee, musicians such as Todd Ingram and the Katayanagi brothers, and her former roommate Roxie Richter.
Probably the most notable of the seven is Gideon Gordon Graves, the "boss level" of all exes. As the main antagonist of the series, he does everything in his power to keep a hold of Ramona. He is unafraid to use his wealth, power, new nightclub, and can even go as far as mind control. Scott, throughout the comics, must learn the value of loving (and improving) himself before he can ever love anyone else. While he is not a knight in shining armor, he is human. The comic series shows his many flaws throughout but also manages to share his worth.
This is hailed as one of the best comics of all time by different publications. Scott Pilgrim vs. the World is also considered a cult classic around the world.
You can get the complete set on Amazon today.
Developer
Developed by Ubisoft Montreal and Ubisoft Chengdu, Scott Pilgrim vs. the World: The Game was also published by their parent company, Ubisoft.
It does not take long to realize the familiarity in Ubisoft's name. The company has been making a name for itself for years, particularly with its development of the Assassin's Creed franchise.
Other notable works by the company include the Far Cry series and the Watch Dogs series. The Scott Pilgrim vs the World game is not similar to these games in terms of style and stakes, but it is in the same capable hands.
Release Date
There are two release dates for Scott Pilgrim vs the World: The Game. This is because of its recent re-release on January 14, 2021. Its original release was tied into the classic films by Edgar Wright, which was in August of 2010.
Scott Pilgrim vs. the World: The Game was pulled out of stores after less than five years. However, since the series found a new audience in the age of the internet, its team thought it would be prudent to re-release the game on newer platforms.
The game would be called Scott Pilgrim vs. The World: The Game – Complete Edition. You can check this out on the Amazon store now, should you want to join in the fun of the Scott Pilgrim universe.
Platforms
Scott Pilgrim vs. the World: The Game was first available on the PlayStation 3 and the Xbox 360. With the release of Scott Pilgrim vs. The World: The Game – Complete Edition, the game was made available to many other platforms.
Now, you can play this game on the PlayStation 4, the Xbox One, the Nintendo Switch, and the Google Stadia.
Prices
The price range for the re-release of this game is $15 – $35. You can buy this game in digital and physical stores, albeit the latter is harder to come by.
Scott Pilgrim vs. the World: The Game
Gameplay
The gameplay for Scott Pilgrim vs. the World: The Game is very simple. Scott has to face seven evil exes to unlock his self-worth and win Ramona's heart. Since it is 16-bit, do not expect a high-stakes fighting sequence or gut-wrenching visuals. The game is very much like the comics, fun, low stakes, and filled with pop culture references.
Thus, the game is a simple beat 'em up game intertwined with fun characters and landscapes. It feels retro even if Scott Pilgrim did not exist until the new millennium. Punch, kick, and smash your way to Ramona's heart. Face boss levels that call for twice the punching, kicking, and smashing. The Scott Pilgrim vs the World game is just like the comics. It is easy to love and grasp. It has also had various customization features from character select screens, unlockable abilities, and even various weapons.
If you are looking for a game that you can play with three friends, Scott Pilgrim vs. the World: The Game is a fun party game. There is no need to invest in such a high-strong plot nor expect your players to know everything about the series.
This game is simple, easy, and fun to play. Maybe that is why it feels so sentimental: it is a callback to the timelessness and simplicity of 90's games like Super Mario World, Sonic the Hedgehog, and Mortal Kombat.
Story
The story of the game is based on its source material, only omitting a few details from it. As discussed above, the game stars Scott Pilgrim, a young man who wants to win a spot in Ramona Flowers's heart. However, things are not so easy for him as he is challenged by her seven evil exes.
Fighting to be her present flame, he (and occasionally his friends) faces these exes, who make it increasingly hard for Scott after every battle. Each ex brings a different story, different fighting skills, and different hardships for Scott. These make for a new theme in every level as each level is based on an evil ex.
Will Scott find his way to Ramona's heart and mind this time around?
Graphics
As a 16-bit game, one can imagine that it is not that difficult to run the Scott Pilgrim vs the World game. Should you want to play this game on PC, all you will need is at least a 3.3 GHz Intel i5-2500K or Nvidia GeForce GTX 660 GPU. You will also need a Windows 10 operating system, which is what most PCs will have been using by this era in technology anyway. 2 GB of storage and 8 GB of RAM are also needed. These are not demanding computer rigs, so almost anyone can enjoy Scott Pilgrim vs. the World: The Game.
As for its aesthetic value, this game reeks of sentimentality. Not only is it a callback to early 2000s culture, but it also stands for 90s gaming, which was a gaming period that bore icons like Zelda and (advanced) Super Mario. Scott and his team, as well as their enemies, are in cutesy 16-bit characters. However, the game does not rely on that alone. It also boasts a series of weapons and landscapes that enhance your gameplay through and through.
Features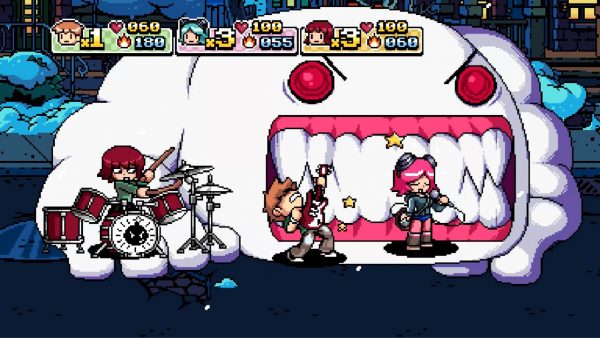 The main difference between Scott Pilgrim vs. the World: The Game and Scott Pilgrim vs. the World: The Game – Complete Edition is not only its platforms. Features-wise, the latter supports online co-op gaming, which is popular especially with the releases of games such as Back 4 Blood.
Other than this, the game's features remain quirky and usual. You can play as several characters, including Scott Pilgrim, Ramona Flowers, Stephen Stills, and Kim Pine. Later in the article, you will get to know each one, including previously downloaded characters (that are now just available in-game).
Going back, this video game also boasts several mini-games on the "subspace." For those who do not know, the "subspace" is the subconsciousness of a person. This makes for thrilling and dynamic gameplay. Other features of this game include Zombie Hordes and Battle Royale. Fight your way out of an endless wave of enemies.
Lastly, like the series itself, the Scott Pilgrim vs the World game loves its music. Play with a good soundtrack running in the background.
Replayability
As this is a revival of a game released a decade ago, there is no denying the replayability of the Scott Pilgrim vs the World game.
There are many loved characters to unlock and mini-games that add to the low-stakes but high-fun of this video game. Like the comics and movies, this game boasts a comfortable atmosphere for its players. It is a space people can keep revisiting and enjoying because it is not a stressful play.
Sometimes, what you need is not mind-boggling gameplay. You need an escape; an easy-to-understand beat 'em up. This is what Scott Pilgrim vs. the World: The Game offers. Everyone who plays this game will pick it up quickly, and that is by nature.
Value
Scott Pilgrim vs. the World managed to be a cult classic despite being somewhat of a box office bomb during its premiere. The source material aged well, and that is why Ubisoft can re-release Scott Pilgrim vs. the World: The Game. There is still an audience for video games like these, but maybe only if it is pre-established.
An entirely new generation is discovering the comics and movies of the Scott Pilgrim world. With a new set of gaming memorabilia, it is not hard to want to cater to this newfound audience.
Since its publishing, no comic has captured the spirit of Scott Pilgrim vs. the World. By virtue of this, no video game gives players the same vibe, the same energy, and the same humor.
The Scott Pilgrim vs the World Game Characters
Scott Pilgrim
The main character of the series, Scott Pilgrim is the first playable character you might choose to play the game with. Using him, you have access to a "Super Attack" and "Teleportation."
Seeing his story play out, you may also find yourself facing exes of your own. Expect run-ins with Knives Chau, Envy Adams, and your fellow bandmate Kim Pine.
Ramona Flowers
The second lead of the series, Ramona Flowers is another playable character for Scott Pilgrim vs. the World: The Game. Her edge as a character is her "Subspace Suitcase," where she can get exclusive weapons for the game. Included in this roster is a War-hammer that is one of the most powerful weapons of the game.
When finishing the game with Ramona, you will find yourself following the canonical ending of the comic book series.
Kim Pine
Kim Pine, Scott's ex and bandmate, is one of the four main characters you can pick in the game. She has a fast recovery rate and has a special power of "freaking" her enemies out.
Based on the comics, Kim Pine has somewhat of a romance with Knives Chau in-game. Her ending completes this arc, but her powers throughout the game are rooted in this too.
Stephen Stills
Rounding out the four initial characters of the Scott Pilgrim vs the World game is Stephen Stills, the leader of The Sex Bob-omb. He displays his talent by playing the guitar in the game.
Moreover, his entire in-game character arc is about his band (that includes Scott) finally securing a record deal worth a million dollars. His exit design is that of Super Mario, which is an easter egg for gamers all over.
Knives Chau
First starting as an assist character, Knives Chau is now one of the playable characters of the Scott Pilgrim vs the World game. She is Scott's last girlfriend before Ramona Flowers and is between the ages of 17-18 in the series. In many ways, she is everything that is wrong with Scott at the time. Stephen Stills, for example, first found it weird that he was dating someone so young in the first place.
In the game, her moves are similar to Kim Pine's. However, she has a few tricks up her sleeve.
Included in these are her special kicks and knife-throwing moves. Once threatened, players can use Knives' striker, which is her mom rudely screaming at her enemies.
Wallace Wells
Wallace Wells was added into the mix of playable characters in 2013. Like Knives, Wallace seems to be somewhat of a copy of Stephen Stills. Their moves and the character design are the same, but Wallace, being Scott's gay roommate, has special moves of his own.
This includes a rainbow uppercut and a special "kissing" move that leaves enemies destroyed. His Striker is also Knives Chau, who manages to throw special (deadly) hairpins against her opponents.
Nega Scott
Nega Scott is a standout character in any Scott Pilgrim platform for sure. He is the "boss" fight of Scott's life, whether it is in the comics, the movie, or the game. Nega Scott is the personification of everything that terrifies Scott Pilgrim—his past mistakes, his personal hang-ups, and his insecurities.
In Scott Pilgrim vs. the World: The Game, NegaScott has almost the same moves as Scott Pilgrim. Because he knows Scott so well, he edges him out in power and attacks. He is faster and tougher than Scott, marking deep damage against anyone he attacks.
When he loses, NegaScott turns into a demon with a purple mist. Should you finish his story, he sends a few characters out in exile. It takes a while to unlock NegaScott, but the humor and features of his character make it worthwhile.
As a bonus, you will also get NegaKnives.
Pros and Cons of Scott Pilgrim vs. the World: The Game
The Scott Pilgrim vs the World game, no matter where you are playing it and when, is an entertaining game. It has a lot of easter eggs for long-time gamers and provides light-hearted fun. As mentioned above, you do not need to know much about gaming or Scott Pilgrim to enjoy Scott Pilgrim vs. the World: The Game.
While it is in 16-bit, this game manages to give enough variety to its players. It has characters with different moves and story arcs, mini-games, and various locations. It boils down gaming to its most basic form, without having to raise the stakes or overdeliver with hyper-realistic visuals.
Of course, those who do enjoy what gaming is today—intense, hyperrealistic, and stacked with bonus features—may not enjoy the Scott Pilgrim vs the World game. A product of its time, this can be tokenized by its players. No one has released a beat 'em up this simple in years, so it might not be worth a purchase to those who are not interested in revisiting the past.
Other players also report a lot of repetitive action and levels to level up. This grinding can be boring and make you lose interest fast.
Final Word: Why Should You Play This Game?
Scott Pilgrim vs. The World: The Game is a faithful adaptation of the comic book series. More than that: it is also a smart one. It does not blindly follow the maps laid out by its source material (though this is an easy cop-out). The game manages to add on to it with a variety of character easter eggs, bonus material, and mini-games.
Moreover, as a product of its time, the Scott Pilgrim vs the World game takes you back to an era much loved by the internet today: the early 2000s. Its aesthetic and culture are packed in this pixelated 16-bit game that just wants you to have fun.
There is no denying that the Scott Pilgrim series found its home in the late 2010s, a period after its release. Its comeback not only includes viral Twitter references to the movie, but also a re-release of a once forgotten (or so we thought) game.