Knowing Disney animated movies in order, and how to watch it, can be a gargantuan task. Now with over 50 animated feature-length films, you may not know where to begin. It may also be hard to know how to continue, simply because the 1940s was a hub for Disney "package" movies that have not seen the light of day in a while. Either way, there are many ways to watch your favorite Disney movies, but if you want to enjoy them in a unique and insightful way, you can watch them in order.
Disney Animated Movies
Disney Animated Movie Classics
Needless to say, the Walt Disney Animation Studios have been a driving force of pop culture for some time. It comes to no one's surprise that they have been churning out movies since the 1930s, even in the midst of a World War.
This list goes into the best and most family-friendly Disney animated movies in order. There are a few old films that are left out, especially some with slightly offensive tones basing on culture today.
The Walt Disney Animation Studios, like society, has grown from its time. Even going through this list of Disney animated movies in order shows you that values have changed alongside technology.
Snow White, a Disney classic, is a far cry from Anna and Elsa. It does not demerit the first feature-length animated movie in any way, though. Snow White and the Seven Dwarves paved the way for popular movies like Frozen II to exist.
This list of Disney animated movies in order goes from the classics to the most recent films.
Where to Watch Disney Animated Movies in Order
As of 2021, there is only one online hub to watch all your favorite Disney animated movies in order. This is Disney Plus. Almost all conceivable Disney films are on this platform, so if you know how to download movies on Disney Plus, you should give it a shot.
If you do not have Disney plus yet, learn more about it on a Disney Plus review.
Why Should You Watch Disney Animated Movies in Order?
Disney is a part of everyone's childhoods, no matter how old they are. Releasing their first animated film in 1937, there is no denying that Disney has a spot in everyone's hearts all over the world.
You should watch the Disney animated movies in order because it exposes you to the changing times and technology of animation. Those who do this will see how animation has evolved over time, and how important it is to value the past.
If anything, doing this serves as a refresher for your sentimentality and mind. Rewatching classics shows you how good (or bad) they really are, helping you find your ultimate favorite Disney animated movie.
Disney Animated Movies vs Disney Pixar
This list will focus solely on Disney animated movies and not Disney-Pixar movies. The two often get confused, since both bring many successes to the world of animation.
However, the difference lies in their producers. Disney-Pixar is a joint endeavor from Disney and Pixar animation studios. This list of Disney animated movies in order, in contrast, only explores purely Disney content.
Watching the Disney Animated Movies in Order
Snow White and the Seven Dwarfs (1937)
When watching Disney animated movies in order, it is not acceptable to gloss over Snow White and the Seven Dwarfs. The base story of all other fairytales of our time, Snow White checks all the boxes of a traditional happily ever after.
For those who have not seen Snow White, this movie is about a young mistreated girl who finds a new home deep within the forest. Unbeknownst to her, there are seven dwarfs willing to teach her what family is all about.
Of course, it would not be a classic Disney film without the use of an iconic villain. Gracing everyone's screens for the first time is the stereotypical "Evil Queen." She wants to be the fairest in all the land and the only thing in her way is Snow White.
Snow White is not only a Disney animated classic but also a cinematic icon. This movie is symbolic of the changing tides of the film industry and artistry. It features romantic and dreamy songs, decades-lasting character designs, and benchmark multi-plane technology.
See how the animated industry got its official mainstream start with Snow White. While the movie made only about $8 million dollars, this is a big feat for a movie released during The Great Depression.
Watch Snow White and the Seven Dwarfs
Pinocchio (1940)
Following Snow White on this list is Pinocchio, based on Carlo Collodi's "The Adventures of Pinocchio." A story exploring the complex nature of family, peer pressure, and self-concept, Pinocchio is another Disney icon on this list.
Pinocchio is a wooden puppet that comes to life shortly after being created by Geppetto. Made of wood but also heart, Pinocchio wants to be a "real boy." This sends him on an adventure amassing carnivals, the ocean, and even a whale.
Joined by his conscience Jiminy Cricket, Pinocchio learns what it means to be a real boy. The young puppet realizes the value of selflessness and bravery.
This movie is a must-watch for not only Disney fans but moviegoers in general. Pinocchio's life story is very much still relevant to the personal tribulations one may feel even today.
Fantasia (1940)
Disney released iconic movies such as Snow White and Pinocchio during the early 20th century. However, there is nothing quite as iconic as the studio's first release of Fantasia.
With no dialogue but moving music to match, Fantasia is an unmatched cartoon opera that has never been replicated since. Classical music is the star of the show, and Mickey Mouse is the medium.
Fantasia, despite being one of the most aged mainstream animated films, still holds up its flame. Its animators drew scenes that have survived decades of technological advancements. From the dancing flowers to Mickey Mouse as the Sorcerer's Apprentice, it seems prudent for everyone to know the cultural relevance of Fantasia.
Dumbo (1941)
Following Fantasia on this list is Dumbo, which is about a small circus elephant.
Exploring themes from classic stories like David and Goliath, Dumbo is an underdog of an elephant everyone wants to root for.
Delivered to Mrs. Jumbo in Florida, Dumbo is set for a career in the circus. However, his freakishly big ears stand in his way. Dumbo is bullied, mocked, and left alone when his mother is imprisoned. It does not help that his ears will never seem to shrink in size, so he has to make the most out of his uniqueness.
Like any Disney movie, Dumbo does not have to go through life alone. He befriends a mouse named Timothy, and together they skyrocket Dumbo's circus career—all thanks, finally, to his ears.
The Reluctant Dragon (1941)
Ushering in an era of package films for the Disney franchise is The Reluctant Dragon. After the first half of a spiel about wanting to adapt "The Reluctant Dragon" for animation, the animated film about a young boy and a dragon comes to life.
The classic nature of this story lies in its lesson: there is more to monsters than you think, as long as you give them a chance.
Bambi (1942)
When watching Disney animated movies in order, one may not expect Bambi to come in as late as seen on this list. Because it cements its name in the hall of long-lasting Disney classics, it is hard to imagine that there are more than a couple of movies before Bambi.
Still, here it is.
Bambi is based on Felix Salten's Bambi: A Life in the Woods. Embezzled with a Disney-grade animation, this movie is about a young dear known as Bambi or the Great Prince of the Forest. Many older audiences may know Bambi for its dark themes such as loss, which the movie opens with after Bambi loses his unnamed mother.
Because of this, he finds trusty sidekicks at an early age. Joined by Thumper and Flower, Bambi and his sidekicks grow up in a forest slowly haunted by Man. They have to learn how to grow up safely and happily, as well as move past their traumas.
Fun and Fancy Free (1947)
A compilation of other stories, known as a package movie, is what makes up Fun and Fancy Free. Released in 1947, this film features the stories of "Bongo" and "Mickey and the Beanstalk."
The more popular of the two, Mickey and the Beanstalk is Disney's very loose adaptation of Jack and the Beanstalk. In this, Mickey is joined by Donald and Goofy, who are all starving from a kingdom tragedy.
Important to note here is that this is the last time Walt Disney voiced Mickey Mouse. For long-time Disney fans, this movie is a must-watch even for that reason alone.
The Adventures of Ichabod and Mr. Toad (1949)
Package movies had a good run during the first two decades of Disney animated movies. However, it was time for Disney to move forward.
Thus, the very last package movie for the studio at the time was The Adventures of Ichabod and Mr. Toad, which featured two animated stories. Watch this film and learn the stories of Wind in the Willows and The Legend of Sleepy Hollow.
Watch The Adventures of Ichabod and Mr. Toad
Cinderella (1950)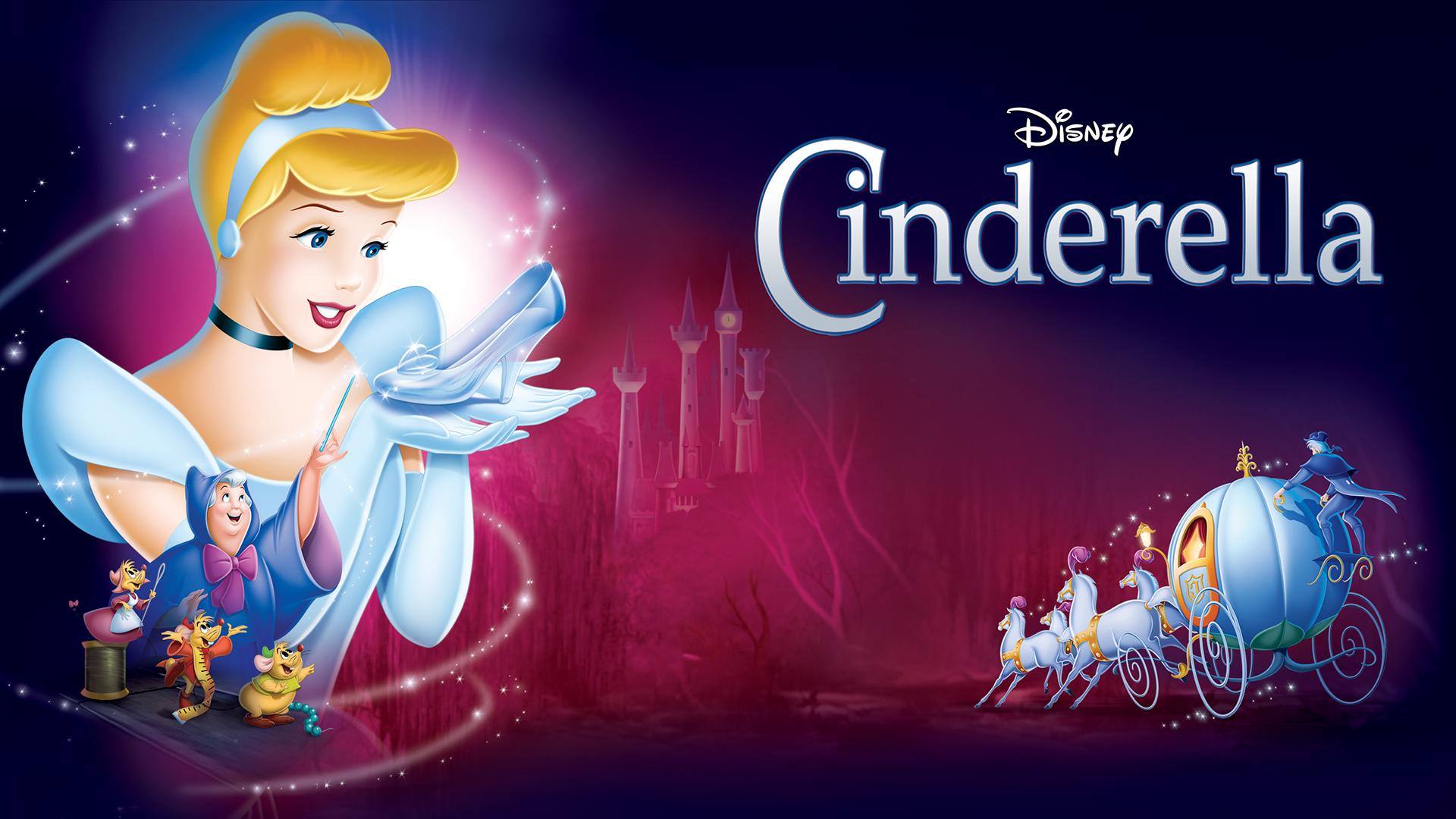 Over a decade after Snow White, Disney finds its footing (and resources) yet again with Cinderella. Reestablishing the studio's classic happily ever after, Cinderella is about a young woman who faces the wrath of her evil stepmother and stepsisters every day.
After the sudden death of her father, Cinderella has had no choice but to live under Lady Tremaine's roof. Despite being family, she is treated as a housemaid and is expected to act like one too.
Despite this, Disney yet again introduces its signature lessons of good faith and true love. When Cinderella is granted a visit to the kingdom's ball, she accidentally dances with the Prince. The young maiden falls in love, and everyone knows what happens next.
Watching Disney animated movies in order will be moot without Cinderella. From its classic A Dream Is a Wish Your Heart Makes to sidekicks such as Gus and Jaq, Cinderella has a way of packing sentiment even to people who have never seen it before.
Alice in Wonderland (1951)
A cult and cultural classic, Alice in Wonderland is a film about a young girl who falls down a rabbit hole and finds herself in an entirely new and whimsical world.
In this world, she meets walking cards, a visibly shaken rabbit, and even a Mad Hatter. She traverses through Wonderland and meets all creatures big and small, but problems ensue when she meets the Red Queen.
Alice in Wonderland is one of the most successful Disney films when it comes to the timelessness and cultural impact. Spawning movies until the 2010s, there is no denying that people still love the tales from Wonderland. Watching the Disney animated movies in order will reveal the beauty of the original adaptation.
Peter Pan (1953)
Based on the world-famous J.M. Barrie play, Peter Pan is a Disney adventure movie set in Neverland.
Now with countless adaptations, it is impossible to miss Peter Pan in this list of Disney animated movies in order. This film focuses on the adventures of Peter Pan with the Darling siblings, particularly Wendy who needs to "grow up."
By bringing these children to Neverland, they face their storybook fantasies such as mermaids, fairies, and fighting evil pirates. Not all of this is fun and games though, as Captain Hook seems to stop at nothing to get in Peter's way.
Lady and the Tramp (1955)
The new generation of kids may know the Lady and the Tramp for its adaptation on Disney+. In fact, it is one of the Disney Plus shows and movies you should check out right now.
This film is an easy-to-grasp love story between a pampered cocker spaniel named Lady and a stray mongrel named Tramp. Their love brings them to adventures around the city, capping it off with the famous spaghetti scene that lives beyond this movie.
Sleeping Beauty (1959)
Sleeping Beauty is the last Disney princess in this list of Disney animated movies in order for a while. Introduced to the world in 1959, this film packs colorful characters, beautiful animation, and a timeless Disney villain to match.
Cursed at birth, Princess Aurora is kept hidden from the world lest she die on her 16th birthday. The cause of all this madness is an evil fairy Maleficent, who is upset at not getting an invite for her first birthday.
With her parents alarmed, Aurora is now under the care of three fairies. However, no matter how hard they seem to try, destiny follows Aurora wherever she goes.
One Hundred and One Dalmatians (1961)
When it comes to Disney villain longevity, there may be quite nothing like Cruella De Vil from One Hundred and One Dalmatians. Released in 1961, a list of Disney animated movies in order will reveal how iconic she truly is.
An evil fashionista, Cruella De Vil is dressed in fur from head to toe. Seeing the family of dalmatians, she hatches a plan to kidnap them and wear their fur.
At the time of this movie's release, Disney managed to make waves because it is uncommon for a Disney film to be set in modern times.
The Sword in the Stone (1963)
Inspired by the medieval stories of the Knights at the round table, The Sword in the Stone is another addition to this list of Disney animated movies in order.
With the death of the kingdom's king, Uther Pendragon, comes a new challenge for even the simplest of men: pull out a famous sword stuck in a stone. The human who manages to pull it out is the successor of the late king.
However, this "next king" seems to keep people waiting. Many years and an era have come by, the sword is still in the stone. Now growing up in the dark ages, a young 12-year old named Arthur shows potential. A forest wizard named Merlin sees this, and the story is as told.
The Jungle Book (1967)
What looks like Disney's first run-in with a jungle boy protagonist can be seen in The Jungle Book. This timeless Disney classic features a young boy named Mowgli and his experiences in the jungle.
Raised by Wolves, Mowgli learns to fend for himself and find a family in a deep and dark jungle. When his life is threatened by a vicious man-eating tiger, he only manages to escape with the help of his new friends. These friends are animals too: a black panther named Bagheera and a bear named Baloo.
The two try to protect Mowgli's life by ushering him to the nearby human village safe and sound. This adventure is anything but boring, as the movie also introduces the famous "Bare Necessities" anthem to people far and wide. The Disney animated movies in order reveal hallmarks of good storytelling, and while The Jungle Book may not have aged well in some aspects, it still can be a fun watch.
The Aristocats (1970)
Released in 1970, The Aristocats is a family-friendly classic Disney movie. As such, it features nothing more than humanized animals, a greedy villain, and a lesson on family.
When a rich old lady leaves her possessions to her four cats, the animals go from house pet to house owners. Because of this, they grow up as "aristocats" (aristocrat cats).
This does not sit well with the old mistress's butler, who wants to get all the money to himself. Thus, he kidnaps the cats to gain her fortune. Unknown to him, he is in for a wild ride against Paris animals—from army dogs to fellow cats, even the stray ones.
Robin Hood (1973)
Another timeless Disney classic, Robin Hood is a film about a fox outlaw that aims to bring justice to the people of Nottingham. Many know this film to be a symbol for the masses, as "Robin Hood" is usually used to describe someone who does some bad to do good.
Robin Hood, for example, forms a gang that can confront their town Sheriff. Because of the greed in power, people lay waste to their precious money through taxes. This money, Robin knows, is used for the prince's private spending.
This film was successful then and still is successful now. Many remember the characters of Robin Hood despite never having seen the movie themselves. If you are one of these people, watch the Disney animated movies in order and see the charm of Robin Hood yourself.
As an extra easter egg, detect the scenes that borrow animation from previous Disney movies. This film is known for reusing old animation, too.
The Many Adventures of Winnie the Pooh (1977)
It is no surprise that in the '70s, Disney had already managed to recycle some old content and make something new. The success of the stories of Winnie the Pooh prompted this 1977 movie release.
This film joins three successful Winnie the Pooh narratives, namely Winnie the Pooh and the Honey Tree, Winnie the Pooh and the Blustery Day, and Winnie the Pooh and Tigger Too.
Connecting these stories are short spiels from everyone's favorite Hundred Acre Wood characters. Based on this are future Winnie the Pooh movies to come. This goes especially for the one in 2011, where the movie is composed of many Pooh stories too.
Watching the Disney animated movies in order can reveal how one movie can affect the other, and that is the case for the Pooh series.
Watch The Many Adventures of Winnie the Pooh
The Rescuers (1977)
Starring Bob Newhart and Eva Gabor, The Rescuers is about two mice on a mission to rescue a young girl, Penny, from a greedy kidnapper named Medusa. Making things worse, she no longer has parents to save her so the mice are her last chance.
This adventure film from Disney does not look its age. With semi-serious subject matter and voice acting chemistry to match, The Rescuers is a timeless addition to this list of Disney animated movies in order.
The Fox and the Hound (1981)
The 1980s were not particularly blessed with Disney films. As one watches the Disney animated movies in order, there is only a small number of 80's films to watch.
Still, this era kicks off with The Fox and the Hound, released in 1981. Its story is simple and classic Disney—filled with anthropomorphic animals that learn a lesson or two about friendship and family.
The main conflict of this film resides in the nature of these two animals. Despite growing up together, a natural drift causes the fox Tod and the hound Copper to part ways. By nature, Tod is supposed to hunt Copper when they become adults. Their instincts go to battle with one another, but their hearts are still very much friends.
The Black Cauldron (1985)
The Black Cauldron is a Disney animation studio's attempt at providing an intense adventure movie similar to that of Lord of the Rings. Inspired by the work of Lloyd Alexander, this film is about a young boy who ventures out into the unknown.
Together with his friends, he tries to find the magical black cauldron that can conjure up an army of soldiers in a blink of an eye.
Of course, like the Lord of the Rings, you will be amiss to think that no one else has heard of this cauldron. In fact, an evil Horned King has. Conflict ensues and battles commence.
When watching Disney animated movies in order, there are a couple of surprises. We often only envision movies such as The Little Mermaid, Aladdin, and the like when talking about classic Disney. Often forgotten in this narrative are movies like The Black Cauldron, which is when Disney was still finding its next signature style.
The Great Mouse Detective (1986)
The last film before the famous "Disney Renaissance," The Great Mouse Detective is inspired by Sherlock Holmes-style storytelling.
Starring a detective mouse named Basil, this movie finds him investigating the mysterious kidnapping of a toymaker named Hiram. When he follows one clue to another, he finds that the root of this mystery is not all that mysterious at all.
Watch The Great Mouse Detective
The Little Mermaid (1989)
The Little Mermaid is a Disney staple. There's no discussing Disney animated movies in order without talking about The Little Mermaid. This film, its characters, and its music are still alive today.
Focusing on the story of a young mermaid princess named Ariel, the Little Mermaid finds her wanting to become a part of the human world. This movie sets the stage for Disney's potential in delivering one musical hit after another, and we have "Part of Your World" to thank for it.
When she strikes a deal with a sea witch, Ariel learns the value of her voice and identity.
Despite a 1989 release, Ariel, her voice, and her story manage to grasp the hearts of the 21st century. Disney theme parks still have The Little Mermaid-themed rides, reminding people of the sentiment and comfort this old Disney film brings.
The Rescuers Down Under (1990)
Before the 2010s, Disney was not known for releasing wide-blown sequels. The Rescuers Down Under is a classic Disney animated movie sequel; set in the Australian Outback.
A Disney classic, this movie is about a young boy who frees an exotic eagle in the Australian Outback. This backfires and the boy finds himself kidnapped by a local poacher.
Stepping up to the plate are New York City mice—Bernard and Bianca—hoping to come to this boy's aid as soon as possible. Of course, this movie will not be complete without meeting other local cartoon animals, such as kangaroo rats. Watch the Disney animated movies in order and see how its first few sequels compare to the latest ones.
Beauty and the Beast (1991)
Tale as old as 1991, Beauty and the Beast is the third movie in the Disney Renaissance. It is about a smart young woman named Belle who is imprisoned by a prince-turned-Beast in his castle.
Unbeknownst to her, the Beast has to find true love to shift back into a prince.
Even though their relationship starts strained, Belle finds sides of the Beast she never saw before. He, along with his family of candelabras and other house decors, hope that she falls in love with him before it is too late.
Aladdin (1992)
Inspired by an Arabic book called "One Thousand and One Nights," Aladdin is another Disney film that shaped the Disney Renaissance.
It is about a poor young man named Aladdin who lives in the streets of Agrabah. When he discovers a lamp and meets a genie, he is granted three wishes. As expected, he uses it to gain everything he ever wanted: money, a title, and love.
However, the kingdom's princess, Jasmine, is not easily won over. It also does not help that her father's adviser, Jafar, has other devious plans in mind.
Everyone may know this film from "A Whole New World," which receives a lot of critical acclaim up to this day. When watching Disney animated movies in order, the beauty is also in the songs, and Aladdin is top tier when it comes to that.
The Lion King (1994)
The Disney Renaissance is shaped by its films. Lion King, released in 1994, plays a big part in this Disney era.
Unafraid to delve into deeper subject matter and themes, The Lion King paved the way for more serious Disney films. As an anthropomorphized retelling of Shakespeare's Hamlet, this is a drama as much as it is a comedy.
It explores the Pride Lands, ruled by Mufasa and to be ruled by his son, Simba. When tragedy hits Simba, he runs away out of guilt, shame, and loss. The world is unforgiving to Simba, but he does find a space for him to grow. Meeting Timon and Pumba changes him, and introduces him to "Hakuna Matata."
Of course, life is not all fun and games. Simba's past catches up with him, and his destiny is there for the taking. He has to face family, especially his father's brother Scar.
Pocahontas (1995)
Before Mulan, there was Pocahontas. As Disney's first woman character based on real folklore, this film makes waves that last until today. When watching Disney animated movies in order, the beauty is in the evolution of stories and technology. Pocahontas offers perspective on both.
This film revolves around a young woman named Pocahontas and her (un)fortunate run-ins with English colonizers, specifically Englishman John Smith.
Giving lessons on development, empathy, and growth, Pocahontas goes into deeper subject matter than most Disney films. Directed by Mike Gabriel and Eric Goldberg, this film stays in the hearts and minds of Disney kids all over the world.
The Hunchback of Notre Dame (1996)
The Hunchback of Notre Dame is based on a story by Victor Hugo. Its plot centers around the life of Quasimodo and a gypsy dancer named Esmeralda, whose life is in danger.
Behind this evil is France's Minister of Justice Claude Frollo who wants to kill families of gypsies living in Paris. Quasimodo, who has struggled to fit in on his own, wants to save Esmeralda's community and gain the self-love he truly deserves in the process.
When watching Disney animated movies in order, this movie is for sure one of Disney's darkest offerings. At the same time, it is one of the studio's most creative and brave.
Watch the Hunchback of Notre Dame
Hercules (1997)
A mish-mash of Greek mythology, satire, and pop culture, Hercules is one of the last movies from the Disney Renaissance.
Revolving around a young demigod named Hercules, this movie finds him stolen and lost on Earth. Now without any way of knowing who he really is, he lives a normal life extraordinarily because of his magnificent strength.
Of course, destiny eventually catches up when the evil mastermind behind all of this, Hades, realizes that Hercules is merely lost and not dead. As Hercules learns the ropes of saving people with a hero trainer named Phil, he climbs up society's ranks. From one victory to another, Hercules becomes a full-fledged hero.
Things, at the top, however, are not what it seems. He risks more than necessary to become the man he truly wants to be.
Mulan (1998)
Giving modern audiences their first taste of an empowered and independent young woman, Mulan is set in during China's Han Dynasty.
When her aged father is requested to return to the military once more, Mulan fears for his life.
In an attempt to save him and to keep their family's honor, Mulan disguises himself as a man named "Ping." She trains with the other men in their military and proves that she is worthy of being treated as an equal. At the same time, she is guided by her trusty cricket and a bearded dragon.
Moreover, Mulan finds friends and romance in her team that loves her for who she truly is.
A story about unlocking one's potential and honor, Mulan is a movie with a beautiful soundtrack and great animation. Watching Disney animated movies in order will change your perspective on the studio's cultural impact over time.
Tarzan (1999)
Released in 1999, Tarzan is one of the Disney greats. With a beautiful soundtrack and moving visuals, this movie is the last addition to what is known as the Disney Renaissance.
This film explores the life of a man who grows up in a family of gorillas, after losing his parents in a jungle tragedy. Tarzan is a man amongst monkeys, and struggles to fit in with "his kind."
When a group of researchers arrives at their jungle, Tarzan finds solace and some answers from a young woman named Jane. In many ways, he starts asking questions he did not consider even existed such as: where is he from? And what is he?
Dinosaur (2000)
When watching Disney animated movies in order, arriving at the 2000 mark means seeing where Disney sees itself moving forward.
Gone are the days of Prince Charming and happily ever after, which was Disney's blueprint for a while. Starting this off is Dinosaur, a computer-animated feature from Disney released in 2000.
Looking like a realistic version of Land Before Time, this movie takes audiences back to the prehistoric period. It features the story of a young dinosaur as he is adopted by a family of lemurs.
The Emperor's New Groove (2000)
The early 2000s saw a rise in popularity for somewhat cynical and deconstructed fairy tales. The Emperor's New Groove is Disney's addition to this genre and roster of films.
Starring stand-up comedian David Spade, The Emperor's New Groove is about a young egotistical prince that turns into a llama. During this time, he finds himself in places he never imagined seeing.
Most notable of these is a quaint house atop a hill he wants destroyed for his personal entertainment. Through these experiences, he holds up a mirror in front of himself and sees himself for who he truly is.
Kuzco, the prince, will struggle at developing as a person but he will not do it alone. Joined by Pacha, he will reclaim his kingdom from evil Yzma and rule fairly once and for all.
Watch the Emperor's New Groove
Atlantis: The Lost Empire (2001)
One does not have to watch Atlantis to know what "Atlantis" is. The lost city has plagued the minds of people and researchers for centuries, and Disney simply put a classic spin on it.
Atlantis: The Lost Empire is an adventure movie that stars Milo Thatch. With no singing and cute animal sidekicks, this leans more towards Disney's adult audiences. With animation and riveting characters, this movie packs a punch and remains one of Disney's best original movies.
Watch the Disney animated movies in order and see how Atlantis: The Lost Empire stands alone and apart.
Lilo & Stitch (2002)
Lilo & Stitch made a cultural mark so strong that gifs, memes, and scenes of it still circulate on the internet today.
One of the best Disney animated classics, this movie is about alien 636 finding himself on an unknown planet called Earth. Of course, this planet is not unknown to anyone watching, but seeing Stitch try to figure out Earth is both funny and moving.
When 636 lands on Earth he is lost and taken to a shelter. By fate, a young girl named Lilo adopts him and names him Stitch. Together, they mend the wounds of growing up in broken homes and start a new life together as best friends and family.
Treasure Planet (2002)
Based on the classic book Treasure Island, Treasure Planet is a herculean effort from Disney. After several production delays because of the lack of technology, the early 2000s became this movie's big break.
Treasure Planet combines both 3D and 2D animation in telling its story. In true Disney fashion, this movie explores the life of a young boy named Jim Hawkins who dreams of exploring the universe. Because of this setting and the film's technology, the movie comes out beautiful and somewhat moving.
The stars and galaxies look romantic, and the abyss even more so scary. Of course, this movie would be incomplete without aliens, and those that Jim meets are unforgettable.
Watch Treasure Planet and be in awe of the beauty of the animation industry. If anything, this will make your marathon of Disney animated movies in order even more special.
Brother Bear (2003)
Disney has never been one to shy away from dark themes such as love, loss, and death. If anything, these themes were innate in the first Disney movies, and it still is in Brother Bear.
Released in 2003, Brother Bear is about an adolescent Inuit boy named Kenai who seeks revenge for the death of his brother Sitka. When he tracks down the bear that did not mean to cause his brother Sitka any harm, the Spirits punish him.
Kenai turns into a bear himself and takes care of a young bear cub named Koda. As both struggle with recent deaths and missing directions in their lives, they learn to empathize with one another. They become brothers in mind and soul, through the happy river upstreams and the baggage of their pasts.
Chicken Little (2005)
Chicken Little is one of Disney's first attempts at embracing the future outside of Pixar. As the studio's first fully computer-animated feature, this movie had a lot of promise for its time.
For those who may not know, Chicken Little is based on a classic story about a small chicken that believes the sky is falling. Of course, Disney has a way to develop this story even further, hence the movie Chicken Little.
Starring Zach Braff as Chicken Little, this film explores what "the sky is falling" could mean. For Disney, it means an alien invasion, something that even Chicken Little's father, Buck Cluck, cannot believe. Joined by Abby and Runt, Chicken Little takes care of an alien and faces its species to save the planet.
One may forget to watch Chicken Little when watching Disney animated films in order because this movie seems stylistically removed from Disney. However, it is simply during Disney's somewhat experimental phase, which makes this movie a must-watch for animation fans.
Meet the Robinsons (2007)
Building itself on the words of Walt Disney, Meet the Robinsons is about moving forward. Specifically, the movie's mantra is "keep moving forward." In many ways, this is what Disney does with its content, too.
Meet the Robinsons fulfills its mantra by real-life standards in that way.
A story about a young inventor named Lewis, this movie finds him at a crossroads in his life. Growing up without parents, he struggles with finding a new family even with the help of his orphanage. Making things worse (or better), he is zapped into the future with the help of a mysterious boy named Wilbur.
The future shows Lewis that it has a lot more in store for him, but also reveals the life and people he is leaving behind. His inventive nature can sometimes be at the cost of another's expense, specifically his roommate Goob.
Bolt (2008)
Less remembered in this list of Disney animated movies in order. Still, Bolt manages to make its mark in the Disney canon. This computer-animated movie is about a young child actress who loses her dog (and fellow actor), Bolt. Having lived his life in TV studios and sets, Bolt believes that he really is the character he plays on the screen. However, this turns from genuine to awry when he gets lost trying to "save" his owner Penny.
Bolt escapes their TV studio and faces the "real world" so to speak. Starring John Travolta and Miley Cyrus, this film is a product of its time. Anyone who feels sentimental about the late 2000s may enjoy rewatching Bolt again.
The Princess and the Frog (2009)
Disney's first Black heroine was a long time coming. If anything, it seems more surprising that she arrived in 2009.
Despite the year it was released, The Princess & the Frog is set in 1920 New Orleans. A young woman named Tiana dreams of opening a restaurant of her own, and this is slowly materializing. However, one dramatic irony after another brings Tiana into the arms of a prince-turned frog. Against her fortune, Tiana is now a young woman-turned frog. Together they must transform back into their bodies and live their happily ever afters.
Life has more in store for them as they begin to see each other as more than just frog happenstances. They grow and become actualized versions of themselves, making them good role models for anyone watching. Beautifully and precisely animated, the Princess and the Frog was Disney's first try at modernizing their content. The time of Snow White and Cinderella has passed, and princesses now have more to offer than what was depicted before.
While nods to the classics are important, seeing what is ahead for Disney is just as exciting. This is why you should watch Disney animated movies in order.
Watch The Princess and the Frog
Tangled (2010)
Following The Princess and the Frog is Tangled, which introduces Rapunzel and Flynn Rider to the land of Disney animation. This is where audiences will get another taste of Disney's modernization in the 2010s. While Tangled very much still has an 'evil stepmother' trope and a few others from the classic Disney era, it also introduces a new empowered young woman.
Rapunzel is a Disney princess that sees the world rose-colored glasses. Despite this, her stepmother, Mother Gothel, tries to convince her otherwise. Locked away in a tower, Rapunzel does nothing more than paint, draw, and dream.
When she gets the chance to leave, she does and finds more than just one dream fulfilled. She realizes the roster of dreams the world has in store for her, and in Rapunzel, there is simply no turning back.
Winnie the Pooh (2011)
Winnie the Pooh lends itself to decades and decades of Disney storytelling. Its latest big-screen release, simply titled Winnie the Pooh, introduces several new Pooh stories. Discover more stories from the land of Hundred-Acre Wood. Piglet meets what is known as a "Heffalump" and Rabbit faces day-to-day mishaps. Capping this all off is Christopher Robin's morning routine, and an explanation of what takes him so long to come back to Pooh.
The 2010s are best known for the movies after this one, such as Frozen, Big Hero 6, and more. However, this film is a nod to classic Disney storytelling.
When you watch the Disney animated movies in order, you will see how the studio has changed over time. Winnie the Pooh's significance is that it is so classically Disney without trying too hard. Moreover, it does not subvert any stereotypes: it embraces what Winnie the Pooh is. This movie is simply a couple of short stories about a quiet and humble life. If anything, this is the beauty and charm of Winnie the Pooh all along.
Wreck-It Ralph (2012)
Spreading a wave of sentimentality and good-natured throwbacks, Wreck-It Ralph is a movie about arcade game characters.
Starring John C. Reilly and Sarah Silverman, this movie celebrates the misunderstood villains of stories. In many ways, they are complex and layered individuals. Ralph, for example, just wants to be a part of a family. This proves difficult, however, when he realizes that his fellow game characters cannot see him for more than what he does.
And what he does—he can only wreck things. Leave them to rubble. Tired of becoming the bad guy, Ralph sets out on a mission to finally become a "hero." In this journey, he crosses games and meets another misfit of her own, Vanellope.
Animated with precision, sentiment, and bright lights, Wreck-It Ralph is an entertaining movie that explores purpose. When Ralph and Vanellope are stereotyped by their own worlds, they cannot help but believe that they really are what people see of them. Watch Disney animated movies in order and feel free to stop in your tracks as you watch Wreck-It Ralph. This movie offers more than meets the eye, too.
Frozen (2013)
Surviving 2013's "Let It Go" era is something everyone in the entire world can pat themselves at the back for. Frozen was a cultural phenomenon. From its fresh take on Disney princesses to its Broadway-worthy music, it is one of Disney's most successful films to date.
For those who may not know, Frozen is a film of two young princesses thrust as the heads of their kingdoms. The older of the two, Elsa, struggles a bit more than her sister, Anna. Unknown to everyone but herself, Elsa harbors magical ice powers. This is not something she is proud of at the get-go, so when her powers are revealed to everyone, she runs away. Scared of being seen as a monster, she becomes a recluse in the mountains, building her own ice castle and starting a new life.
However, things are not so easy for everyone else back in Arendelle. Cursed with what looks like eternal snow, Anna has to come get her sister to make things right. More importantly, she has to get Elsa to mend what was broken on the inside. A story about sisterhood and breaking the glass (ice) ceiling, Frozen is one of the most important films on this list. This movie represents a shifting tide for Disney. Watching the Disney animated movies in order will reveal this slow but needed change for the studios.
Frozen has become more than what it set out to be and that is more than okay. In many ways, they "Let It Go" themselves.
Big Hero 6 (2014)
Big Hero 6 became another cultural phenomenon from Disney back in 2014 for many reasons, but the biggest reason is its biggest and plushiest character: Baymax.
Even if Disney owns the Marvel Cinematic Universe, their animation studios do not shy away from a superhero movie once in a while. Watch Hiro Hamada and his trust sidekick Baymax as they face the forces of evil in their city of San Fransokyo.
However, they do not have to face danger alone. Also an ensemble film, Big Hero 6 debuts heroes such as Go Go Tomago, Wasabi, Honey Lemon, and Fred. All geniuses (including Hiro), they make their superhero personas with spunk and a lot of science.
Who knew an inflatable robot can give characters like Iron Man, Captain America, and Thor a run for their money? Watch the Disney animated movies in order and compare the experience to watching the Marvel movies in order, and decide which is better.
Zootopia (2016)
Buddy comedies are not a thing of the past because they have so much more to offer. Zootopia is one of the freshest takes on this genre in a while.
Join doe-eyed bunny cop Judy Hopps and cynical tough-love kind of fox Nick Wilde in this film. Playing like a good cop/bad cop caricature, these two mammals solve missing animal cases in their city.
There are no humans in Zootopia, which is somewhat of new exploration for modern Disney films. These days, with Disney's hold on the media industry, anthropomorphized characters are Pixar territory. Toy Story, Wall-E, Inside Out, and so much more fit with Zootopia well.
However, this is not the case for the movie. By doing this, Disney shows that there is more to their animation studios than meets the eye. Zootopia is a surprisingly emotional and inventive film that dives deep into social issues such as racism and prejudice.
Judy and Nick see the true evils and inequality of their city in Zootopia. Watch as they step up to the plate and challenge their city to become what it can be: fair and peaceful.
Moana (2016)
The latest empowered Disney princess on everyone's radar is Moana. A young woman from the South Pacific, Moana is next in line to run her island. However, in true Disney fashion, her heart lies in adventure and the sea. As this life calls her, she ventures out in open waters and quickly realizes that she has so much more to learn.
Of course, she is not the only one with learning to do. When she teams up with Maui, a demigod, Moana unlocks her potential to lead and empathize even further.
Still, is it enough to keep her island safe and her calling fulfilled? Watch the Disney animated movies in order and build up to Disney's modern takes on family, female empowerment, and ego with Moana. Sailing across the Pacific Ocean may be a thing of the past, but there is nothing as modern as the animation and lessons of Moana. Moreover, there is nothing quite like the representation she brings to kids worldwide.
Ralph Breaks the Internet (2018)
As technology advances, it will become more difficult for Disney to keep running its classic settings and themes. Disney princesses and forest escapism are not all that Disney is good for. Often, any Disney movie that does not feature a Princess is seen as a Disney-Pixar film. This is not the case, especially for Ralph Breaks the Internet. Watching Disney animated movies in order will reveal how Disney has embraced technology over time. This is not only through their animation, but also their storylines.
A sequel to Wreck-It-Ralph, this film expounds on the thrilling world of technology once more. Together with Princess Vanellope, Ralph is moving on from struggling with his villainous persona to grappling with the reality of the Internet.
The two misfits travel to the World Wide Web for a mission that can save Vanellope's game, Sugar Rush.
Like anything on the Internet, things become suspiciously easy to come by. The two learn a lesson on the dangers of the World Wide Web and more specifically—the algorithm.
Watch Ralph Breaks the Internet
Frozen II (2019)
Frozen II is one of Disney's most-awaited animated sequels. In watching Disney animated movies in order, Frozen II is probably the best symbol for where Disney is at right now. Following the events of Frozen, sisters Anna and Elsa go on another adventure into the unknown. For Anna, this is a chance to help her sister run the kingdom. Elsa, on the other hand, has something else on her plate: a calling so loud and personal, she just cannot swerve away.
Joining them are the team yet again: Olaf, Kristoff, and Sven. Together, they learn more about the kingdom of Arendelle and themselves. How so? In the most classic Disney way possible—through the magic and mystery of an enchanted forest. Watch Disney's lightning in a bottle one more time with Frozen II. This movie is packed with music, magic, and lessons that serve as the best Disney hallmarks.
Final Word
There are many Disney movies for people to enjoy, which showcases the timelessness of the animation genre. Each movie represents the priorities of their time, the potential of their people, and the lessons they value. This is why you should watch Disney animated movies in order.
You might just find your favorite animated film all over again.