The best dating sites are now at the front lines of matchmaking. Bumble, Tinder, Flirt? People are getting lonely, and "Which dating sites are the best?" is a query getting asked on Google more on each passing day.
Now is as good a time as any to connect with people. Given these circumstances, people are forced to socially distance themselves from each other. This is difficult even for people living with their housemates and families. For those looking for love, social distancing is a harder-hitting story.
Worry not, however. These best online dating sites are here to help you find that perfect match.
15 Best Dating Sites
Match.com
Commercials these days continue to roll with Match.com. One of the best free dating sites, Match.com is a fossil on the online matchmaking scene. 
Founded in 1995, Match.com is accessible to singles of all ages who are looking to make all kinds of connections. Their longevity is a testament to their success, with nine million active users on the site. This is a not-so-generous statement, though, since the site has 25,000 users signing up each day.  
For those wondering about how Match.com keeps up with its younger consumer base, the company has adapted social media. One feature on the site, called "Stories," is roughly based on Snapchat's ground-breaking feature. Cutting through the small talk is an option now since everyone's lives are plastered on the site. 
Match.com is also available for mobile users now. Anyone with a smartphone can find their true love anytime and anywhere. Make sure you have an internet connection first, though. 
Match.com, being one of the best dating sites, is free to use. However, it also has a premium service that gives you direct messaging features. As with most platforms, Match.com has members, and that assures you how serious people are in finding love. 
PROS
Tried-and-tested technology
Easy to use
Direct messaging features
CONS
Too many people in the market
Spam messages are harder to avoid
"Premium" benefits are essential dating features
OkCupid
OkCupid is one of the best dating sites out there for those serious about finding someone they want to be around for a while (or forever). This dating site is alive because it works: many people report finding their ideal match on the site. 
In 2020, people consider a lot of factors before they start dating. People don't want flings with people who don't share the same political views anymore. OkCupid's profiles show that the platform values personality more than looks. 
In fact, some users even liken OkCupid's Match/Enemy questions to a personality test. This makes the platform one of the best dating sites for people with strong opinions. 
Safety measures on OkCupid are also increasing. Like its brother dating site Tinder, direct messaging on OkCupid is only possible if you match with the person. This lessens your risks of harassment or scamming on the platform. 
OkCupid is one of the best online dating sites because it knows what matters to its users. In fairness, it is difficult to date someone who does not share the same political views as you. Dating should not feel like a debate all the time, and OkCupid pushes for conversation. 
PROS
Personality-focused

Inclusive to all sexes and genders

Direct messaging only possible with matches
CONS
Gets personal way too early
Available features vary from one account to another
Hinge
The best dating sites are serious about finding love for their users, and Hinge is one of these. To those who aren't updated, Hinge now uses the slogan "designed to be deleted."
Rather than partake in the "swiping culture" popularized by platforms like Tinder, Hinge helps users make engaging profiles that show their personalities. Like OkCupid, Hinge does not shy away from displaying your political, religious, and personal beliefs. To those who want to take things up a notch, you can even display how many kids you want someday. 
Hinge, without a doubt, is one of the best online dating sites. Why? Its algorithm is made for long-term relationships and not based solely on looks. The platform is not viable for one-time flings. 
PROS
Highly probable you'll have a second date

Backed up by science

Fast-growing following
Personality-based
CONS
Limited matches for free users 

If looks matter a lot to you, Hinge has gotten rid of its height filter. 
eharmony
eharmony is at the very start of the best dating sites backed up by science. 
With 35 years of experience, eharmony uses a thorough Relationship Questionnaire in rating user compatibility. The dating site uses the scientific method in this process, and it also bases on "29 dimensions" of interests. This technology is so special that eharmony has it patented as their "Compatibility Matching System." 
After going through this meticulous quiz, the platform sends you your compatible dates. Those who trust in science will find more peace of mind in eharmony. 
Other features on this dating app includes same-sex dating, direct messaging, and refunding. Yes, you read that last bit right. 
If you are not satisfied with at least five matches, you get the money you invested in eHarmony back. This platform puts its money where its mouth is. With guidelines like that, you know it's serious about finding you a serious relationship. 
PROS
Refunding features

Science-based 

Direct Messaging features
CONS
Limited matches for users 

Thorough and meticulous compatibility quiz
TasteBuds
Culture varies and times are changing, and online dating is easing into this century through one of the best dating sites for people in their 20s in TasteBuds. 
As you can tell from its name, TasteBuds uses culture as the ultimate tool in matchmaking. Getting into specifics, the dating site matches you with someone sporting the same music taste. 
They're on to something: a lot of first dates do discuss musical likes and dislikes. Awkward conversations come from not liking the same things, or worse—-hating each other's music tastes. 
Start on TasteBuds by picking three musicians (or bands) that you like. Next, choose your gender dating preferences. You're pretty much good from here. 
If you're looking for a laid-back relationship that starts with a friendship, try TasteBuds. 
Music lovers are the bell of the ball on this platform. Still, finding a concert buddy you can share your music with is only the beginning. TasteBuds is the ultimate icebreaker. 
PROS
No awkward small talk 

Meet people with the same interests immediately

Open to a variety of gender dating preferences
CONS
Not for serious relationships

Filled mostly with a younger audience
Coffee Meets Bagel
It's still a bit of a mystery why matches are called "Bagels" in Coffee Meets Bagel. Even so, this dating site is gaining momentum around a younger audience. 
Coffee Meets Bagel functions less like a dating site and more like your AI wingman. It delivers matches (Bagels) to you every day at noon. Much like a friend, they don't stop there. This platform also gives you potential icebreakers to use on your meet-cutes. 
Another notable feature for one of the best dating sites is its notifications. The site nudges you in the right position and mindset even when you're off of it. Your friends don't just leave you out playing on the field alone, right? 
With a small audience, Coffee Meets Bagel is safer to use than most dating sites. You just have to sign up and enjoy the ride since your matches are hand-picked—-or brunch over real coffees and bagels if you're lucky. 
PROS
No pressure in finding matches on your own

You cannot message people you did not match with

Consistent in sharing matches with you
CONS
Smaller roster of matches

Less control over who you match with
Plenty of Fish
Plenty of Fish joins the best dating sites veterans in longevity. Launching in 2003, the features of Plenty of Fish, as well as its website, are etched in our minds. 
This online dating platform stays true to its name. There are definitely plenty of fish in the sea for Plenty of Fish with millions of global users. The site also adapts with the times as it is integrated with Google Home.  
The free-to-use features of Plenty of Fish have stayed the same in the past decades: These include free messaging, live streaming, and an easy-to-use interface. A plus is there is no limit to sending direct messages. 
Still, you have to take the good with the bad. Because of Plenty of Fish's popularity and ease, spams are more common than you would think. LGBTQ+ users may also have a more difficult time than their straight counterparts. 
With their unlimited free features, though, there are plenty more fish this sea. 
PROS
Lots of users

Easy and cheap to use 

Unlimited features
CONS
Lots of spam messaging

Not as LGBTQ+-friendly as other sites
Mostly for an older audience
Zoosk
The app-turned-site Zoosk follows (old) Facebook's features more than any of the other best dating sites. 
In Zoosk, users can like each other's photos and access them through their feeds. Like the popular social media conglomerate, Zoosk has a lot of active users. Signing up for free will expand your horizons, which is best if you're getting tired of seeing the same people to swipe to. 
What makes Zoosk unique is its use of "Zoosk coins." Users buy these coins and boost their own profiles or send them to other users. This feature is not for the lighthearted, but Zoosk helps users step up to the plate.  Dating after all, is not for the faint heart. 
PROS
Lots of users

Unique social media algorithm 



CONS
People can buy their way around Zoosk.

People report being charged for unknown fees.
MySingleFriend.com
Whereas some dating sites act as your wingman, MySingleFriend.com is asking you to bring your real wingman. After that, they will take over and do the rest. 
The best dating sites recognize that you have a life beyond the platform. Ideally, they ask you to bring your best foot forward. This is done through the linking of your social media accounts. In these, potential matches can see the life you live, how many friends you have, and the general consensus around you. 
TV personality Sarah Beeny founded MySingleFriend.com under the principle that your friends know you best. Users no longer have to stalk you to get a feel of how you are around your friends. You start navigating the website with a personal reference written by your closest comrades. 
An added bonus of this feature is that it does not require you to sell yourself too much. Inflated egos add a certain air of cringe around dating profiles. 
With your friends taking the wheel in your dating life, potential matches get to know you better. Your friends will never sell you short, but they can embarrass you. This makes dating more fun, lively, and real. 
PROS
Online dating with a twist

No stressing around your profile



More fun than other dating sites
CONS
Facts about you can be disclosed without your consent

More chatty than it is deep
Not so serious
Lovestruck
Lovestruck is one of the best dating sites you can visit if you're not interested in wasting your time. 
On this dating site, active users filter their potential matches by location. Available in major cities, LoveStruck eliminates a common culprit in breakups worldwide—-long-distance relationships. 
This platform is best for busy professionals. Matches on Lovestruck are found fast, and you can meet with them right away, too. It saves you time and energy because the dating pool can be vicious and tiring. 
You can also meet people on Lovestruck by joining their regular meet-cute events. There are no strings attached at the beginning. Although if you do want them to be, Lovestruck makes sure it's less than an hour away. 
PROS
Matches by location

Saves you time
CONS
Less people to match with

Not for people from small towns
Bumble Web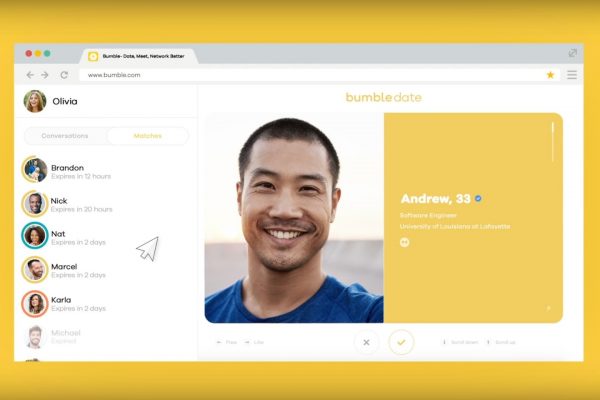 Bumble is the brainchild of former Tinder employees after they realized the staggering amount of harassment women experience in online dating. 
With Bumble, women message first. It joins the principles of Sadie Hawkins dances and bee hives. The latter being a homage to bees' treatment of their queens. 
It is important to note that Bumble is not solely for women's benefit. The site eases the tension off of some guys, too: Bumble forces people to step out of their gender roles and be better at dating. 
Needless to say, this is one of the best dating sites for people in their 20s. Bumble follows the times and are of huge help to LGBTQ+ matches (particularly for lesbians, bisexuals, and transwomen). Also, matches on Bumble expire after 24 hours. Dead, awkward air is solved quickly. Bumble matches are the real deal. 
Moreover, Bumble introduced a zodiac sign filter in 2019. In the age of people getting back into tarots, zodiacs, and the stars, this shows how accepting of change Bumble is. It is as flexible as dating itself. 
Bumble is not as rigid as other scientific dating sites. It is one of the best dating sites because it celebrates the complexity of dating. 
PROS
Safer space for ladies looking for love

Gets rid of inactive matches 

Lets you backtrack on wrong swipes
CONS
Limits the "first move" to 24 hours

Not for people looking for one-time fun 
SoulGeek
On the topic of complexities, SoulGeek does not shy away from people with intense interests. In fact, it brings them together. 
SoulGeek was founded in 2007 by Dino Andrade, who was a widowed voice actor at the time. Dating apps just were not accommodating to people with different niches. As mentioned above, a lot of ego is involved in playing it cool on the best dating sites. 
Nerds and geeks get a bad reputation in dating. Some people get caught up in the Hollywood depictions of their stereotypes. 
SoulGeek is a safe platform for people who want to find people with similar passions. The site is for people who have a deep-running love for sci-fi, animation, anime, comics, horror, and fantasy. Enjoying things should not be an alienating experience, after all. 
The features of the site are designed for those with a lot of interests. Profiles showcase personalities extensively. SoulGeek users have their matches handpicked and delivered to them every week. These matches are based on the site's multiple-choice questions. 
PROS
Fun dating atmosphere for users

Embraces your uniqueness, less judgment

Personality-focused
CONS
Niche-specific

Not for everyone
Dating Direct
Dating Direct is a popular dating site with over 20 million active users. It's similar to standard best dating sites and offers easy messaging among users. 
Users may notice that Dating Direct shares similarities with Match.com. This is not coincidental because DatingDirect merged with the dating site veteran in 2009. 
When using Dating Direct, you can "subscribe" to your potential matches. Striking up a conversation afterward is a quick and easy process.
Another feature of the dating site privileges lazy daters: users receive emails of six potential matches every day. If you're interested in one of them, Dating Direct has competitive instant messenger technology that is similar to the best dating sites. 
PROS
Many people to meet

Instant Messaging with matches

Lots of users
CONS
Available in select areas only 

High spam possibilities
YourChristianDate
YourChristianDate is a dating site with a little less than three decades of experience. 
This matchmaking platform has been growing its reach and features since 1993. They are successful in this endeavor, now reaching over 32 countries with their patented technology. 
Users on YourChristiandate choose substance over form, making it one of the best dating sites out there. Years of experience equips YourChristianDate with adaptive dating techniques. 
Before you start using the site, however, YourChristianDate reviews your profile. This is done in order to make sure that you have quality content and an apt profile. Each user is encouraged to present quality photos and descriptions of themselves. 
Even though YourChristianDate is a niche website, it welcomes same-sex attractions. Anyone and everyone can use their patented "Let's Mingle" and "Boost" features. 
PROS
Tried and tested dating technology

Personality-driven verification

Patented features 
CONS
May make people of other religious denominations uncomfortable

Niche-focused
Elite Singles
Career-driven individuals are often met with the career-vs-love question. Both paths are time-consuming, so a lot of people say it is better to choose one. You can either be head-over-heels in love or extremely focused on your long-term career goals. 
Elite Singles wants to lessen the discomfort surrounding this question. The site evaluates users' educational values and career goals through a personality test. 
The Five-Factor Personality Test is based on 29 algorithms designed by Elite Singles. This uncovers your attachment styles, honesty, and habits. After discovering these, Elite Singles uses this information in finding you a perfect match. 
However, the site does not leave you to your own devices. Users are given tools to filter searches by different factors like professions. 
The site also has a unique and exclusive verification system. Because of this, there is a substantial decrease in spam accounts. This alone makes it one of the best dating sites you can choose from. 
PROS
Perfect for those looking to settle down

Lowest possible chances of catfishing

Fun and sophisticated
CONS
Limited matches per day 

Filters are defective at times
Why Should You Try the Best Dating Sites?
Connect With Others
Connection is the name of the game when it comes to online dating. In a fast-paced world, now with distancing limits, online dating becomes an option for many.
Dating tips and tricks vary from person to person. The same goes for dating sites. Each dating site is equipped with different dating technologies and methods. As you can see above, some take a more scientific trial-and-error approach. Others use music taste, political beliefs, or even the stars.
This is why you should try out as many of the best dating sites as you can. By doing this, you learn more about yourself and how you relate to people. Reaching out to people is not always an easy task, so let these best dating sites nudge you in the right direction.
Boost Your Self-Confidence
Dating sites need you to put your best foot forward (unless you're using MySinglefriend.com, where your friends do it for you).
When starting your online dating profile, you provide your basic information. This includes your name, age, sex, and location. If you want successful matches, adding a photo is a must.
There is no denying that your personality shines the brightest with your short bios. In these, potential matches get a peek of who you are.
The medium limits people to have a real-time vibe check. So, a boost of self-confidence is needed if you want to stand out and meet your match(es). Slowly but surely, you will gain self-love because you have to.
You are selling your personality on these sites. More often than not, the best dating sites make sure you don't sell yourself short.
It Saves You Time
Most of the best dating sites on this list are available on the web and through mobile. As long as you have an internet connection, you can find love anytime and anywhere.
Meeting new people is difficult nowadays. This is even more true to single parents and career-focused individuals; time is not a renewable resource for them. So, if they want to get back to dating, going online is a good start.
These dating sites have different filters on them that help cut through the small talk and get exactly where you want to go.
Easy to Find What You're Looking For
Taking off where the last reason left, dating sites make it easy to find exactly what you want.
Niche-driven websites are the best examples. The best dating sites like SoulGeek, YourChristianDate, and TasteBuds filter from the get-go. Shared interests and dislikes create quick, strong bonds.
For LGBTQ+ community members looking for love, dating sites cut the "are you straight?" questions. Sexual orientation and gender are filtered in almost all the best dating sites as more and more of these platforms are becoming inclusive.
This is not to say that the best dating sites take the thrill out of dating; they don't. There is still mystery and magic surrounding the quest for love. The best dating sites just act as the ultimate wingmen. They help you make connections, and you take it from there.
Dating Sites Precautions
The best dating sites offer rich and unique experiences for everyone of legal age. While this is so, there are still dangers in using them. This is the internet, after all.
Read on if you want to have safe but fun encounters on these matchmaking platforms.
Giving Out Personal Details
Be careful of the personal information you give away. This is not to encourage catfishing, but to make sure you keep an ounce of privacy to yourself.
When meeting someone for the first time, take note of the questions they ask. If they jump to personal information with immediacy, consider talking to someone else. Keep your address and financial information to yourself at all times. You can even use one of the best disposable email services to keep your anonymity on the web. Know that your matches do not have you cornered if you're careful.
You can report any suspicious activity to your website's administrators. The best dating sites always have this option.
Telling Your Friends
It is always best if you do not delve into these experiences alone. This is true even if dating is a personal endeavor.
Should you find a serious romance brewing, tell a friend or a family member. You do not have to plaster your relationship all over your social media if you don't want to. This safety measure is for you and your physical safety, most of all.
It is the same as messaging your friends about the Uber ride you're getting on. Make sure people check up on you.
Logging Off
As with the first safety measure, know that you cannot be cornered on a dating site. Make sure you know how to set up a VPN if you want to cloak your location. However, log off if you are beginning to feel uncomfortable. Report these people to the website's administrators as soon as possible.
Your safety and security should be of utmost importance.
Meeting in a Public Place
Should you be on a real physical date, you can leave whenever you want. Should they offer to take you home, you can reject them. It is better to assure yourself rather than doubt everything your date is doing.
Moreover, your first meetings should always be in a public place. Meeting arrangements should ideally be in a busy area where other people can see you. Your comfort is valuable as much as your date's. Don't invite each other into your homes on the first date. You're still both strangers, after all.