Your Kindle Paperwhite lets you carry a mini library inside your purse or pocket wherever you go but did you know that there's a lot more you can do with it? While nothing can replace the feel of an actual physical book in your hand, there are so many advantages of having an eReader. With a Kindle device, for example, you don't need to carry a dictionary to look up difficult words. The device has a dictionary of its own that you can access anytime. Sure, you can use your phone to access one, but it can be a source of distraction. That is just one of the perks of using a Kindle. Here, you will find out every hack that you can learn to maximize your Kindle Paperwhite.
This is not a guide to jailbreaking your Kindle. Rather, a great collection of tips and tricks so you can make the most out of your device and enhance your reading experience!
What is Kindle Paperwhite?
The most distinct feature of the Kindle Paperwhite compared to other eReaders is, as the name suggests, its paper-like display. It gives you the experience of reading an actual book instead of reading from a screen like a tablet or a computer. The Paperwhite edition has all the basic features of the previous Kindle devices but with an enhanced design and set of features.
A Kindle device is basically an eReader or eBook reader which lets you access a huge collection of books with the tap of a finger. The great thing about it is that you do not get the common distractions that keep popping up when you are reading eBooks from a mobile phone.
Check out this Amazon eReader model today and start reading eBooks now!
How Does It Compare With Other eReaders?
There are many alternative eReaders out there that work similarly to Kindle devices. What sets the Paperwhite apart is again, the quality of the reading experience you get. The fact that you won't strain your eyes staring at pages and pages of content is a huge plus.
Kobo, one of its competitors, offers smaller storage space and it doesn't have the same quality of display as the Paperwhite. The Nook, on the other hand, is quite popular despite its limits in terms of titles that you can get.
Another advantage of the Kindle Paperwhite, as well as other Kindle models, is that it offers plenty of features like free reading for Amazon Prime members and other discounted deals. Once in a while, you will find a number of Amazon Kindle books on sale. There are also other perks like book lending and family sharing.
How Is It Different From Older Models?
One of the latest enhancements on the Kindle Paperwhite is its water-resistant design. While it may not seem like a necessary feature, it does give you some benefits like being able to read at the poolside without worrying about it getting wet. Even so, you may still want to protect your device with a Kindle Paperwhite case. It is also a lot lighter and slimmer so you can bring it almost anywhere. You can even fly with it so you can read on the plane!
In terms of what's been phased out, the Kindle Paperwhite as well as other newer models no longer have the buttons that were previously used to turn the pages. It has a touchscreen design so you can simply tap left or right to switch between pages or navigate through your settings.
Kindle Paperwhite Features
Here are the most interesting functionalities of the Paperwhite.
Paper-Like Display (No Blue Light)
As mentioned several times, the Kindle Paperwhite does not emit blue light which is what you get when you read from a tablet, mobile phone, or computer screen. Blue light often strains the eyes. This Kindle model, however, features 300 pixels per inch (PPI), making it seem like you're reading on actual printed paper. The screen is also glare-free, which allows you to read under the sun and still see everything clearly.
Thinnest and Lightest
The eBook reader measures only 0.3″ in width, making it one of the thinnest Kindle models you can find. It weighs only 6.4 oz so you can barely notice it in your bag, pocket, or purse.
Storage Capacity
There are two versions of the Kindle Paperwhite that you can choose from. One has 8 GB of storage and the other has 32 GB. Despite the massive storage difference, the 8 GB is plenty for your eBooks. Moreover, Amazon offers free cloud storage for all Kindle users so your eBooks will always be stored in the cloud even if you switch to another one or lose your device.
Water-Resistant
Feel free to relax and read by the beach, pool, or even your bathtub because this eBook reader is water-resistant. It has been professionally rated to withstand accidental immersions up to two meters for up to 60 minutes. A splash or two definitely wouldn't hurt.
Adjustable Light
The Paperwhite features its own adjustable backlight so you no longer need a clip light or to turn on your night lamp to read in the dark. You can adjust the brightness to your comfort with a few taps.
Battery Life
Another great improvement with the Paperwhite is its battery life. Your Kindle will last weeks with a single charge under regular use.
Remove Ads
You will also have the option to remove ads or book recommendations that pop up whenever you turn on your device just like in other Kindle models. You can get the ad-free version for only around $20.
How to Set up Your Kindle Paperwhite
When you first unbox your Kindle Paperwhite and remove all the plastic coverings, you will find that it has been pre-charged but not fully. You can charge it to full if you want but it's not necessary. Here are the basic steps to get your Paperwhite up to speed.
Power On the Device
This new Kindle's power button is located on the center-left on the bottom of the device. Press and hold the button and wait for your Paperwhite to light up. You will see the Kindle logo with the photo of a tree appear after a few seconds.
Follow the Setup Prompts
It will now prompt you to set up and personalize your device. First, select your language and then connect to your Wi-Fi network on the next setup page. Once you select your Wi-Fi, a virtual keyboard will appear so you can type your Wi-Fi password. Once you are connected, you can log in and link your Amazon account.
Assuming you purchased your new device with your existing Amazon account, all you have to do is type in your credentials. If your Kindle was a gift or you want to use a different account, you can create a new one. You will now have to register your Kindle Paperwhite as part of your Amazon devices.
If done successfully, you will now see a welcome message with your name on it. You can then proceed by tapping on Continue Setup.
Link Your Goodreads Account
Previously, Amazon allowed you to connect your social media networks like Facebook and Twitter so you can share highlighted passages and notes directly from your device. This feature has now been removed, but you can still connect your Goodreads account.
Why do this? Once you start reading a new book, your device will automatically mark it as Currently Reading in your Goodreads profile. You can turn off this feature whenever you want if you want to prevent others from seeing what you are reading. It will also automatically mark it as Read once you finish reading or get to the last page of the book.
Choose Your Offers
You will now see offers from Amazon for subscriptions for which you may want to sign up like Kindle Unlimited. You will learn more about Kindle Unlimited subscriptions in the latter part of this guide.
How to Buy Books for Your Kindle Device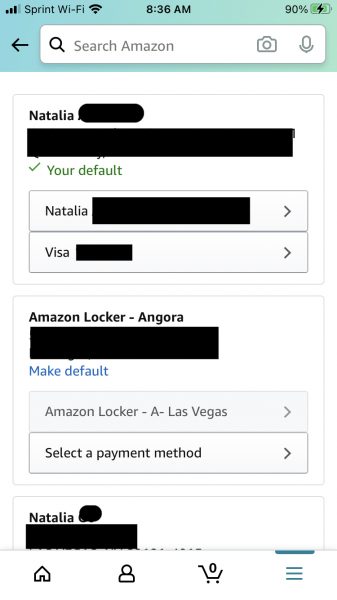 There is one thing you need to set up in order to purchase books and have them directly downloaded to your Kindle. First, you must set up your One-Click Settings. You would have to do this either on the Amazon website or the Amazon app on your account page.
On the Amazon website or your Amazon mobile app, click on the menu, and choose Your Account. From there, go to the second sub-menu called Account Settings and scroll down and tap or click on One-Click Settings. You will now see all the credit cards and other payment methods linked to your account. Scroll and choose the card that you want to use as the default for purchasing Kindle eBooks. Once done, you will see a green check that says Your Default.
Purchasing
You would have to purchase your eBooks directly from the Store page of your Kindle Paperwhite. Most of the time, if you try to purchase from the Amazon site or app, it will not give you the option to buy it. In some cases, you can do so by clicking or tapping on "Buy now with 1-click". Access the Store by tapping on the cart icon on the top of the screen of your Kindle. This will be hidden if you are currently reading a book but you can force it to show up by gently tapping on the top of the screen. You can now start searching for titles.
When you tap on an eBook that you like, you can select the Buy button and after confirming that you want to buy the book, it will now be downloaded to your Kindle and will appear in your library in a few seconds.
Kindle Paperwhite Hacks: Tips and Tricks to Maximize Your eReader
Now, here is the fun part. Reading eBooks is fun in itself but being able to bookmark pages, take screenshots of what you're reading, and highlight compelling paragraphs or sentences makes the experience even more enjoyable! You can also widen your vocabulary and so much more. Here are some of the most interesting hacks for your Kindle Paperwhite that you may not have known.
Maximize Your Vocabulary Builder
Every time you come across a word that is new to you, you can highlight it by long-pressing the word. It will automatically show the dictionary and the definition of the word. You can swipe left or right on the popup and it will show you a Wikipedia page related to the word and a translation option where you can translate the word to other languages.
Learning and Mastering Words
Each word you highlight or lookup will be stored in your Vocabulary Builder within your device. Whichever page you are on, tap on the top of the screen and then tap on the upper-left icon. Tap on Vocabulary Builder from the dropdown.
Learning and Re-Reading Definitions
You will see three options on the top: Words, Books, and a dropdown labeled Learning. All the words that you have highlighted or looked up will be listed there and they will be listed by default under Learning. Click on any of those words anytime you want and it will show you its definition again.
Mastering Words
If you feel like you have learned enough about the word or have mastered it, you can tap on Mastered on the lower-right of the pop-up. The word will then be moved to the Mastered list. You can access the words you have mastered by tapping on the Learning dropdown and selecting Mastered. It will now list all of the words you have mastered. Just the same, you can tap on them at any time and see their definitions again.
By utilizing the two features above, you can learn a lot of new words and master them. You might just be a wordsmith in no time!
Get the Most of Your Notes and Highlights
Almost all habitual readers and booklovers find that once in a while, they will resonate with a specific passage in the book. It could also be that they were fascinated with a particular sentence or find some paragraphs meaningful. You can highlight those passages by long pressing on the first word and then dragging your finger to the end of the sentence/s or paragraph/s.
Once you have highlighted something, Kindle will give you the option to add a note about that highlight or just leave it as a highlight. Either way, your highlights will be stored in one place just like your Vocabulary Builder.
Accessing Your Highlights and Notes
To access your notes and highlights, tap on the Home icon which will show you your library of all the books you have downloaded. If it's not on the first page, simply swipe left or right and look for the book that says Your Clippings. It will have a scissor icon on it.
Once you tap on it, it will list all the highlights including the notes you have added to them and they will be listed in order of oldest to newest. If you are like many readers, it is highly likely that you have highlighted plenty of passages so finding a particular highlight may be difficult. If you are having trouble finding a specific highlight, gently tap on the top of the screen again and type a word or several words on the search bar. Kindle will then look for that particular passage within your highlights or clippings.
Use X-Ray to Examine Every Detail in Your eBook
You may be wondering why this feature was called X-Ray, and the reason behind it is mind-blowing, to say the least! Like an actual x-ray, this feature allows you to see the skeleton or the bones of your eBook. What does this mean?
Once you tap on X-Ray by, again, tapping on the upper-right menu, you will see several options that will let you explore the book in-depth. What are those?
Notable Clips
Under this sub-menu, your Kindle Paperwhite will show you passages that other readers have found meaningful. You can swipe left or right to see several highlights that others have made as well as passages that Amazon Kindle's Artificial Intelligence (AI) has deemed important.
People
The next sub-menu is the People page. From here, you can see people or characters (if you're reading fiction) with notable quotes that they have said. You will also see the number of how many times those people, characters, or names have appeared in the book. This is a great tool when you want to compile a list of quotes from a favorite character in your book.
Terms
Another tool or sub-menu is the Terms page. Here, you can find important words or words that have significant relevance in the book in general or certain topics or chapters. Kindle will show you not just the definitions but also some additional information about those terms. If you tap on that particular term, your device will take you to that passage or chapter where the word was used. You can also see All Mentions which lists all the places in the book where that specific term was mentioned.
Images
Under images, you can see all the photos that were included in the eBook. If there are none, you will usually only find the book cover.
Adjust Your Preferences to Read More Comfortably
Not only can you choose the type and size of the font you want in the book, but you can also choose the theme and layout of the display. You can set your display to either large or compact which is very helpful for those with vision problems. For the layout, you can choose whether to read the normal way or change the orientation from portrait to landscape.
To access these settings, gently tap again on the top of the screen and select the icon on the upper-left on the second layer that has the Aa icon on it. From there, you can also choose what you want your Kindle Paperwhite to display as you are reading. Here are some of the things you can customize.
Popular Highlights
You can tell your Kindle to show you popular highlights from people who have read the book as you are reading. That means that you will see their highlighted passages and it's up to you if you want to highlight them yourself as well.
Word Wise
Kindle can automatically suggest that you look up definitions for words that are unfamiliar to many people and it will show a hint of what that word means as you are reading.
Show the Clock While Reading
Under the same options page, you can choose whether or not you want the screen to display the time as you are reading. Some people find this distracting and others find it helpful because they may have something important that they need to do at a certain time.
Display Your Reading Progress
You can also choose whether or not you want the screen to show where you are in the book and how much time is left to finish it. It can show the percentage of your reading progress or the page of the book you are reading. You can also view the time left to finish the book or chapter.
Take Screenshots from Your Kindle Device
This feature is surprising even to Kindle Paperwhite owners that have been using their eReaders for a long time, sometimes even years. Who would've known you can take a screenshot from a simple eBook reader? The process is simple but accessing the screenshots you've taken maybe a little tricky but here's how.
Whichever page or screen you are on, tap on the upper-right and lower-left corner simultaneously. If you see a flash, that means you have successfully taken a screenshot of the page you're in.
Accessing Your Screenshots
You will not find your screenshots within your Kindle device as it will not be in your device's library. To see them, you will have to connect your Kindle Paperwhite to your computer using a USB cable. It can be any USB cable that is compatible with Android devices. Your Kindle device will show up on your files list. Click on that and you will see Screenshots among your downloaded content.
Use Your Kindle Paperwhite with Audible
Whether you want to listen with your Alexa speaker or on your Audible app on your mobile device, you can listen to your eBook using Audible. However, you must purchase the Audible version of the book as well. Usually, there is a discounted deal when you purchase both the eBooks and their paired Kindle audiobooks. This is especially true to those included in the top Kindle books and best books lists on Audible.
Let Alexa Read Your Kindle eBooks Aloud
As mentioned, you must have the Audible version of the book for Alexa to read your eBooks out loud. Simply say, "Alexa, read…" and then say the title of the book. Your Alexa speaker or device will search your library for that particular book and start reading it for you. You will not hear Alexa's voice. Instead, taking its place will be the voice actor who was hired to read the book on Audible.
Find out here if Alexa is always listening.
Lend or Borrow eBooks from Friends
Amazon Kindle has a feature that lets you lend eBooks from your library to friends. You will have to do this from your desktop browser. Log in to Amazon and navigate to your Electronic Purchases then select Kindle from the list. You will now see your purchased content. Take note that this list will not show personal documents that you have uploaded to your Kindle Paperwhite. You can learn more about uploading PDFs and other files to your Kindle below.
Once you are on the eBooks list page, click on the menu icon beside the book that you want to lend, and select Loan this Title from the dropdown. Enter your friend's email address that they used to register their Kindle. Your friend will have access to the book they borrowed for up to 14 days. While the title is on loan with your friend, you are unable to read the book from your device. Likewise, your friends can do the same to lend you their Kindle eBooks.
Borrow Books from Libraries
While the entire Amazon Kindle system is a private service, public and school libraries still allow you to borrow eBooks from them and read them directly from your Kindle Paperwhite. You would have to do this through a system called Overdrive which is very popular with students. You don't have to be a student to borrow books but you would need a library card from any public or school library. If you are a student, however, all you need is your student ID.
Head to the Overdrive official website and enter your library card or student ID information to start borrowing eBooks!
Link Goodreads to Get More Accurate Book Recommendations
Not only will linking your Goodreads profile with your Amazon Kindle account update your friends of what you're reading, but it will also allow Kindle to provide you with better book recommendations. Based on what's been marked as Read, Reading, and what's been included on your Wish List, Amazon will recommend books similar to those titles. Sometimes, it will recommend titles from the same authors you like. Of course, there are also recommendations from Amazon Kindle bestsellers.
Achieve Your Reading Goals
Linking your Goodreads account is also a great way to motivate yourself to achieve your reading goals. Goodreads has a feature where you can update your reading progress which, as mentioned above, can be found on your display settings. Imagine seeing that you are almost 100% done reading a book. It's a great way to motivate yourself to read the rest of the pages! No matter what reading goal you've set on Goodreads for the year, this feature is a great tool to achieve it.
Read Personal Documents on Your Kindle Paperwhite
Your Kindle Paperwhite allows you to upload documents on your Kindle account so you can read them directly from your eReader. All Kindle devices are compatible with a large number of file types including PDF, Docx, and ePub.
All you have to do is email the document to your Kindle email address. Yes, Amazon has assigned you an email for your Kindle account. This email address is usually long and difficult to remember but you can modify it and personalize it to your liking. To do this, go to your Amazon account on your desktop browser and navigate to your Content and Devices under the dropdown menu of your Accounts and Lists.
Click on your Kindle device and from there, click on Edit beside the email address that's been assigned for you. You can now enter a username. The email address will always end with "@kindle.com". Anytime you want to upload a document to your Paperwhite, simply email it to your Kindle email address. It will appear in your library in a minute or two.
Organize Your Book Collections
Your Kindle Paperwhite allows you to create customized Collections to organize your eBooks. Tap on the Home icon then the icon on the upper-right corner and scroll to the bottom. You will see Create New Collection on the dropdown. Tap on it and give your collection a name. To start adding books to your personalized collections, navigate to your library. Tap on the small icon on the lower-right of any book cover then select the first option—Add To Collection. You can access your collections anytime using the Filter in your library.
Link Your Kindle Device with the Kindle Mobile App
The Kindle App is available on Mac, Android, and iPhone. Go to the App Store or Play Store and type Kindle on the search bar then download the app and log in. The app will then automatically sync your content as well as your progress in the books you are reading. It syncs your bookmarks, notes, and highlights as well!
Tips When Flying With Your Kindle
eBook readers are allowed on the plane in both checked and carry-on luggage. The Transportation Security Administration (TSA) considers Kindle devices as part of the electronic tablets category in their items list. If you're flying with your Kindle Paperwhite, it's good to know TSA's regulations to avoid unnecessary inconvenience upon passing through security. According to TSA rules, any electronic device larger than a cellphone using lithium-ion batteries must be separated into a different basket for screening. These will go with your laptops and tablets if they are in your carry-on. These items include eReaders. Make sure that you can easily take out your Kindle before you pass through security. No further action is needed if you packed your Paperwhites in your checked luggage.
Should You Subscribe to Kindle Unlimited?
Kindle Unlimited is a subscription service that lets you read books for free. However, not all titles are eligible for free reading. Still, there are plenty of eBooks out there in any genre that you can enjoy with a Kindle Unlimited subscription that comes at around $9 per month.
Whether you should subscribe to this plan or not depends on how much you read and how much you can maximize it. Do you read more than ten books per month? The average cost of most eBooks is around the same price ($9 – $10) so if you can only read one or two books per month, it may not be necessary. If you do read a lot, say, five or more books per month, you can save more money in the long run with a Kindle Unlimited subscription. You can do a 30-day free trial to see if you can maximize it.
There are endless possibilities of what you can do with your Kindle Paperwhite. You just have to know how to explore its different features. Hopefully, this guide has helped you unlock many of its potential. Not only are Kindle Paperwhites a great tool for learning, but they're also a great source of fun and entertainment!