The premise of virtual reality has always been exciting. Slip-on a pair of goggles or a headset, and you're on your way to another world. Unlike at the cinema or in front of your TV screen, you're free to interact with your surroundings and wander wherever you please.
VR exploded into public consciousness around the same time as the personal computer in the late '80s and early '90s. Back in those days, however, the difference between the real world and the pixel-heavy digital landscapes of the time was too great for everyone but for the most hardcore fans. As a result, VR was more or less put on the backburner for a couple of decades.
However, the birth of the Oculus Rift in 2012 and its subsequent purchase by Facebook in 2014 led to a renewal of interest in virtual reality applications. It also served as an uptick in virtual reality recruitment as companies cottoned on to the medium's vast potential.
How Does Virtual Reality Work?
So, how does virtual reality work? Nowadays, virtual reality is implemented using computer technology via tools such as headsets, goggles, treadmills, and handsets. These tools stimulate our senses to create an illusion of reality. This is far more complicated than it seems: human physiology is calibrated to provide a finely synchronized experience, and if anything is 'odd', our bodies will usually let us know via unpleasant sensations such as nausea or motion sickness. A successful virtual reality experience involves careful synchronicity of software, hardware, and of our senses. The most memorable virtual reality uses are those that enable us to interact naturally with our surroundings with no latency or glitches that could create a feeling of artificiality.
This leads us to ask ourselves, "Why do we go to all that trouble to create these highly technical worlds that just aim to imitate reality?" The truth is, virtual reality applications are numerous and beneficial across many fields.
Ten Most Exciting Applications Of Virtual Reality
1.  Entertainment
Entertainment is an obvious application of virtual reality. Who wouldn't want to slip on a headset and escape into another world?
The first thing that comes to mind is gaming. It is a historical virtual reality application that is still very much among the main VR uses today. Other entertainment forms are however hot on its heels. While 3D cinema has been around for quite a while now, the rise of VR headsets is providing users with immersive cinema experiences without them even having to leave the house. Apps such as Oculus Cinema enable viewers to watch movies on their very own virtual screen. At the same time, developers are working on software that will enable sports fans to cheer on their favorite teams from the comfort of their couches. An example is LiveLike VR's virtual stadium.
Using virtual reality, music lovers can attend concerts and festivals taking place on the other side of the world. Moreover, those who have been bitten by the travel bug can wander sunny beaches without leaving their front yard. What's not to love?
2.  Training
It is essential for military personnel to gain first-hand experience of the terrain of their deployment. Likewise, when you get on a commercial flight, you assume your pilot has mastered the aircraft and can respond appropriately in any kind of emergency. But have you ever wondered how rookie soldiers and pilots get in their training hours without putting themselves in danger?
Some activities are just too dangerous, impractical, or expensive for beginners to be able to practice them from the get-go. This is where VR comes in. Virtual reality education companies offer software aimed at training new personnel. The US military uses virtual reality simulators to train soldiers before deployment. These VR simulators enable them to practice working together in the kind of environments they will come up against. Likewise, flight simulators are used to train new pilots or refresh their knowledge before they can get before the controls of a real-life plane.
 3. Healthcare
With elevated costs, a tendency towards personnel shortages, and people's lives at stake, the healthcare industry is generally quick to adopt exciting new tech that can boost efficiency and improve performance. Virtual reality is no exception.
Medical institutions can use VR to make diagnoses and define treatments. Some VR simulators are now able to use images from MRIs or CAT scans to create 3D models of a patient's anatomy. The training applications of virtual reality enable trainee doctors to practice surgery with no risk to patients. Moreover, they can help more experienced ones to determine the safest way to operate.
There are other interesting virtual reality applications in the healthcare industry beyond surgery and diagnoses. For rehabilitation of stroke and brain injury victims, healthcare industries use VR. It provides virtual exercises to help patients gain independence in everyday activities, aided by real-time feedback.
4. The Arts
Fans of the performing arts will probably find the idea of a screen between the artist and audience a strange one. However, there are many exciting virtual reality applications when it comes to theatre, opera, dance, circus, and other performing art forms that are characterized by their fleetingness. That is, you have to be there on the night, or else, it's gone forever. VR enables you to watch a live performance at any time you please. You can even be in the best seat in your house. Why not even from the middle of the stage if you're feeling adventurous?
There are many other virtual reality applications when it comes to the arts. Directors can create a stage set before they build it. Applications such as Tvori enable you to create 3D animations that you can walk around. The possibilities are endless!
5. Meditation
According to the World Health Organization, stress is the health epidemic of the 21st century. Furthermore, many seem to think that tech is part of the problem. But what if it was also part of the solution? Apps along the lines of Calm and Headspace already enable you to take a break wherever you happen to be. Moreover, VR is promising to add an extra dimension to your meditation experience.
One of the hardest things about meditation for people who are just starting their meditation journey is learning to just "let go". Virtual reality meditation apps make that all easier by allowing you to slip on your headset and instantly slip into another world.
6. Mental Health
Virtual reality applications help you relax and let go. Likewise, its applications include therapeutic tools for people who have been through traumatizing experiences or suffer from debilitating stress, PTSD, or phobias.
Virtual reality can provide a safe virtual environment. This enables patients to come into contact with the source of their phobias or fears without endangering themselves. Moreover, interesting advances have already made notably in the field of treatment for war veterans suffering from PTSD.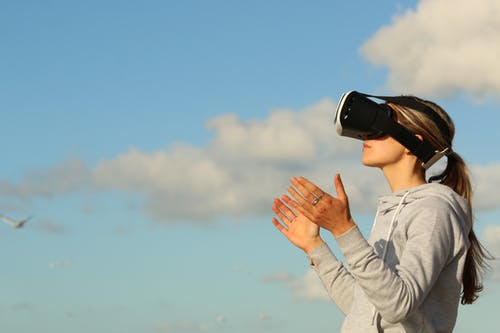 7. Marketing
AI-powered data analysis is enabling digital marketers to tailor experiences to fit individual tastes like never before. At the same time, consumers are constantly bombarded with advertising. It means that banner blindness is becoming a real problem – and that's before we even mention adblockers.
VR is a gamechanger for marketers. It enables them to provide exciting, immersive experiences with high entertainment value. In the UK, the cheese manufacturer, Boursin, recently offered a delightful virtual reality exhibit. Users were taken on a journey through a fridge filled with tasty treats, complete with wind simulators for an even more immersive experience.
8. Shopping
Imagine that you're wandering through a fashionable SoHo boutique looking to pick out a new accessory, and at the same time on your couch several hundred miles away in your pajamas.
Online retailers are now part and parcel of our day-to-day life and are looking to get a make-over. Thanks to the power of VR. The VR start-up Trillenium creates virtual stores for online retailers and has already partnered with the likes of ASOS, one of Europe's biggest online retailers. Instead of clicking their way through online catalogs, shoppers can go on a virtual tour of a store for a real-time shopping experience. They can even share it with their friends.
9. Journalism
Another exciting virtual reality application is on journalism and online media. VR is enabling media outlets to create immersive storytelling experiences that give the viewer the impression of truly being part of the action. Major players such as the Washington Post and the New York Times are now entering the VR field by offering 360° reports and documentaries. The New York Times made a big splash in 2014 by sending Google Cardboard headsets to its subscribers for them to use with their smartphones.
 10. Architecture
Another exciting application of virtual reality is in architecture. This is for being able to offer their clients virtual walkthroughs, a great way for firms to showcase their projects compared to more traditional 3D projection. It is by giving clients a true sense of space and design.
The potential uses of virtual reality are widespread and diverse, spanning everything from entertainment to healthcare and from journalism to digital marketing. With technology becoming cheaper and more widely available, we can expect to see many more exciting virtual reality applications in the years to come. Stay tuned!