The implementation of blockchain platforms is drastically growing all around the world. Moreover, numerous blockchain startups are rising. They are related to various industries. They have various purposes and missions. Some of these startups are turning out to be scam projects. Also, some of them are becoming quite successful. In this article, we are going to discuss the future of blockchains and mention the top 10 blockchain startup projects that are worth to follow. These projects are not connected to one location and don't even relate to one sphere. The only common thing between them is that they are promising.
Reasons For The Popularity Of Blockchain Technology
There are important things that make blockchain technology popular. First, it applies cryptography which makes it extremely secure. In today's world, when everyone is concerned about their data protection, blockchain has become a rescuer technology. This feature made blockchain involved in various spheres from traveling to healthcare.
The second reason is, one of the leading projects that use this technology is becoming accepted all around the world. Bitcoin's popularity is giving its part to the blockchain. Besides, the technology is gaining fame, too.
Changes That Are Probably Going To Happen With Blockchains
National Cryptocurrencies
The very first prediction is about the raising of national cryptocurrencies. It was the President of the Russian Federation, who initially suggested issuing "Crypto-rouble." It's a big sign that authorities of various countries understand the benefits of cryptocurrencies. Earlier this year, Venezuela issued its "Petro," an oil and mineral reserves backed cryptocurrency. According to Gartner predictions, five countries will have their cryptocurrencies by 2022.
Blockchain Will Connect To IoT
The International Data Corporation recently announced that the majority of IoT companies are eager to implement blockchain in their projects. Also, the corporation suggested that by the end of 2019, about 20% of all IoT solutions will have connections with blockchain technologies. The main reason for this cooperation is that blockchain enables a secure and scalable framework. Additionally, this eases communication among IoT devices. Also, blockchain will let smart devices automatically execute micro-transactions.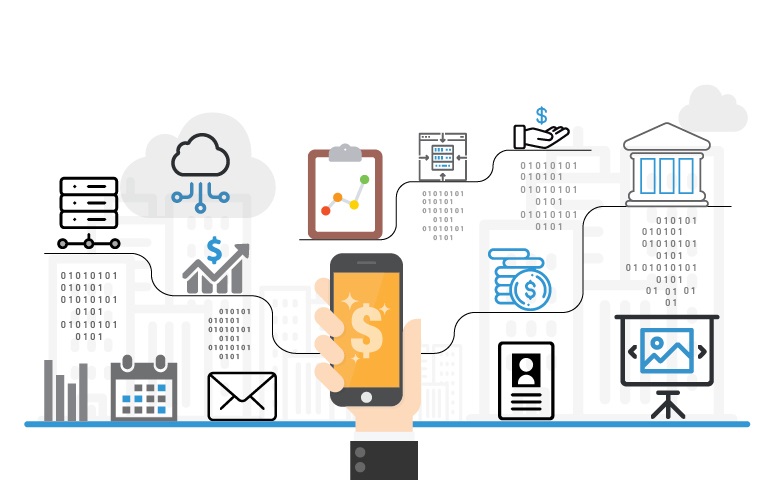 Many Startups Will Fail
In 2018, funding in blockchain startups was growing very fast. Still, blockchain is a new technology. Besides, it is immature in its implementation, so it can unmeet all the expectations of investors. Many startups are expected to become a waste of resources. It's obvious that blockchain is going to be involved in many various aspects of life. However, this is not a quick process. "Only 10% of traditional companies are going to be radically transformed by applying blockchain technologies by 2023," according to Gartner reports. That's why it's extremely important to know about the best blockchain startups that are worth following today. And now, we are going to talk about them.
10 Promising Blockchain Startups
As we have already mentioned, blockchain is now very trendy. Moreover, it's becoming extremely popular. Many companies are making attempts to implement blockchain technology into their projects. Also, there are lots of companies that are starting their way on a blockchain basis. Here are some early-stage blockchain companies to watch. Finally, do note that some of these startups have issued their currencies, too.
1. Fieldcoin
Its base is in London. It's a platform that applies blockchain to connect landowners with crowdfunding investors, allowing quick and unexpensive transfers of land property to corporations or individuals. Besides, this is the first project that builds a decentralized land property management marketplace, which has an implemented blockchain system to ease transactions between parties. Moreover, Fieldcoin aims to bring the technology to land property transactions and agricultural crowdfunding projects.
2. Lendonomy
Founded in Oslo, Norway in 2018, Lendonomy is a P2P mobile lending network for young adults that combines social networking, augmented reality, and gamification. The project targets to find a resolution to a poverty problem by motivating young people to support each other and share/lend money to peers all over the world. This startup also has educative elements. Furthermore, their goal is to teach young ones to better manage their funds.
3. Deblock
Deblock is a Korea-based company, which is a blockchain accelerator that pursues protected, transparent, and decentralized pre-ICOs. This company plans to start investing blockchain projects and supporting blockchain-related business models and entrepreneurs.
4. Authenteq
This can be located in Berlin and Reykjavik. It provides a cost-effective method for verifying users' identity without data entering, which highly protects their privacy. Moreover, it is making verification in 60 seconds, which is the fastest solution in the market for now. Additionally, the project also offers a user-owned and user-regulated e-ID that gives users total control and ownership over their online identity.
5. Legal Nodes
Founded in 2018, Legal Nodes is another London-based startup. It provides Distributed Ledger Technology legal services for corporations that are using cryptocurrencies. Using this platform, organizations can compare laws and regulations of various countries related to cryptocurrencies and ICOs. Also, this platform has a support feature, where a company can get advice regarding ICOs and crypto.
6. Korbit
It is a startup project which became the first to offer Bitcoin-Korean Won exchange. Besides, this secured web platform lets users easily trade and exchange various cryptocurrencies. Top investors and envisions gave over $3.6 million to the project for utilizing this technology and expand faster.
7. Bitcliq
This is a Portuguese startup organization. It is the first blockchain platform created for fish trading. Furthermore, it enables the purchase of fish as soon as the catch is registered. Also, this platform enabled total traceability from catching location to the table for connecting buyers and fisherman.
8. Ambrosus
Founded in 2016, and its base is in Talin. It is a blockchain-based IoT network startup created for food and pharmaceutical firms. Additionally, the company enables a safe and frictionless connection between distributed ledgers, sensors, and database for supply chain visibility and quality assurance optimization. Moreover, it creates an individual digital identity for each item to ease the process of tracking.
9. Mavlux Korean
This startup is working on implementing P2P and blockchain solutions into various organizations. Additionally, it developed a medical database known as "iChart," which allows securely transfer information among hospitals.
10. Colendi
This Fintech company's base is in Zug. It offers blockchain-based democratized credit scoring evaluation method which gives users an ID that serves as a financial passport all over the world. Also, the project aims to design a tool for those people who don't have access to banking to have greater access to micro-financing​. To make this real, both individuals and small firms need a viable credit scoring mechanism that can serve as a trusted agent between lenders and borrowers.
So, if you are thinking about investing in some prospective blockchain startups, you can choose one from this list. Lastly, remember to always make your research before putting your money in.