"How self-driving cars work?" is still among the most asked questions in the automobile industry at present. This is because knowing how self-driving cars work requires careful research. Doing so, you will come up with an elaborate if not a complete answer. So, if you are currently considering the idea of getting a self-driving car or a vehicle with an almost fully-autonomous mechanism, it is important to have an ample understanding as to how self-driving cars work before making the purchase. You will have information by reading further.
What Are Self-Driving Cars?
The very first step to fully understand how self-driving cars work is to know what self-driving cars are. The public commonly calls self-driving cars as driverless cars, autonomous cars, or robotic cars. These vehicles were called with such names because they have self-driving car components. These components enable them to sense their environment and move safely with the lesser or no input from a human driver.
How Do Self-Driving Cars Work?
Understanding how self-driving cars work is quite easy. Just check the special components that the vehicles are using. First, most of the self-driving car prototype models usually have a range of driverless car sensors that allow them to sense the environment where they are. These sensors are usually in the form of sonar, radar, GPS (in GPS self-driving car models), lidar, inertial measurements unit, and odometry.
Second, those who want to know how self-driving cars work should understand that these special vehicles make use of the most advanced control systems. They use them to identify the correct navigation path. Moreover, they help them identify potential obstacles and signages present in the area where they are.
The Earliest Years Of Self-Driving Cars
The idea which aims to develop driverless cars and use these regularly started in the 1920s. It was evidenced by a series of experiments conducted on the existing automatic driving systems during that time. These experiments eventually led to trials in the 1950s. It was in 1977 when they developed the first semi-automatic car in Japan. To shed light on how self-driving cars work at that exact period, the creators of the semi-automated vehicle explained that the car to work well requires specially marked streets with two computers along with an analog computer. Given this setup, a lot of experts and automobile makers were inspired to continue working on the development of driverless cars. Thus, a race on who will create fully-automated vehicles has started.
The Latest Trends And Development On Self-Driving Cars
Driven by the ultimate goal to develop and provide a flawless representation of how self-driving cars work, many carmakers have engaged in developing automated vehicles. These carmakers spent a lot of time, money, and resources to formulate the most comprehensive manifesto that will enable them to understand how self-driving cars work. At the same time, help them develop vehicles that will fully run on their own. Among the most popular outputs of these efforts are the following:
1. Tesla Model S P90D
Looking at the autopilot features of the Tesla Model S P90D is a good way to understand how self-driving cars work. According to its manufacturer, the P90D can automatically steer itself on the highway. Moreover. it can do the necessary lane changes when needed, conveniently adjust its speed according to existing traffic conditions, and do the parallel parking with a single push of a button.
2. BMW 750i xDrive
One of the best ways to understand how self-driving cars work at present is by checking this German carmaker's entry to the autonomous vehicle production race. The BMW 750i xDrive has a lane departure warning, the automatic braking system programmed to prevent front-end collisions. It also has the pedestrian alert feature intended for smart city cruises. The luxury sedan has the Active Cruise Control that will allow to you sit back and relax when you are stuck in traffic.
3. Mercedes-Benz S65 AMG Coupe
The Mercedes-Benz S65 AMG Coupe packs a long list of features that can help illustrate how self-driving cars work. This luxury coupe comes with the emblem-mounted camera that helps the driver to automatically avoid front-end collisions and stay on one lane. On the other hand, the additional camera mounted in the windshield, along with the five radar units facing various directions, is used to sense the oncoming traffic both from a close and from a relatively significant distance.
4. Infiniti Q50S 3.7 Sedan
The Infiniti Q50S 3.7 Sedan demonstrates how self-driving cars work the Infiniti way. The sedan has a windshield camera along with a radar placed on the fender's left side. The radar allows some automatic features like adaptive cruise control, lane departure prevention, active lane control, and emergency braking.
5. Acura RLX Sedan Self-Driving Prototype
Honda's answer to those who want to know how self-driving cars work is the Acura RLX Sedan Self-Driving Prototype. They tested the vehicle last year. They learned that this prototype has the self-driving technology. This is quite similar to what Google's autonomous model has used. Honda stressed out that the equipment is more likely to be used for mass production. However, the Japanese carmaker hinted that many of the self-driving features will most likely be available in its luxury models in the future.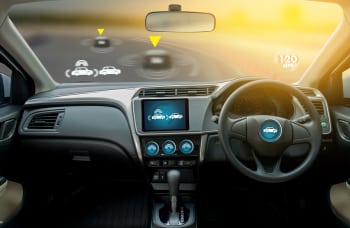 How Self Driving Cars Work: From 2020 To 2025
The manner as to how self-driving cars work currently depends on the available technologies that the carmakers have on their stables. Most of the highly-placed brands like Audi, BMW, Volvo, and many others are doing their best to keep their accomplishments in their fully-automated car development campaigns. However, many car experts are positive that all their efforts will eventually lead to the creation of the best self-driving vehicles on the road.
There's a growing awareness of the possibility of the massive use of cars with self-driving components. The awareness has also resulted in the creation of several legislations. These, however, will bring order to the use of self-driving cars in the future.
Given all these, it is quite rational to think that the most comprehensive answer to the questions about how self-driving cars or driverless cars work is still in the development stage.