Are you looking for an excellent tool to remove the background from an image within 3 seconds? Do you own a business and looking to attract more consumers? Ask yourself, what is the best way to attract curious eyes? Well, having an array of eye-catching sales materials is one step in the right direction. However, editing images can be hard, especially if you need to replace their respective backgrounds. If you are looking for precise background removal, FocoClipping might be the one you should try.
Introducing FocoCliping Background Remover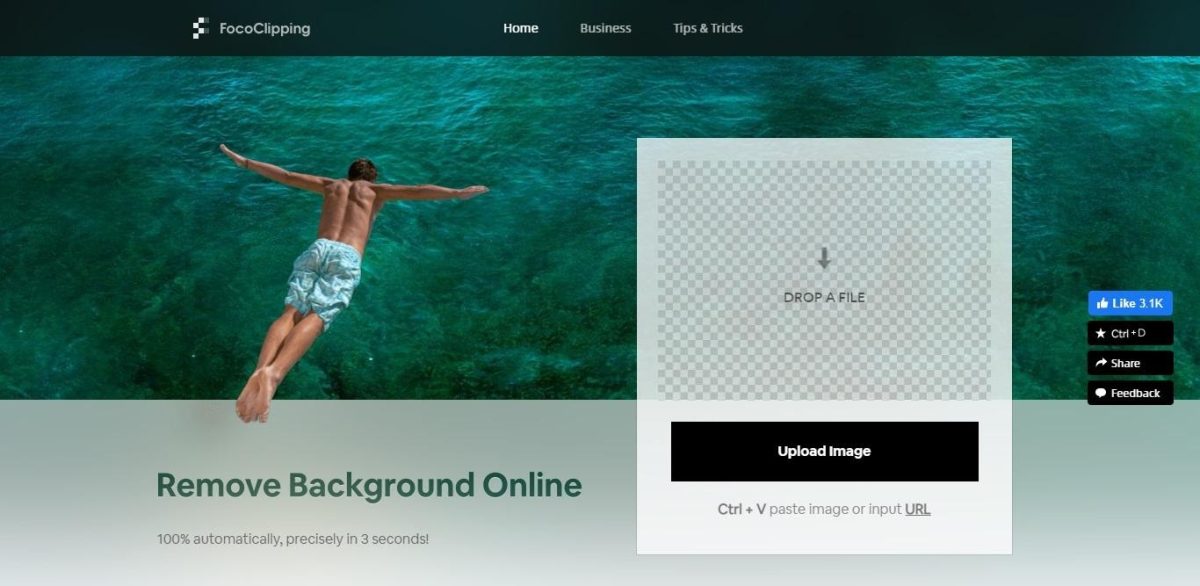 What if we tell you that you can edit an image's background in less than three seconds, Well, the FocoClipping background remover is an awesome online image editing platform that allows you to enhance your images in a couple of seconds. This allows users to create vibrant and high-quality images in a snap.
Why Use FocoClipping?
FocoClipping is the fastest and easiest way to remove an image's background. It's a great way to streamline your operations and boost productivity without spending a fortune. If you've used photo editors that have clunky and complicated background removing options, well, it's time to switch to FocoClipping.
FocoClipping makes editing images better and easier. With FocoClipping, you can create images faster, perfect for businesses that need to produce materials faster. Why wait when you can distribute your images and get a lot more traffic?
3 Steps to Remove an Image's Background with FocoClipping
As said earlier, FocoClipping AI can remove the background from an image and can even remove stuff like hair or fur. How can you achieve this? Well, here are the steps on how to remove a background using FocoClipping.
Click and Drop/Drag/Upload Picture Option: To get started, you can choose to click the upload button or use the drag-and-drop functionality to import an image from your computer or device. Also, take note that all sizes and ratios of images are welcome. In addition, FocoClipping supports PNG or JPG image types.
Remove the Background in 3 Seconds: Next, you'll be given the option to choose the background color that you prefer.
Save Your Picture on Your Device: After selecting a new color for the background, just save your picture by clicking the large Download icon at the bottom of the screen. Just drag a new picture onto the "UPLOAD" button, or double-click the icon, and you're back at the start page.
FocoClipping Features
FocoClipping's advanced features include:
Bulk Image Background Removal Tool
The Bulk Background Remover allows you to work on multiple images with efficiency. This allows you to remove backgrounds with a single click. All you need to do is to upload the images you wish to edit. once done, you can also save these images in bulk.
Effective Workflow
You can upload new photos while you are working on others. In addition, you can modify the cut-out images, saving time and accelerating the operation.
High-Volume Editing
FocoClipping facilitates the elimination of repetitive tasks through its bulk function for adding backgrounds and cropping images. In addition, you can utilize our expert editor for more extensive image manipulation. Aside from that, we also offer cropping size options for various e-commerce platforms. This list includes sites such as Amazon, Etsy, eBay, Shopify, Lazada, etc. With a single click, users of e-commerce sites can obtain the desired product images.
Image Download Organization
Downloaded images will be automatically organized into distinct folders based on size and background color.
Most Powerful AI Tool for Images
You can make eye-catching images with the help of the free FocoClipping tool. The picture retouch tool and the background remover are two of the many photos altering capabilities accessible. FocoClipping integrations will help you save time and effort throughout the whole process of removing the background from the image.
Improving Your Image Quality
Are you interested in removing the background from your images for a larger project? FocoClipping will take your photography and graphic design skills to the next level. You can frame your freshly renewed picture with a perfect shape, apply filters, and spice up your designs. Lastly, whether you're working with print or digital media, there are endless options for creating impactful images with FocoClipping.
Picture Editing with a Transparent Background
You can use this tool to isolate the subject of your picture and generate a translucent/transparent background. This allows you to use the image in a wide range of contexts. You can fully transform the setting by using a color or an image background.
Product Picture Professional Processing
If you are short on time, the FocoClipping team has simplified the process of background removal and image editing. In addition, you can use the FocoClipping photo editor to change the background as well as enhance the quality of your images.
Try Out the FocoClipping AI Editor Today
You can remove the background from an image and transform this most ordinary image into something eye-catching. The procedure shouldn't be difficult, expensive, and time-consuming. FocoClipping is one the best solutions when you need to remove a background from an image In addition, it is simple to use and does not restrict your creative freedom. Also, if you wish to make an image's background clear in three seconds, FocoClipping is a great option. Try it out, and if you encounter any problems, their technical support will be available to help you out.