Do you know that many businesses are leveraging their corporate data to gain a competitive advantage?
Big data analytics help businesses to maximize their profits and discover new insights. These can lead to the improvement of an existing business. At the same time, it can lead to the launch of an entirely new business idea.
Unless you're not in business to make gains and boost outcomes, you should be using data analytics to reach the fullness of your business potential. Are you ready to start your big data projects? Don't go away! We will tell you how!
The key factors to be able to achieve attainable business goals and realize their values include developing a data-driven business culture, suitable technological development, and a business environment that encourages learning. One can manifest this business value in different ways. You'll just need multiple methods to capture it.
Thanks to big data developers, today, businesses can capture all their data streams. Also, they can use big data analytics to get the maximum value out of their data. Moreover, big data analytics tools scan through large collections of data to discover hidden patterns and correlations and gain many more insights.
A couple of years ago, businesses collected data and ran analytics to gather the information they could use for future decisions. Currently, big data analytics help businesses uncover insights like correlations and hidden patterns to assist them with real-time decisions.
The biggest advantages of big data analytics over the basic business intelligence solution analytics are efficiency and speed of delivery. Businesses, thus, act faster and remain alive to gain more competitive advantages.
What Are The Benefits Of Using Big Data Analytics For Your Business?
Big data analytics assists businesses to discover new business opportunities from the data they harness. This discovery helps corporations to make smarter decisions and leads to effective business processes. In addition, it also results in improved results and happier customers.
How Does Big Data Analytics Create Value For Businesses?
1. Cost reduction
Big data applications help businesses to save costs, especially when they have to save substantial amounts of data. This can include Hadoop and cloud-based analytics. Furthermore, they help them discover more effective ways to manage their business.
2. Real-time solutions and improved decision-making
The fast delivery of results by Hadoop and in-memory analytics, together with fresh data source analysis capacity, makes instant information analysis available. Similarly, it allows businesses to make decisions based on the obtained result.
3. New products and services
Data analytics solutions help businesses to estimate the needs and satisfaction of their customers. Moreover, they also help a business to deliver values according to their customer's needs. As a result, it leads to innovation and the creation of a new product that satisfies the needs of consumers.
How Big Data Analytics Works: Big Data Solutions
Not all big data developer tools provide one-stop big data analytics solutions. In practice, many big data projects play a role in assisting businesses to gain optimal value from their data.
The following are the most significant big data solutions:
Machine Learning Data Analytics
This is a subdivision of artificial intelligence. It helps a system to learn. At the same time, it ensures that it quickly and automatically generates models with the capacity to make analyses of larger and more difficult data set.
The effect is that it delivers faster and more accurate results. Likewise, it gives organizations extra capacity to discover potential business opportunities and at the same time, minimizing unforeseen risks.
Data Management: Big Data Security
Realistic data analysis that ensures big data security requires high quality and properly managed data. Given a large amount of inflow and outflow of data in an organization, the establishment of repeating processes is crucial for the maintenance of data quality standards.
As soon as an organization collects reliable data set, it should create a major data management solution. This principal program gives one data analytics solution. At the same time, it gets the whole business organization on the same page.
Data Mining
This helps businesses to study and uncover patterns in large amounts of data. Besides, it helps them to identify relevant data. So, they can use the data to assess potential outcomes. Moreover, it will help them to improve their rate of making well-informed business decisions.
In-memory Analytics
In-memory analytics helps businesses to analyze data from system memory as opposed to the data stored in their hard disk drive. As a result, it yields instant insights from big data which helps businesses to take quick action.
These big data analytics tools eliminate data preparation and analytical handling inactivity, examine fresh situations, and create big data security models. Through this, business organizations remain active and make better business decisions.
Predictive Analytics
This discovers the possibility of future results using historical data, numerical algorithms, and a machine-learning system. In addition to this, it aims to provide the most potential evaluation of the possible future occurrence.
Text Mining
Big data text mining analytics help businesses to evaluate texts like online text data, text comments, and books to gain previously undiscovered insights.
This makes use of machine learning (ML) or natural language processing technology to scan through a large amount of data. As a matter of fact, it helps them investigate for fresh business ideas and assess the degree of correlations.
Big Data Applications: Benefits Of Big Data Analytics Tools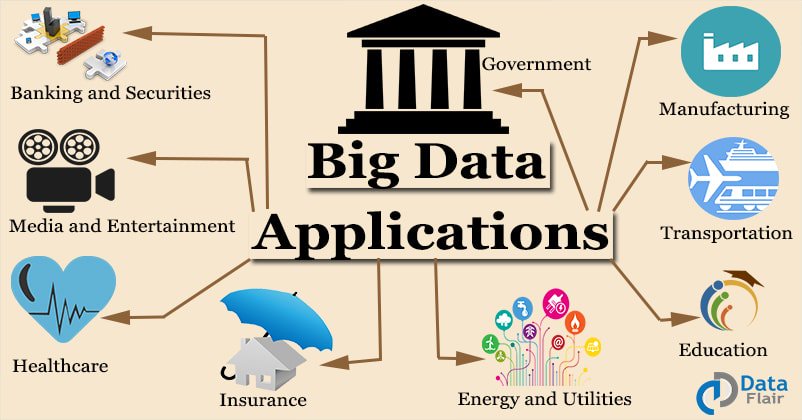 Big data tools are necessary for businesses who want to maintain a competitive edge through fast and prompt decisions.
Data analytics help a business to stay on top of the game. Significantly, it can open insights that could improve the income stream of the business. Moreover, it helps develop business marketing strategies and practices. As a result, it increases customer engagement and efficient business operations.
Process Automation
Big data analytics can potentially enhance operational efficiency through process automation. Through this, large amounts of data sets can be analyzed instantly. Additionally, they can be integrated into the business process to take automated decisions. Automated data collection and sensors give an environment where employees will be motivated.
Comprehensive Insights
Big data analytics can help an organization to uncover new business opportunities. Aside from this, a large collection of data can help a business to develop a fresh product or improve the existing ones. Therefore, a proper analysis of a company's big data can help the business gain a competitive advantage.
Improved and Fast Business Decision
The ability of data analytics tools to yield faster results, along with their potential to analyze fresh data sources, offers an instant and real-time solution to the business.
This makes it easy for a business to make smart and creative decisions.
Tips For Successful Implementation Of Big data Analytics
Launching a successful big data analytics campaign can be daunting unless you know where to start. Follow the tips below to help you choose the right big data analytics solution and implement it properly.
Include An Expert Big Data Developer In Your Team
Get experienced professionals in big data security, big data analytics tools, and big data solutions to create ideal big data projects. This will ensure you to get positive returns. Because of that, you should aim to include experts who are familiar with modern analytic solutions and tools. In addition to this, your team must also include experts who can work on big data sets. Through this, you'll be sure that you can achieve your business goals.
Try To Discover And Specify Your End Goals
If you don't know your end goal, it is difficult to have an effective big data solution. You must align the big data analytics with your business goals to achieve success. To sum up, these goals may include an increase in returns, brand awareness, or improved market share value.
Obtain The Right Data
After defining your business goals, your next step is to comprehend the data set before the application of analytic tools. The success of the big data project depends on proper identification, capture, and tracking of big data. Working with a wrong set of data can be misleading. As a matter of fact, this can lead to a total waste of the company's resources.
Use The Suitable Data Analytics Tools
A professional data analyst has good knowledge of the correct and efficient transformation of big data that will be useful to revealing business insights.
Other things you can do to maximize your outcome with big data analytics solutions include:
Defining what you want to achieve with data analytics.
Determining what are your sources of data.
Regularly assessing your data models and avoiding the use of outdated data models.
Big Data Analytics Tools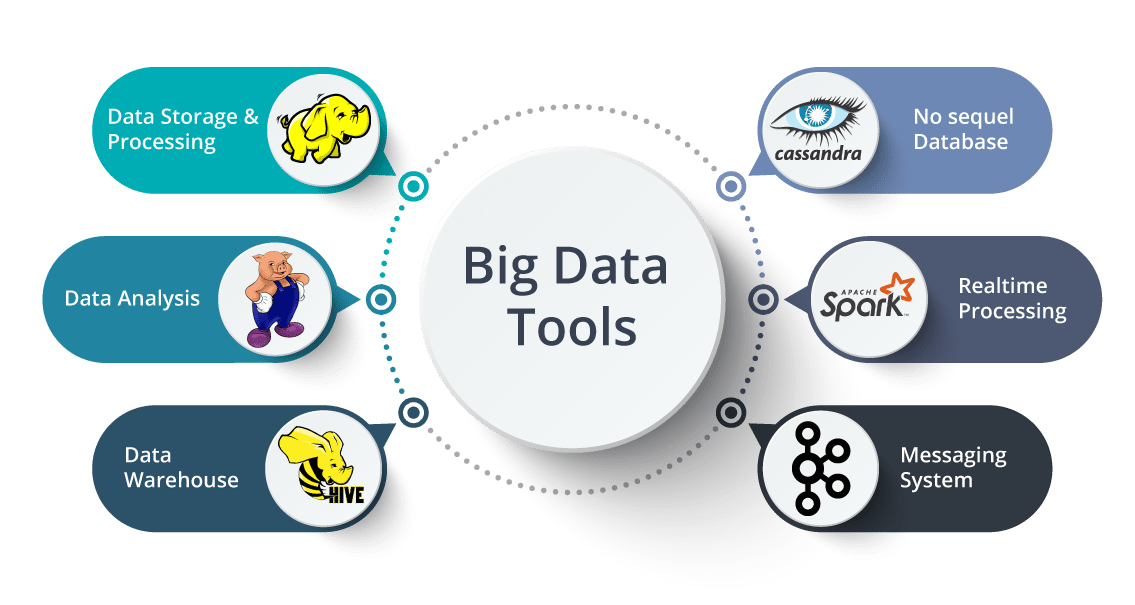 Data gathering and analysis have become easier in this digital age. Moreover, this makes it easy for businesses to enhance their performance and yield better outcomes. However, data gathering and processing is tasking and time-consuming.
There are many big data analytics programs developed by big data developers using AI and advanced algorithms to minimize time. Aside from this, they also provide almost instant analytics results.
Most Popular Big Data Analytics Tools
Hadoop
Hadoop is the most popularly utilized big data tools. It has huge potential for large scale data analysis. This is an open-source platform that runs on the enterprise hardware of a data center. Aside from this, it can also run on a cloud infrastructure. The spark, which is a substitute of Hadoop's MapReduce, yields faster result than the Hadoop's MapReduce. Its work is 100 percent faster.
Sisense
Sisense is a codeless analytics software that is suitable for people who lack the technical know-how. It also comes with a user-friendly dashboard. You can easily customize the dashboard to meet your business needs.
These data analytics applications make use of the Natural Language Detection technology (NLG) to make detection of trends and patterns easy.
This platform features a huge collection of widget that is pre-designed for data gathering. It also supports open-source widget designs. Moreover, Sisense utilizes machine learning to detect any anomaly in your data.
To sum it up, there are other big data applications like Domo, GoodData, Zoho Analytics, IBM analytics, MATLAB, Google analytics, IBM analytics, and more.
Application Of Big Data Analytics In Different Industries
Big data analytics is useful for helping businesses improve their business operations. However, big data solutions help businesses to gain competitive advantage by making fast and agile decisions. Below are the benefits of big data in different industries:
Big Data In Telecommunications
Big data help telecommunication service to attend to the needs of their customers fast and efficiently. Through big data analytics, they analyze loads of brochures, pictures, booklets, customer information, and reports to gain insight to improve their customer service.
Moreover, this minimizes the expenses and time involved in managing customers queries through telephone calls.
Big Data In Retail
The contemporary customers of retail business expect them to know not only what they need but also when they need to fulfill those needs. Retailers make use of big data analytics to fulfill these needs. They analyze a large collection of data from loyalty programs, online shops, purchasing, and more to make predictive analytics to increase profits.
Big Data In Healthcare
Big data analytics is widely used in the healthcare industry. Healthcare providers use big data analytics to gain significant insights into the medical history of patients.
It is commonly tasking to manage patient's information like medical records and health insurance plans. However, when data are analyzed with big data analytics solutions, they become useful insights to improve care.
The structured and unstructured patterns of patient data obtained from big data analysis can help doctors make real-time diagnoses. This, in turn, will help them propose treatment to terminally ill patients.
In the long run, big data help doctors to easily discover patients with specific types of diseases. As a result, this will help them offer immediate treatment to improve patient's health and reduce risk.
Big Data In Manufacturing
Manufacturers struggle every day to solve operational issues. These issues include complex supply chains, Internet of Things, insufficient labor, and breakdown of pieces of equipment.
Big data analytics tools assist manufacturing companies in tweaking their production process to side-step overrun of records as well as offset the ration of demand and supply.
Using predictive big data analytics, manufacturers create custom-made products to meet the needs of the customer's expectation. Also, it minimizes storage and warehouse costs.
Big Data In Finance
The banking and insurance industries face many operational challenges. These challenges include a caution about securities fraud, tick analytics, card fraud discovery, audit trail archive, brand exposure, credit risk report, and many more.
Through data analytics, banks and these financial institutions efficiently monitor the financial market. Most banks and top financial institutions make use of trade analytics to monitor high-frequency trading.
Big Data In Life Sciences
The clinical research process is costly and slow. There could be a series of failed trials. To sum it up, implementing advanced big data analytics, artificial intelligence (AI), and the Internet of Medical Things (IoMT) may likely improve the effectiveness and the time required to complete each stage of the process.
Big Data For Government
Some government agencies battle with how to tighten their budget while remaining productive and giving quality services. The law enforcement agencies, for example, work hard to reduce crime rates with their limited resources. Many of these agencies make use of big data analytics to streamline their big data security operations and gain a rounded view of crime rates.
Similarly, big data analytics have applications in other industries. This includes energy, technology, fashion, and entertainment that help them in their operations. These businesses, however, make use of big data analytics to make the most from their business data and customer's information.
Big Data Analytics Is Crucial In Every Business
Big data analytics help businesses to maintain a competitive edge and implement quick solutions. Along with this, they also gain new insights for further business development or development of new business projects.
By leveraging on these big data analytics solutions, you are only a few steps away from unlocking your full business potential. If you aren't already implementing your big data analytics projects, the time to start is now.
Remember to introduce big data analytics developers into your team and include all other data experts. What you have to do is make sure that you choose the right big data solution. You should also set your goals to ensure successful implementation.