Drones are becoming trendy in recent times. They have applications in different fields of life endeavor like in the professional photography and videography industry. Moreover, they are fast becoming the production gear of professional photographers and photographers and filmmakers. Aside from flying a drone for professional purposes, many enthusiasts learn how to fly a drone for recreation and fun. Whatever your reason for wanting to learn how to control a drone, this article will offer you a step by step tips to do so even if you want to learn how to fly a drone for beginners.
So don't go away! Let's begin!
What Is A Drone And How Does It Work?
A drone is a pilotless aircraft commonly made with light complex material that makes it lightweight and boosts its maneuverability. The complex material makes military drones to fly to very high altitudes. They regularly come with high-tech features like infrared cameras, GPS, and laser UAVs. Drones are normally flown with the use of a remote ground control systems (GSC) equally known as ground cockpits.
Drones feature two main parts which include the pilotless aircraft itself and the control system. The noses of these quadcopters contain the sensors and navigational systems. The remaining part of the aerial vehicle comprises a drone technology structure without any space for humans since it has no pilot.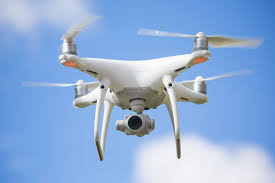 General Drone Controller Functions
Drones are in general controlled with the use of a remote controller or a transmitter. The controller is a manageable device that looks similar to gaming or toy remote control and features tabs and joysticks for multiple purposes. The left and the right stick of the controller have a related mode of operation in practically all models of drones. They control nearly ninety percent of the regular movement of a quadcopter. So, you need to familiarize yourself with how the left and right sticks work if you want to learn how to fly a drone.
Uses Of Drone
Drones have a lot of applications in different fields of life endeavor, and these can include the following:
Rescue Missions
Firefighters, lifeguards, mountain rescuers, and more make use of a drone for rescue missions during periods of disasters.
Fire Fighting
Firefighters use drones in examining buildings to estimate the extent of the damage and to verify if the fire is escalating into close structures.
Marketing
Drones are used to film and take photographs for marketing purposes. For example, you can fly a drone to take aerial photographs and video properties to boost sales or create a documentary.
Professional Film Making
Flying drones are now used by filmmakers to create awesome scenes in many movies and TV presentations. Examples are the DJI, Yuneec, and Walkera productions.
Construction Site Survey
Drones are great for obtaining a good overview and close-ups pictures and videos of properties. They equally work for sites inspection. Thus, they save time and eliminate the need for surveying with scaffolds.
Parcel / Medicine Delivery
Drones are currently being utilized for pizza delivery and some large Postal services in Europe. Asia is utilizing a drone for parcel delivery.
Drones also have a lot of other uses and applications which include: family recreational activities, weather patterns, environmental, policing and military purposes, sports, and more.
Factors To Consider Before Flying A Drone
Obtain A Drone Pilot License
You need a drone license from the Federal Aviation Administration (FAA) Remote Pilot Certificate if you want to fly for commercial purpose. However, you don't need a license if you intend to fly a drone for recreational purposes only.
Register Your Drone
You need to register your drone with the FAA and obtain a registration number whether or not you intend to use it for commercial purposes once it weighs between 0.55 and 55 pounds. Registration makes you accountable if your drone crashes and causes any damage. You can easily do this through their website or the regular paper system.
Ensure you practice this Pre-Flight Checklist
Is your drone and propeller in good working condition?
What are the existing rules in the location you want to fly?
Are your batteries fully charged?
Did you properly connect the remote controller and drone?
Is the weather suitable to fly?
Are the immediate surroundings of your drone clear for safe takeoff and landing?
Adjust your camera setting so that you get the same view as your drone for safe flight.
Insert your memory card in the drone so you can take aerial pictures or videos.
Inform people close to your drone about your takeoff and landing intentions
Track your drone during flight.
Rules And Regulations For Flying A Drone
Learn the rules and regulations of how to fly a drone for beginners and stick with them. Examples of these rules are:
Don't fly above 400 feet.
Use a maximum flight speed of 100 mph.
Don't fly at night.
Your quadcopter must weigh less than 55 lbs.
Don't fly close to the regular route of manned aircraft.
Don't ever fly the quadcopter out of sight.
Follow the community set rules about flying a drone.
Inform airports and air traffic control about flying drones if you fly five miles near the airport.
Never fly above humans.
Never fry from a car in motion.
Download "No Fly" Apps
You need to avoid no-fly areas when you're learning to control a drone. You don't want to be fined for breaking the rules. Additionally, you need to download any of the apps below to help you discover the no-fly zones in real-time. Some of these apps equally notify you when the weather is not safe to fly.
Examples of these apps are:
B4UFly
UAV Forecast
Hover
Tesla Field Recorder
Familiarize With Your Drones Instruction Manual
You should never attempt flying a drone without first getting familiar with your drone. Read the manual to check its features and functionalities to avoid preventable risks.
Step-by-Step Tips For Flying A Drone
1. Charge The Battery
Ensure your battery is fully charged and you're only utilizing the battery and charger that came with the unit before learning how to fly a drone.
2. Get An Open Space For Practice
You can either purchase your own space or rent or use an open outdoor location that is safe and obstruction-free for your flying drones. Moreover, you need to equally ensure the place is a legal zone for flying drones to avoid fines.
3. Find A Good Take-off Position
Survey your environment and once you identify a good position for takeoff, position your drone for takeoff and be sure to follow the instruction in the user manual before flying a drone. The ideal position for your quadcopter is in your front while facing the drone in the same direction as you.
4. Connect The Drone And The Transmitter
Before connecting the transmitter, try to do sequencing. You need a bit of practice to get the hang of it. So, do it this way: Drive down the throttle. Switch on the transmitter and link up the battery of the drone.
You need to follow do sequencing before takeoff and after you land your aircraft. When you are done with the flying session, reverse the order of the sequencing exercise and only after that can you exit the transmitter.
5. Practice Take-off And Landing
The most essential part of learning to fly a drone for beginners is the take-off and the landing. Ensure you have an open space where you can fly a drone controllably.
Once you've fulfilled the previous steps, gradually move the throttle or maintain the stick in an upward direction and observe the drone take off. Hold the throttle steady, and avoid drifting frontward or sideways using the right stick.
When the drone moves some feet above the ground, practice how to control the drone by landing it smoothly. Ensure you push the throttle or left stick slowly but with steady moves till it returns to the same take-off position.
6. Learn How To Hover When Learning How To Fly A Drone
Practice step 5 to lift the drone off the ground a few feet. Once on the air, try to stabilize the drone as much as possible. You need to concentrate to successfully do this. It will be more difficult if you are learning for the first time, but with practice, you will be used to it.
7. Practice Drone Rotation
The next drone movement you need to practice is rotation. You should do this with the left stick's yaw control. To rotate, start by lifting the drone in the air, practice hovering, and gradually push the left stick sideways till you turn the drone facing opposite to you.
8. Form A Mental Picture Of Flying The Drone As A Pilot
To help you fly a drone safely, try to form a mental picture that you are sitting right inside the drone and flying it. This way you will learn how to fly a drone like a professional and stay on course without deviating no matter how the drone rotates or spins.
9. Get Used To The Controls
Learning the basic controls of your drone's transmitter is not sufficient. In the end, you'll get familiar with the controller, and the time will come that you don't need to look at the functions every time. When you have mastered your controller, you can easily concentrate on executing various maneuvers fast and easily.
10. Practice Implementing Various Controls
At this point, since you have mastered the basic controls and movement of a drone, you can put the whole knowledge you gained all together in a single practice session. It is now that you'd start to use the right stick to fly the quadcopter.
11. Keep Your Drone Handy
Having learned how to fly a drone, it is expected that you'd be excited to practice your newly learned skill, flying a drone. While practicing, make sure you don't keep your drone out of sight. Also, make sure you know the range limit of your drone, to always maintain communication between your drone and the controller.
More sophisticated drones can regulate their motion and land when they go out of range. However, they may not always avoid obstacles while landing on their own. It is safer not to allow your drone to go out of range.
12. Look After Your Drone
Besides, monitoring your drone for obstacles during landing and take-off, always ensure that the battery is charged before use and follow the manufacturer's user's guide. Don't forget to clean your drone after use.
Practice, Be Safe, And Enjoy!
Now, you have learned the uses of drone and the steps to start flying a drone as a beginner, try to practice what you've learned over and over till you get better at it. Remember to familiarize yourself with your drone by reading the manual and stay within the safe zone. Happy flying!