Nintendo Switch vs Switch Lite is often asked around the gaming industry and among gamers. At first glance, it will seem like joy-cons are the sole difference of the two. However, die-hard fans know this is not true.
This article goes through their differences, from the tiniest centimeter in screen space to their possible gameplays. A read even further down reveals a lot of special games you can play on the Switch Lite. All of these are available for the standard Switch too, of course, but subtle differences do make a change.
We're getting ahead of ourselves. Let's start with the comparisons first.
Dimensions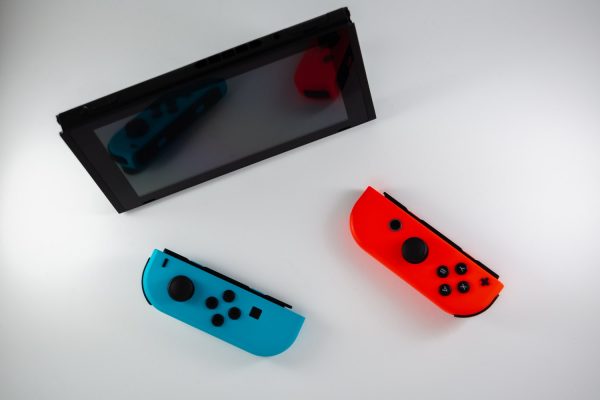 One of the differences between Nintendo Switch vs Switch Lite is its dimensions. The dimensions of the Switch are 173 x 102 mm x 14 mm, while the Lite's dimensions are 208 x 91 x 14 mm. Their thickness remains the same, but the Lite has a smaller screen compared to the Switch. It is 30 mm smaller, to be exact.
But still, what do these run-of-the-mill numbers mean?
These consoles are for gaming on the go. Nintendo has them designed to be easy to carry around, conceal, and bring along. Gamers who travel or have day-to-day jobs should consider getting the Lite. Its pocketable nature makes it the best choice for single-player gamers who do not need to hook up their consoles to the TV.
The first round of "Nintendo Switch Lite vs Nintendo Switch" match is a tie. The dimensions best for you will be a case-to-case basis. There are joycon changes related to the dimensions, but we will get to that down below.
Colors
Monochromatic hoarders, do not take these features with a grain of salt. Known by its red and blue joycons, the classic "Switch look" is only available with the Nintendo Switch. Another available color scheme for this console is grey. Avid gamers might want to look into "special editions" because they tend to cause a frenzy. A good example of this is the Animal Crossing Nintendo Switch, released in March 2020. Demand for pre-orders was through the roof, and stocks sold like hot pancakes once it was out.
Still, the Lite has its special colors, too. The console distinguishes itself from its larger sibling through its available styles. Most popular would be its matte-finish coral look, which gives a cute but sleek vibe. Other interesting colors are its turquoise and yellow variations. Should you want to look like you own a Nintendo Switch, there is also a grey version of the Lite.
Not devoid of special editions, the Lite has had a similar case of frenzy with the Animal Crossing console. A Pokémon version of the Nintendo Switch Lite is available everywhere, though you will need some luck scoring a piece.
The winner for the second round of "Nintendo Switch Lite vs Nintendo Switch" match is the Switch Lite. It offers different looks that match different types of people.
Display
The differences between the Nintendo Switch's and Lite's screens are subtle. While it is obvious that one is bigger (and heavier) than the other, their screens are close in size. Most people do not even notice how different they are.
Starting out with the numbers, the Switch and Lite have a 6.2-inch screen and a 5.5-inch screen respectively. Both units maintain a 1,280 x 720 LCD screen. If you value quality over quantity, then you should be pleased to know that both consoles offer the same high-definition experiences.
Reviews even champion the Lite's display. With the console's thinner bezels (due to a smaller screen), the Lite has a more uniform and immersive design. The colors and brightness should not be an issue with the Lite, despite being the cheaper option.
The winner for the third round of "Nintendo Switch Lite vs Nintendo Switch" match is still Switch Lite. Its specs remain competitive despite its smaller build.
Weight
It is safe to say that both consoles have gamer on-the-go features. The Switch is larger than the Switch Lite, but the weight it puts on is not useless. When the Switch debuted in 2016, the joy-cons were its biggest selling point. Gaming wherever, whenever, did not have to be a single-player affair. Weighing at 398 grams, the Nintendo Switch carries an extra 110 grams because of its joy-cons.
Its smaller sibling, the Nintendo Switch Lite, weighs 277 grams. However, it is common knowledge that the Lite does not have joy-con features. Part of what makes the Nintendo Switch so appealing is its adaptability to any setup: it can be hooked to a TV, you can choose to play it with different people, and you can even play it through cardboards if you're interested in doing so.
If it means an extra 110 grams, then the original Nintendo Switch is your better choice.
The winner for the fourth round of "Nintendo Switch Lite vs Nintendo Switch" match is Nintendo Switch. Nothing beats its joy-con features. This is a real deal-breaker for most people.
Battery Life
People who play for hours on end will always ask about battery life. A quick rundown shows that the (newest standard) Switch can stand alone for about 4.5 to 9 hours. The Switch lite can run between 3 to 7 hours. Of course, this will depend on your screen time and what you're doing.
It is important to note that older variations of the standard console do deliver less screen time. By quite a huge margin, in fact, at least a couple of hours. As of recent, the standard adventure games can run for about 4 hours on the Lite. For the standard Nintendo Switch, however, they average to up to 5.5 hours.
The winner for the fifth round of the "Nintendo Switch Lite vs Nintendo Switch" match is Nintendo Switch. The Switch's longer battery life means gamers have more time to enjoy their games without worrying about their console's power.
Play modes
As mentioned, the Switch's joy-con features are important to its audience. It is what makes the console so appealing because it makes gaming accessible anytime, anywhere, for anyone.
The two controllers in question, the Nintendo Switch and the Nintendo Switch Lite, are used differently. The former can be docked to a TV, handheld, or placed on a tabletop. The latter is limited by its sleek and small frame and is exclusively for handheld use only.
The Lite does not have joy-cons. It replaces the standard Switch's directional buttons with a D-pad. While a change in basic features is not celebrated, reviews of the Lite's D-Pad have been positive.
Multiplayer play is not impossible for the matte-finished Lite, though. You can invite friends with joy-cons or controllers to connect to your console, provided they are fully charged. These connections are wireless and easy to do. If you're worried about missing gaming time with your friends, the Lite does not isolate you completely.
The winner for the sixth round of the "Nintendo Switch Lite vs Nintendo Switch" match is, again, Nintendo Switch. The joy-cons bring a lot to the gaming experience.
Still, if you already own a Switch and want to add some accessories, we also have a list on the best Nintendo Switch accessories you should check out. You have to make do with what you've got, right?
Game Compatibility
Any game in the Nintendo Switch library that supports handheld mode can be played on the Nintendo Switch Lite. The game choices for the Lite include The Legend of Zelda: Link's Awakening, Super Mario Maker 2, and even Assassin's Creed.
Play your favorite adventure games on the Nintendo Switch Lite. If the game you're dying to play does not support handheld mode, you can borrow (or buy!) joy-cons instead and pair these with your Lite. With the console's immersive screen, you will have just as good of the time as you would have on the standard Nintendo Switch.
The final round of the "Nintendo Switch Lite vs Nintendo Switch" match results in another tie. A lot of the games that need joy-cons are tokenistic. They usually do not require long gameplays. Should you be interested in the classic, long gaming experience, the Lite is still a viable option.
Of course one can also argue that if you're getting a Switch, you might as well get the one with more features.
This is why it's a tie for game compatibility. A lot of gamers are there for the games' storylines. Since the Lite can support a multiplayer feature, then the joy-cons really get the last say.
Animal Crossing: New Horizons
This game took the Nintendo world by storm. Its cult following made their Animal Crossing: New Horizons comeback strong and successful.
The appeal of this game is similar to The Sims's. The difference is not uncanny. Why? Life in Animal Crossing revolves around an oneness with nature. It is a much more peaceful endeavor than the raunchy Sims.
Because of strict social distancing measures, more and more people begin to look for outside-world simulations. Through Animal Crossing: New Horizons, you can plant trees, catch insects, and visit your friends.
Most people enjoy the personalized experience Animal Crossing: New Horizons brings. Players fill their interiors with curated posters, wallpapers, and furniture. They also run their own islands, loaned to them by Tom Nook.
The game is an escape from your day-to-day living without it being too different from it. You can relax on this game, enjoying the breeze near the beachy shores of your island. Also, a regular day finds you making animal friends, visiting them, and playing fun games with them throughout your week.
You can even invest in turnips (stocks) every Sunday if you're into those sorts of things!
Get Animal Crossing: New Horizons
Torchlight 2
Even after eight years of its 2012 release, Torchlight 2 is still a popular action role-playing game. It is so popular, in fact, that it was released for the Nintendo Switch. Torchlight 2 reignites your adventure fantasies. In the game, you (the Alchemist) are corrupted by Ember Blight, who plans to destroy the town of Torchlight. Planning to stop him, you go on a quest that has you fighting monsters in different fantastical locations.
This game is your jam if you are a fan of the Diablo series. On the Switch Lite, you get a well rounded, immersive experience when exploring the game's terrains (like the Estherian Steppes, Grunheim, and the Mana Wastes) or fighting magical creatures.
There are bold quests and even bolder characters waiting for you in Torchlight 2. The fact that still has an audience years after its Microsoft debut proves that this game is good. The Switch Lite enhances the greatness of Torchlight 2.
The Touryst
This game is Animal Crossing: New Horizons minus the animal friends and the peaceful island waves. You can even say it's more grounded in socializing with other simulated human beings. Also, this game has an overarching puzzle plot you have to solve.
The Touryst brings you to Monument Islands, where you can do typical tourist-y things in its island locations. Characters can go swimming, diving, shopping, partying, and even gaming! When all is said and done, you can talk to old tourists and have photo-ops too.
A lot of people are missing their summer vacations because of social distancing. The Touryst's vacation islands give you a simulated experience of what you would be doing if it wasn't for COVID-19.
For its small size, this game is full of pleasing aesthetics. It is a good add-on to the list of trivial games you can have on your Switch Lite. If you're tired from endless, unending gameplays, The Touryst gives you an escape—both in and out of the game.
Super Crush K.O.
Filled with vibrant, neon colors, Super Crush K.O. looks like it is a TV show-turned-video game.
The premise is an artificial intelligence nightmare. In an effort to save the world (and your cat) from an AI apocalypse, you battle swarms of deadly robots, risking your life for the common good.
Combat on Super Crush K.O. is known for its unique aesthetic. Sporting a kick-butt gun and fighting moves with endless combos, you still look like a bright pastel daydream. Nay, the entire world looks like it is lifted off of popular cartoon Steven Universe.
There is a fluidity to Super Crush K.O. This game is fluid in animation style, aesthetic, and fight sequences. Not to mention, it is such a fit addition to your (probably) colorful Switch Lite.
Mortal Kombat 11: Aftermath
The Mortal Combat series ages like fine wine.
Continuing Mortal Kombat 11's critically acclaimed storyline is Mortal Kombat 11: Aftermath. In this game, you can undergo an entire new MK adventure with a brand new conclusion and characters.
Choose from 34 new fighters from the Mortal Kombat roster to use in battle. Come face-to-face with RoboCop, the Terminator, Spawn, and the Joker in brand-new stages and levels. This game is worth your buck because of the endless mix and matching of your favorite characters.
Any gamer knows that the Mortal Kombat series might be best played on the big screen. However, the Switch Lite's features are useful in Aftermath. Graphics are crisper and less distracting, and the game is immersive for single-players.
Experience the lives of several characters through time-travel what-ifs. It is a classic game fitted for a modern gaming companion.
Get Mortal Kombat II: Aftermath
Bloodroots
If GTA met with a fantasy, rustic, and medieval Florida, you get Bloodroots. Still, there is so much more to this game than what meets the eye.
This game is a boiling revenge plot set in the Weird West. In Bloodroots, you are a left-for-dead hustler learning to be a lone wolf. You have your eyes set on vengeance after a painful betrayal from your comrades. But how do you do it?
Equipped with primitive killing machines, you go on an adventure-killing spree. Don't just imagine the usual arrows and bows, because the game delivers harpoons too. Should you find yourself unsatisfied with your choices, Bloodroots gives you the option to be creative with your weapons. You can also use these weapons to navigate the puzzles of the world of Bloodroots.
This single-player post-apocalyptic fantasy is perfect for the Switch Lite. The game's Mad-Max inspired colors and aesthetic shine with the Lite's immersive screens.
Assassin's Creed: The Rebel Collection
Play fan-favorite renegades Edward Kenway and Shay Patrick Cormac back-to-back.
With Assassin's Creed: The Rebel Collection, you get two open-world games in one bargain.  It includes the acclaimed Assassin's Creed IV: Black Flag and Assassin's Creed: Rogue.
Go on quests and bring justice to age-old stories that need a deep retelling. For old AC fans, these stories may be old news, but the Rebel Collection has new features. For example, the newest version of Assassin's Creed Rogue offers a playable Templar.
Nintendo Switch Lite users love that Rebel Collection supports handheld mode. The Switch iteration of this game offers new bonus games and updated historical epics.
Get Assassin's Creed: The Rebel Collection
Bug Fables: The Everlasting Sapling
This popular cutesy PC game shows up for the Nintendo Switch. Nintendo users can now enjoy the bright, cut-out art style of Bug Fables.
Experience the world of Bugaria and join bug heroes Vi, Kabbu, and Leif on their quest to immortality. The catch is, they're not the only insects interested in the benefits The Everlasting Sapling offers.
This role-playing game thrusts you into battles with spiders, bees, hornets, and ants. Imagine playing Disney-Pixar movie characters in a Final Fantasy-type of game. This is the appeal of the Everlasting Spring.
A game that does not take itself too seriously is a fun addition to your roster of Switch Lite games. While this is true, you can do a lot of standard gaming enjoyment with Bug Fables. Travel different natural environments, solve puzzles, and search for that artifact.
Attack your most hated creepy crawlies by being a creepy-crawly yourself. The aesthetic, plot, and characters are so on-brand for Nintendo that it's hard not to think they made this game.
Mario Kart 8 Deluxe
Switch users know that Mario Kart 8 is a must-have. Fear not, Lite users, because this game is very much available for your consoles, too.
Nintendo Switch amps up its game by delivering over 48 courses and 42 characters with Mario Kart 8 Deluxe. Play cult classic characters Bowser Jr. and Splatoon inklings at remarkable speeds.
Still, the best feature yet is that everything is unlocked from the get-go. No more building up enough steam for a chance to play any character anywhere. Mario Kart 8 Deluxe is as fast as its loading speeds—-it gets you right on track.
If you're new to the Nintendo world, the 8 Deluxe offers a Smart Steering feature to guide players on keeping their wheels consistent on the tracks. Mario Kart unabashedly welcomes you with open arms.
Getting this for your Switch Lite is a no-brainer. With a large basket of tracks and characters to choose from, the possibilities are endless.
Creature in the Well
Your gaming consoles can use a few novelty games here and now. If you need a quick play and not time-consuming ones, try Creature in the Well. This game absolves you of your gaming cravings. Built around several pinball games, Creature in the Well celebrates traditional gaming with a new look.
This hash-and-slash game has interesting gameplay, too. Set in an ancient wasteland, you travel across dungeons and play different pinball tables. By playing more, you unlock more rooms. Even though it feels like an eternal multiball pinball game, the game can be hard. Different levels and enemies have varied strengths, ultimately leading you to a deep, dark, BOT-C unit.
Super Smash Bros Ultimate
This is the Avengers: Endgame of the Nintendo Switch. Everyone has the right to geek out over Super Smash Bros Ultimate regardless of when you started following Nintendo lore.
With over 19 years of gaming history under their belt, Ultimate gathers all your favorite characters in one game. You have the power to mix-and-match all their battles however you like. At its core, Smash Bros Ultimate celebrates the dynamism of Nintendo's characters. It hails each skill, story, feature, and special.
The game pits these characters against each other in the spirit of competitive fighting. In true Nintendo fashion, the game is not hard. Like Mario Kart 8 Deluxe, just choose a character and get fighting.
Fighters don't even have health bars in Smash Bros Ultimate. You and your opponent battle it out to see which one gets knocked out of the location first. Smashing is the name of the game. The more smashes you get in, the easier it is to knock someone off the stage.
This game is a knock-out. No further justifications are needed.
Get Super Smash Bros. Ultimate
Nintendo Switch vs. Switch Lite: Who Wins?
More than ever, games provide us a way to escape. To anyone having a bad day, week, or year, gaming consoles become vacation leaves.
If you're stuck on the "Nintendo Switch vs. Switch Lite" debate, know that the games are mostly the same. The gameplays may vary vastly, especially if you value multiplayer setups. It's your call. Still, having either of them is better than not having a Nintendo Switch at all.