With the fintech trend on the rise, online payment services have become commonplace in our generation. Whether you're a freelancer, a seller, or a buyer, digital transactions become more convenient and accessible. What makes it convenient is with just a few clicks on the internet, you can send, receive money, or make payment as a breeze. If you're keeping up the trend, you're most likely familiar with PayPal. Among one of the more reputable online payment systems, Paypal is known especially for its reliable service. However, international transaction rates is might not be as competitive and the interface can definitely be improved. If you're not a fan of this platform, there are plenty of PayPal alternatives awaits. Offering a similar yet better peer-to-peer payment scheme, here are some of the best options available today.
How Does PayPal Works?
Paypal has always been a pioneer when it comes to digital financial services. What it does it pretty straightforward. It basically allows you to make fund transfers or any transactions quick and easy with just a small amount of processing fees. All you need to do is integrate your bank accounts and credit cards into the system and you're good to go. Paypal features multiple payment methods that include — bank transfers, e-wallets, direct deposit, peer-to-peer payment, credit cards, and more. It safeguards your money on the platform and in case if you're a business owner, Paypal made invoicing, API reporting easier by allowing users to create, send, and process invoices within the platform at no cost.
Though there are reports that claimed Paypal's fund's processing time is slow, we think otherwise. We believe it highly depends on the country you live in.
Is PayPal Safe?
The answer is a resounding yes. With more than 300 million users worldwide, it's safe to say that PayPal has been offering incredible service layered with powerful fraud and consumer protection systems. When you transact using PayPal, all of your sensitive information such as credit card numbers and bank information are securely stored so you won't have to worry about the risk of paying people you don't know.
15 Best Paypal Alternatives That Are Safe to Use
If you need something beyond PayPal, these best PayPal alternatives might be just for you.
1. Payoneer
Adore
– International supports up to 200 countries
– Flat rate transaction fees
– Direct payment to Payoneer Mastercard
– Extensive customer support system
Against
– Charges annual fee to use Mastercard
– Lengthy signup process
Payoneer is arguably one of the best PayPal alternatives in the world. Established in 2005, the platform offers reliable electronic payment services to over 200 countries. Through its fast-paced financial payment system, you can receive money in just 24 hours after being sent, as compared to PayPal which usually takes around two to five days before it reaches your account. You can also send funds domestically and internationally with a flat $3 per transfer.
Payoneer makes online shopping a breeze using a prepaid Mastercard. You can use this debit card to facilitate fund transfers with great ease. Payments can be sent directly to the card so you won't have to go through your online account if you need to acquire funds quickly. 
The best part of having a Payoneer prepaid Mastercard is that you can use it anywhere in the world. However, it has a $2,500 daily limit with an average of 1% of the transaction in foreign exchange fees. 
When it comes to the customer support system, Payoneer offers a wide range of help to all of its consumers worldwide. You can reach the company via email, phone, as well as live chat on its official site. 
2. Google Wallet / Google Pay
Adore
– Smart integration with Google Assistant
– Quick funds process
– Credit card information is encrypted
Against
– Not web browser friendly, applicable only for Android devices
– International transfer only available in UK and US
Another PayPal alternative with incredible financial services is Google Wallet and Google Pay. The difference with Google Wallet is it allows users to send, receive, and transfer money within the United States. As for Google Pay, it's mainly used for its tap and pay function to check out in stores. These alternatives are the best if you intend to choose a money transfer platform that offers zero transaction fees for debit cards or bank transfers.
All you need is to store your credit or debit cards on the platform so you can shop around physical stores cashless — with only your phone in your pocket. If you travel around Las Vegas, New York, Chicago, and others, you can use Google Pay to pay for your rides on transit. 
Google Pay lets you pay and send money straight from your mobile device. Say goodbye to bank transfers or IOU. Just input your receiver's email address or phone number then hit the "pay" button. 
The platform utilizes top-notch security technologies to protect you from hackers or frauds. 
3. TransferWise
Adore
– Supports the most extensive international currencies
– No hidden fees
– Support large amount of money transfers
– Cheapest transfer fees up to 7x cheaper
Against
– Doesn't come with budgeting tools
– Hassle sign-up process
If you're looking for a faster and cheaper alternative to PayPal, look no further than TransferWise. It's a powerful PayPal alternative and it's on-par with Payoneer too. Transferwise utilizes a smart system to help you send money more security and accurately, so you won't have to pay for extra charges when sending money overseas. 
Tansferwise is designed specifically to help users to send money overseas at a cheaper rate. That said, through its multi-currency borderless account, you can send and receive funds in more than 40 currencies around the world with reduced rates as low as only $0.44. How does this approach work? It's simple. When you transfer money overseas, it never actually crosses the borders. Instead, it goes into TransferWise's account then the platform pays the receiver using the real exchange rate in that country to eliminate traditional banking fees. The interface is straightforward and it's beginner-friendly too. So, if you don't mind waiting for your funds to be transferred within 2-3 days, we recommend this Paypal alternative. After all, who wouldn't like to save some extra bucks for the stuff you like? 
4. Skrill
Adore
– Quick transactions process
– Encrypted bank and credit data
– Support forex transaction
Against
– Users required to pay a fee to withdraw funds
– Expect handling fees
Skrill is another cost-efficient PayPal alternative that's loved by millions of users worldwide. Whether you're a business owner, a consumer, or a freelancer, the service helps you send, receive, and spend money with great ease at a minimal fee.
For a money transfer app, Skrill has a lot to offer. It features swift fund transfers, a multi-currency account, a prepaid Mastercard for Eurozone users, including crypto-investing. Compared to PayPal, you don't have to provide other financial details when paying for online purchases. Just input an email address or phone number that's related to a bank account and you're good.
When sending money, PayPal charges users with 3.75% for each transaction while Skrill only charges 1.9% of the amount sent per transaction. 
As for the protection, the service employs advanced security features such as anti-fraud management and risk assessment so you won't have to worry about getting scammed while using the platform.
5. Stripe
Adore
– Allows third-party scheduling software and tools integration
– Minimal transaction fees
– Comprehensive reporting dashboard
– Clean and easy to use interface
Against
– Unavailable in many countries
– Unable to export multiple invoices simultaneously
Stripe is another famous PayPal alternative that offers remarkably incredible payment services that are trusted by huge brands such as Slack, Lyft, and Glossier. 
Stripe features a wide range of services such as collecting payments and transferring them to banks. It works well with e-commerce websites since you can integrate the service to your business with great ease. Simply set up an online payment platform and link it to your site.
Other essential features include:
Connect – a payment platform for large marketplaces

Sigma – a personalized reporting tool

Relay – an API for boosting in-app purchases

Issuing – a platform for managing physical and virtual cards
As for its payment services, Stripe charges your business 2.9% per transaction value. It also includes $0.30/ transaction for its pay-as-you-go account structure.

6. Shopify Payments
Adore
– Seamless integration with Shopify platform
– Support third-party payment gateways
Against
– Unavailable in many countries
– Short notice of the T&C changes
Another prominent PayPal alternative for e-commerce services is Shopify Payments. It's one of the easiest ways to accept payments online since you no longer need to set up a merchant account or a third-party payment gateway to collect your funds. There's no need for inputting endless information because the system automatically processes everything you need once your store is up and running.
When you opt for Shopify Payments, you'll only be charged 2.4-2.7% + 30 cents per order for the credit card fee. This is a notch above other payment solutions as not all can render an overall rate as low as that. 
As for the payout, you'll receive funds every three business days as compared to PayPal which takes about five to seven business days. 
7. WePay
Adore
– Easy setup process
– Suitable for small-medium enterprise
– Seamless integration with third-party systems
Against
– Does not provide in-depth detailed reporting and breakdown
– Lengthy transaction process
– Customer support can be improved
WePay is another PayPal alternative you can use for online purchases. It functions the same as PayPal, although the service leans towards software and platform companies. 
What the service does it that it collects payments online without the complexities of a merchant account, website programming, or third-party payment gateways. It works by processing your credit cards and dropping the collected funds into your WePay account. Then, you can transfer it to your bank account afterward.
JPMorgan acquired WePay in 2017. That means the service is now offered to all JPMorgan companies across the globe. Another example of a famous WePay customer is the crowdfunding site named GoFundMe.
If you want to grow your revenue without any hassle, WePay offers the best protection against friction or fraud. 
8. 2CheckOut
Adore
– Customizable for e-commerce businesses
– Flat-rate pricing
– Secure and from frauds
Against
– Not flexible and adjustable withdrawal options
– Slow account approval
Are you planning to expand your business across the globe? Do you want to have a digital payment solution without the complicated back-end system? If your answer is a big fat yes, check out 2CheckOut. It's a PayPal alternative that works best for your growing business.
Founded in 2006, the company aims to help rising businesses accept payments from all parts of the world. It features multiple payment methods such as Mastercard, Visa, American Express, and more. Plus, it supports up to 100 currencies and up to 15 languages.
Depending on your aim, you can choose from 2CheckOut's services: 2Sell, 2Subscribe, and 2Monetize. These services have varying transaction rates. For instance, 2Sell charges 3.5% + 30 cents, 2Subscribe has 4.5% + 40 cents and 2Monetize with 6.0% + 50 cents. These rates are applicable for every successful transaction. 
9. Venmo
Adore
– Easy to use platform
– Free to use your choice of debit card
Against
– Privacy is not as secured
– Steep transaction fees and with hidden cost
If you're looking for an app that you can use to repay your friend for a coffee, consider Venmo. It's one of the strongest players among PayPal alternatives, and it's currently owned by PayPal itself. 
Venmo is a free-to-use online payment service that lets you send and receive funds from your contacts or friends in the US. It also serves as a digital wallet so you can store a decent amount of money and then spend whenever your heart desires to. Likewise, you can transfer funds directly by linking your debit or credit cards. However, instant transfers to cards may require a small fee. 
Sending and receiving money using Venmo is pretty simple. Depending on your purpose, just tap the "Request" or "Pay" button and you're all set. Input the amount, add a note, and hit the confirm button. 
10. Amazon Pay
Adore
– International recognized
– Easy to access funds
– Accurate conversion rate
– Excellent customer service
Against
– Higher processing fees than competitors
– Slow payment processing
If you're running an online business and are currently looking into the best PayPal alternative for your site, Amazon Pay is a great option. It offers a streamlined checkout experience to your customers, without having them leave the website during the process. 
Since the service is managed by one of the tech giants, Amazon, you're ensured that the platform utilizes an optimum security system against fraud and other red flags.
When it comes to pricing, Amazon Pay charges 2.9% + $0.30 cents for local US transactions and 3.9% + $0.30 cents for cross-border transactions.
11. Dwolla
Adore
– Enable third-party tools integration including Slack
– Good interface and easy to use
Against
– Slower funds processing
– Expect to pay a monthly fees
Dwolla may not be your leading choice when it comes to PayPal alternatives. Unbeknownst to many, the platform renders reliable money transfers at the lowest cost possible.
The service works similarly to PayPal. You can send and receive funds anywhere in the world. What separates Dwolla from PayPal is the transaction fees. It offers free transaction fees if you are sending $10 or under. For money above $10, the receiver will be charged with $0.25 per transaction. 
Another noteworthy feature of Dwolla is the ease of use. You can send funds using your Facebook ID, Twitter username, LinkedIn profile, phone number, or email address, provided that the receiver also has a Dwolla account.
12. Square
Adore
– Fixed-rate without hidden cost
– User-friendly interface
– Square supports offline payments
Against
– Customer support needs improvement
– Customer selective
If you're a merchant and you're looking for a PayPal alternative that features superior POS software, look no further than Square. It's a popular app for business owners that allows you to manage everything, including payment options, inventory, sales, customers, and employee management tools.
It boasts a minimalist interface with a straightforward setup process to help newbies navigate around the service. If PayPal charges consumers monthly for its advanced features, Square does the opposite. All of its features, including the premium ones, are free.
As for the pricing, Square charges 2.6% + 10 cents per transaction for swipe, tap & dip sales, mobile payments & in-store POS sales.
13. ProPay
Adore
– Flat rate transfers
– Suitable for e-commerce businesses
– End-to-end encryption
Against
– Weak customer support
– Lacked of budgeting and reporting tools
Despite not being one of the largest names for PayPal alternatives, ProPay remains the leading payment solution in terms of data security.
Compared to most brands on this list, Propay has tons of merits for its consumers. Aside from receiving funds from customers using debit/credit cards, you can also use the "Spend Back" feature, which allows you to pay for wholesale orders at a reduced rate. 
Not to mention, the tokenization feature converts any sensitive data from you or your customers, such as bank information, into tokens and stores them directly in the system as tokens not as the information itself. This process ensures you and your customers' top-grade protection during a transaction.
14. Zelle
Adore
– Almost instant money transfers
– Money transferred without third-party buffer time
– Compatible with many banks and credit cards
Against
– Does not support payment via credit cards
– Works only for domestic banks
If you're looking for a peer-to-peer PayPal alternative similar to Venmo, put Zelle at the top of your list. Equipped with the best fund transfer system, the service is free of charge when transferring money to bank or debit accounts. 
Zelle integrates with the majority of banks around the world such as Bank of America, JP Morgan Chase, and a lot more. If you're trying to ditch the hefty PayPal transaction fees, Zelle is the app for you. You can transfer your funds directly to your bank account without any fee. It also works well with PayPal international transactions; that's why the service is drastically becoming a popular payment and fund transfer solution across the globe.
15. Authorize.net
Adore
– Offering multiple payment options
– Accept electronic checks
– Secure and prevent fraudulent transactions
Against
– Slower funds processing
– Expect to pay a monthly fees
A list of the best PayPal alternatives isn't complete without Authorize.net. As one of the frontrunners in the digital payment solution field, the service has been providing unmatched features such as online and customizable invoicing, robust security tools to detect, manage, and prevent fraud, and customer information management approaches.
As for the pricing, the platform offers three tiers. You can choose from an All-in-One Option, Payment Gateway Only, and Enterprise Solutions.
The All-in-One Option gives you both a payment gateway and a merchant account. That means you'll pay a $25 monthly fee and a 2.9% + $0.30 cent per-transaction fee.
Next, the Payment Gateway Only option is for consumers who already have a merchant account with another provider. Likewise, you'll pay a $25 monthly fee and a $0.10 cent per-transaction fee + a $0.10 cent daily-batch fee.
Lastly, the Enterprise Solutions option is for big businesses with more than $500,000 in credit card payments annually.

16. Adyen
Adore
– Reputable
– Good for small to large scale businesses
– Offers plenty of payment methods
– User-friendly interface
Against
– Transactions and transfer fee are on the steeper side
– Customer support needs improvement
This is one of the more popular payment services founded in the Netherlands. It's a payment processing platform that aims to help their clients save more and make money transfers more efficient. One thing for sure you can expect from Adyen is it reduces all of the unnecessary processes that involve multiple parties that might take a commission cut along the way. In some ways, it helps to reduce the risks of fraudulent and chances for privacy infiltration. This billion-dollar worth company is reliable and many reputable brands such as Lacoste, Inditex, Spotify, and more. It's proven to help e-commerce businesses to perform seamless transactions and even allow the peer-to-peer transaction. But, it can be a little tricky. Learn more about how to make fund transfers on Adyen here.
17. WorldPay
Adore
– A wide selection of payment methods
– 24 hours customer service Helpdesk
– Easy to use
Against
– Additional processing fees required
– Long contract services
– Slow funds clearing
As one of the largest payment services worldwide, WorldPay is great to go if you intend to use this service for electronics payment. WorldPay supports up to 200 payment methods and including funds transfer for all businesses alike. Similar to Paypal, it features intuitive designs and supports email payments too. What's distinctive about WorldPay is it rely heavily only on in-house transactions as it's a direct processor. In the essence of reliability, you can expect professionals to help to deal with technicalities at an instant. However, if you're in search of a point of sale systems beyond Paypal, Worldpay Hub which is the POS System is here to help businesses perform checkout system effortlessly. Though the fees to use Worldpay might not be the most affordable nor transparent. You can still expect good customer service from them.
18. FastSpring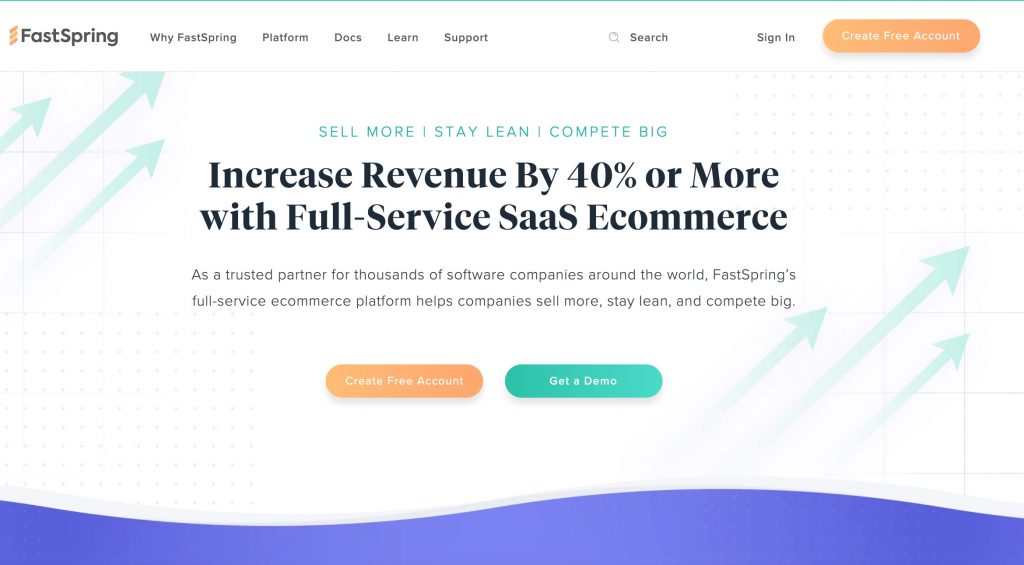 Adore
– Low fraud rate
– Clean and smooth interface
– Fast payment processing
Against
– Additional processing fees may incur
– Takes time to get a hang of the resource tracking report
As one of the best alternatives from Paypal, FastSpring features a full end-to-end payment service that helps users make a payment, fund transfers as easy as possible. It allows rooms for customization and users are free to configure the platform based on their preferences. If you're a business owner who prefers professionals to deliver competence solutions, FastSpring is the way to go. It offers full-package legal payments and invoicing hassle-free at a reasonable price. The software interface was designed for beginners and professionals alike to minimize errors. Despite there might be a little tricky to set up at first, customer support is helpful to resolves any problems arise. Most users rated this as one of the best Paypal alternatives out there as it's almost no downtime, low fraudulent rate, and little to no chargeback.
Final Word
Regardless of what's your interest in finding an alternative to PayPal, these are the best that should help you make any transactions fast and easy. We understand the high exchange fee is something you want might want to avoid. Hence, these money transfer sites are there to help you get the most out of it.