The Opera GX web browser is a new alternative to the famous Opera browser, focusing on offering gamers' services and features. Although this version of Opera shares the same core as the standard web browser, it does feature some innovative features that are meant to appeal to the gaming community. This version is intended to help gamers conserve system resources while gaming, and it also comes with additional tools that reflect well on gaming software.
In this review, we'll uncover some of the features of this innovative browser and how you can make it work alongside your favorite gaming software.
What Is the Opera Web Browser?
The Opera web browser is an international browser developed by Telenor. The web browser makes use of the source code Chromium, open-source software that can be developed into a full-fledged web browser. Google was the one who created and developed Chromium. And it's now being used by some of the top-ranking browsers on the market. That includes the likes of Google Chrome and Safari, which both have stellar reputations in the web browser industry.
As such, you may be able to find some similarities between the Opera web browser, Google Chrome, and Safari. Among these features include speed and compatibility, quick access panels, and security features. Even then, Opera is not simply a copycat of the other more popular browsers. It has its own set of innovative features which distinguish the software from others.
What Is Opera GX?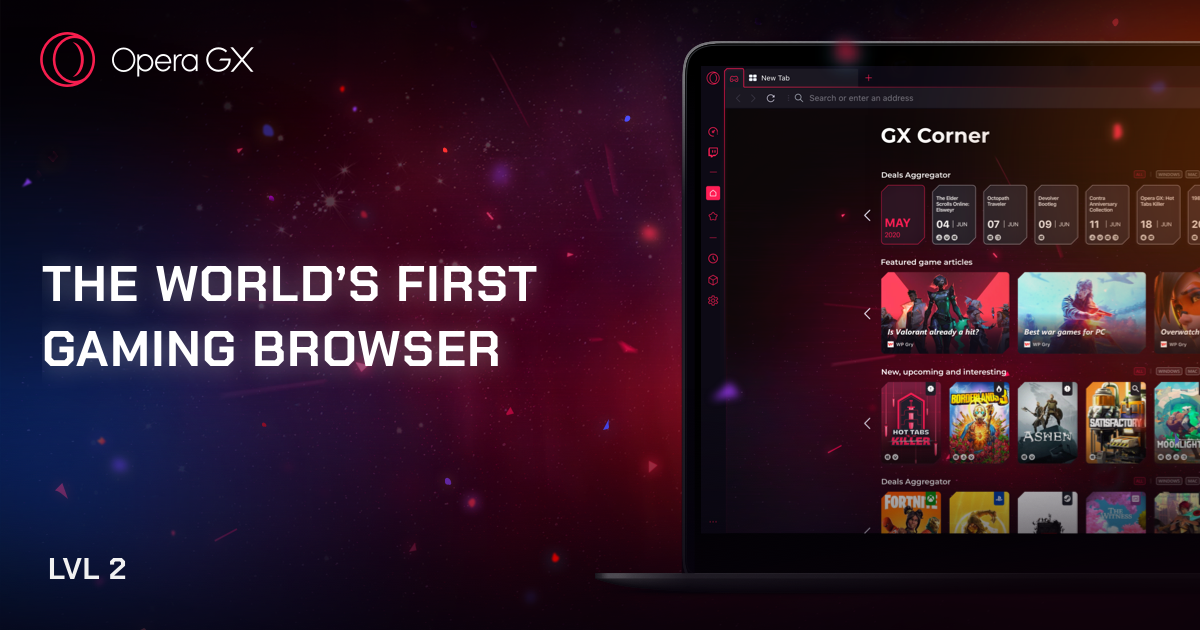 The Opera GX web browser is a special version of the Opera browser built to support and boost your gaming activity. The browser is a redesigned version of the 60th version of the classic Opera browser. What this means is that essentially you have a standard browser with all of the basic features that you can expect. You can surf the internet and download files normally as you would with any browser.
The key difference is that this version includes additional provisions for gaming. At the heart and center of the gaming features of the browser is the ability to control system resources like RAM and CPU usage. Other features related to gaming include Twitch integration, interface customization, and the availability of the latest games and gaming deals on the main page.
How Is the Opera GX Web Browser Different From the Opera Basic?
While Opera originally advertised the GX as a gaming browser, the term can actually be a stretch. We might as well tell you the catch right now. And that has to do with the fact that the browser cannot be used to replace your gaming software. As such, it might be better to think of Opera GX as primarily a web browser that just happens to have additional features for gaming.  Nevertheless, there are a few differences that will stand out when you use the GX.
The most noticeable difference has to do with the browser's physical design. This browser makes use of a dark theme with fine red-colored icons with a black background. This gives it an ethereal or heavenly look such as those you can find in wallpapers depicting stars and space. It also possesses a distinct appearance compared to the white and red theme of the standard Opera.
Aside from the obvious differences in appearance between the two browsers, the GX also possesses additional features meant to please the gaming crowd. One of the more noticeable additions is the presence of a GX corner on the main page. There's also a quick access panel for Twitch and Discord. And of course, also included is a special tab for controlling your RAM and CPU usage for the Opera GX.
What Are the Key Features of the Opera GX Web Browser?
At its core, Opera GX is still just another web browser. And you simply cannot use it as a replacement for your favorite browser. Nor can it play games in the same way that gaming software does.
Nevertheless, Opera GX still benefits from the full set of features that the standard Opera has. These features include Speed Dial, VPN, built-in ad-blocker, and more. For a comprehensive look into these standard features, you can check out our review of the Opera web browser. But of course, we are still left with the additional gaming features that unique to the GX version. Here are some of the useful gaming features on Opera GX:
GX Control
The main selling point of Opera GX lies in its ability to control system resources. Compartmentalizing system resources will allow you to use your browser and play games simultaneously without compromising the video game's quality and speed. For this purpose, Opera created a special GX control panel. This function will allow you to adjust the amount of RAM and CPU system resources that Opera GX can use at any given time.
Specifically, the sliders allow you to adjust resources on a quarterly interval. For example, you can adjust CPU usage from 25 to 100 percent. On the other hand, you can adjust RAM to 2 GB, 4 GB, 6 GBB, or 8 GB. The same panel will also inform you about the current usage levels. Fair warning, though: the software won't be able to act on bottlenecks caused by the graphics processing unit (GPU) of your computer.
Integration With Gaming Software
Another feature that is unique to Opera GX is integration with the popular live-streaming platforms Twitch and Discord. You'll find somewhere on the browser a dedicated button for either. This should let you connect to those services through the browser. Simply activate it via the sidebar, sign in to your account, and you should be able to view the full web versions of the software from the sidebar on the browser.
After that, it's just a matter of learning the in-app functions. Then you'll be able to chat with your community and conduct your own live streams of your gaming exploits.  And if you want to maximize the use of either of these platforms, you must learn the best Discord bots to include on your server. Those who are new to Twitch can also check out this guide on how to stream on Twitch easily. 
GX Corner
Another notable feature is a dedicated button that pulls up a dedicated gaming page called the "GX Corner." This corner contains a curated list of upcoming video games, relevant video game news, and a list of games that are currently on sale on Steam and other websites. The GX Corner also benefits from the Opera-native pop-out feature. This allows you to view picture-in-picture videos of upcoming games. The software also features a GX Cleaner which removes unnecessary files to increase browser speed.
Razer Chroma Support
Opera GX is perhaps the first web browser in the market to Razer Chroma support which is commonly found in gaming software.
Other than allowing you to change the color schemes and wallpaper for the software, Opera GX also gives users the option to automatically flip any compatible websites into Dark Mode by default. Of course, most websites have lighter or white backgrounds. This would contrast the ultra-dark color scheme of the web browser. In such cases, we highly recommend allowing the automated switch to dark mode. This will allow the lighter pages to appear more visually appealing to any viewer.
Gaming Audio
Opera GX not only simulates the visual experience of gaming software but also the auditory experience. We are referring to electronic scores that Opera GX tries to emulate. The way this works is that the browser offers the option to play ambient electronic music or any other type of music. The music also keeps up with your online activity. For example, you can go about typing your notes for a particular project. An electronic score would keep up the pace and will slow down or ramp up according to your movements.
If you find background music too distracting, you can always adjust the volume, change the track, or turn off the music function altogether. If you enjoy the ambient music but don't want background noises, you can always use noise-canceling earphones. Here are some of the best noise-cancelling earbuds for your review.
Additional Features
The Opera GX comes with the full force and capabilities of the standard Opera browser. On the left side of the browser is the sidebar. This contains the complete set of tools for controlling the browser. This includes access to Workspaces, Speed Dials, Flow, Favorites, among others. With Workflows, you have the ability to add as many extensions as you need in order to accommodate as many web pages as possible.
Also located on the sidebar is a series of quick-access buttons for social media websites. You'll also find a Sync button to help export bookmarks, settings, and more across different devices. The software also has the ability to organize your downloads by file type. That is in addition to the ability to make suggestions as to which files to attach to emails.
Other than basic settings for file organization and customization, you also have additional features like video-pop out that let you play videos outside of the web browser's confines. You also have mouse gestures that let you navigate through web pages without relying on your mouse's clicking functions. There's also the highly-praised built-in adblocker.
For more secure connections, there is a VPN option that reroutes your data through a virtual tunnel. Alternative browser modes like the Turbo mode and Battery-Saving mode are also available on Opera GX. The former saves on bandwidth by compressing the size of web pages that you visit. The latter helps prolong your battery life by shutting down unnecessary programs.
Is the Opera GX Worth Making the Switch?
If you are seriously into gaming, the features on this gaming browser would prove very useful. Suppose you only have a few browser tabs open at any given time. In that case, you can probably still play that video game without any interference. But running multiple tabs in the background will certainly have an impact on your gaming.
Then again, if you happen to be using a high-powered computer, then chances are you won't even notice a difference. On the plus side, the software is completely free. And you still have access to the complete set of features on the original Opera. There's everything to gain and nothing to lose if you try out the software.
Final Thoughts on the Opera GX Gaming Browser
Opera has never been afraid to innovate and to add novel features to its products. And this innovative attitude shows with Opera GX. Opera GX is definitely an interesting tool for people who love online gaming. This may also be one of the few attempts at the creation of a customized, interest-based browser. Admittedly, there could have been more gaming features to warrant the "gaming" title.
But of course, there is always the hope that more features will be added to the software in the future. It would also be very interesting to see how what other types of customized web browsers Opera can come up with. And we'd like to see more customized browsers covering particular interests and lifestyles.
If you enjoyed this review, also check out this list of the best game streaming services for 2020.