Imagine having a grandfather that owns a farm lot in a faraway town. He's passed away and you ended up inheriting his old farm. It's time to continue what he started and go to that old town and manage your old man's farm. This is precisely the plot of Stardew Valley mods. 
Stardew Valley has become popular over the years as a fun and peaceful role-playing game. You can live life as a farmer cultivating crops, mining ore, crafting goods, and more. It's open-ended and gives you a good sense of country life. A fantasy life of your own that you otherwise wouldn't be able to live out. The game has become a window to a simpler lifestyle away from all the hustle and bustle of city living. However, if you want even more out of the game, there's no reason not to try employing mods.
What Are Mods in Stardew Valley?
In Stardew Valley, you can live out your desired farm life and do almost anything. Whether it's fishing Stardew Valley fish, cultivating Stardew Valley crops, or getting to know the local villagers. All of these things are available at your fingertips. However, sometimes the game isn't enough for players to keep things interesting. That's why many games have built entire communities around creating mods.
Mods are community-made modifications to a game. It can be modifications to mechanics, assets, added features, and more. These mods can be very small, changing only a small part of a game. However, other mods can be quite large and ambitious. These mods may even change your entire gameplay experience. 
Some mods will improve your gameplay by adding more functionality. Items can be reprogrammed to do more than what they can by default. These are called utility mods. Other mods are used purely for aesthetics and a change of scenery. These are called visual mods. Whether it's for visuals or utility, mods add loads of fun to your overall gaming experience. 
The Best Stardew Valley Scarecrow Mods
Stardew Valley mods can come in all kinds of shapes, colors, and sizes. They can range from function-focused mods to visual-focused mods. However, what's similar about them all is that they really bring out the creativity within a community. It's hard to believe the kinds of mods people have come up with. Some mods can even surprise you. Check out our list to narrow down the best Stardew Valley mods:
1. Animated Junimo Scarecrows
If you've been playing Stardew Valley for a while, you'd know a little bit about Junimos. They're forest spirits that have come to dwell within the Community Center. If you complete the bundles for the Junimos, they'll come and collect them in exchange for an item. Once you've completed all bundles and improved your valley, you'll get a star. When all the stars have been given, the Junimo spirits will finally leave the Community Center. 
These Junimos are so cute that some people can't get enough of them. The good news is through Stardew Valley mods, you can see more of them. The spirits of the forest decide to help you keep watch over your crops. They come in the form of cute, bouncy Scarecrows replacing your regular ones. These Junimos even change color with the seasons. By default, they come in green or pink during the spring. When fall comes, they become either green or orange. By winter, they'll turn white and curl up into loaves like a kitten and nap while guarding your crops. 
This was created by Sparrow in May 2019. It's safe to use, and mod only requires a Content Patcher and Content Patcher Animations.
2. Better Sprinklers Mod
If you like custom patterns and better usage, this mod is worth checking out. This mod replaces your boring old sprinklers with ones that have better range and design. Existing sprinklers will have an added watering area. It's one of the more useful Stardew's mods because it makes your gameplay much better. In addition, this mod also adds custom patterns to your scarecrows. Choose from the different sets of patterns to give your strafed valley farms a fresher look.
In addition to what we've mentioned, this mod gives many other features to your gameplay. It gives flexibility to default sprinkler shapes so you can have more flexible layouts. You can literally employ any kind of shape. It also adds automatic balancing and increases crafting costs as you increase the sprinkler's area. You'll also be able to see a highlight of their range when placing scarecrows or sprinklers. This mod even adds a way to cheat, but the author leaves the cheat for more adventurous players.
Stardew Valley mods won't be made possible without the help of community creators. This one was made by Speeder in March 2016. It's pretty good and has had many updates all the way till December 2019.
Get yours from Nexusmods here.
3. Bird Feeder Scarecrow Replacement
Some people dislike the default scarecrows in Stardew Valley. They don't look like anything special. That's why people make numerous Stardew Valley mods that replace the scarecrow's visuals. One of which is the Bird Feeder Scarecrow Replacement. This mod gets rid of the skin of your Stardew Valley scarecrow. Instead, it replaces the look of your scarecrow with a Bird Feeder. Although, it is a bit ironic that a bird feeder wards off birds.
Other than replacing your scarecrow's visuals, this mod doesn't really add much else. However, some people would want to opt for it since it doesn't change much of the gameplay. If you're simply looking for a change of design, then check this out on Nexusmods. This mod is perfectly safe and was made by peudepeu in 2016.
4. Fluffykins' Scarecrow Statues
If you're a fan of statue gardens in other games, this mod is certainly one to check out. Make your farm/vineyard look like a beautiful statue garden with Fluffykins' Scarecrow Statues. It's great, especially when you pair it with a mod that changes your entire farm's aesthetics. If you find one that matches the theme, even better! 
Not only does this mod replace your scarecrows with statues, but it also replaces them with statues from other games. Old Nintendo characters, secret statues, two rodins, and a moai head are all available as statues. Below is a list of new scarecrow statues:
Battletoad

Bomberman

Brain Bomber/Phantom Bomber from Bomberman 2

Darkworld/Bunny Link

Fallen Caryatid Carrying Her Stone – Auguste Rodin

Flying Man from Earthbound

Harvest Goddess from Harvest Moon

Link

Megaman

Pufferchick Torch

Random Moai Head

Samus Aran

The Bather – Auguste Rodin

Zelda
If you were wondering how to install mods, specifically this one, it's easier because no SMAPI is needed. This mod was made by Fluffykins in September 2018.
Get yours from Nexusmods here.
5. Gotama's Scarecrow and Hats Mod
Stardew Valley mods can sometimes be bland when they're only under one theme. Some people might want to look for ones that give many options depending on what they feel like. If you want variety in a mod you only have to install once, check out this scarecrow and hats mod. 
This mod comes with a variety of designs for your scarecrow. Designs range from the Alice-like dolls to a purple cat statue. Not only that, but it also comes with mods for hats! There are so many cute ones to choose from including headphones, bunny ears, and more. You can customize your hats to your heart's content! Plus, they also have visual mods for horses. 
This mod was made by Gotama in July 2017.
Get yours from Nexusmods here.
6. Halloween Scarecrows
In the real world, people dress up for Halloween to celebrate the holiday. When it comes to the game world, there's no reason not to dress up and celebrate, too! Getting into the spirit of Halloween is easy with this Halloween Scarecrow mod. It's one of the Stardew Valley mods that come with a cute, visual theme. Spice up your farm and give it a spooky Halloween look by giving your scarecrows the feel of Halloween.
You can choose from five iterations for your different scarecrows. These include a skeleton, ghost, carbon ghost, coffin with a bat, or a Jack-O-Lantern scarecrow. This way, you can say you not only keep away crows but also souls of the dead. What a way to celebrate the holiday than by getting into the spirit in-game!
This mod was made by exhaustedsunflower in October 2018.
Get yours from Nexusmods here.
7. Harvest Runes
If you're a fan of Nordic stories, you should certainly check out the Harvest Runes mod. It's one of the Stardew Valley mods that add a bit more life to your farm. If you employ this mod, you replace your scarecrows with Harvest Runes. These runes are made from Jera, the Nordic rune that represents the Harvest. With this mod, you can pretend to say that the rune protects your harvest from the pesky crows.
Not only is this a cool mod, but it's also seasonal. It changes in color along with the changing seasons. The mod doesn't add anything else apart from making your scarecrow look cooler. 
This mod was made by thecouchwitch and madeggmods in November 2018.
Get yours from Nexusmods here.
8. Huggable Scarecrows
Farms can be tough to take care of even in in-game worlds. If only there was a more efficient way to do things. Maybe you can delegate tasks to other people? Well, how about delegating tasks to a brainless scarecrow? That's right, with this mod, your scarecrows can now be huggable for your animals. 
It's one of the gameplay mods that are pretty useful when you don't wanna do tedious tasks like petting animals. Install this mod and your animals will be petted every morning by none other than your scarecrows. It saves a ton of time and a ton of effort.
This mod was made by bogie5464 in December 2018.
Get yours from Nexusmods here.
9. Kitty Scarecrow Replacements
Calico, Nyan Cat, black and white, gray, orange, exotic — there are all kinds of cats out there in the world. Maybe you're a cat person and want to bring kittens with you to Stardew Valley. Alternatively, perhaps you just want a bit of variety for the creatures in your fields. If so, you're certainly going to love these adorable kitten replacements for your scarecrow! 
Stardew Valley mods can be fun and creative and this one's no exception. Turn all of your scarecrows into cute guard cats that meow all those crows away. Even rare crows will be affected to become cats on pedestals. You can have different breeds and colors according to your liking. The mod even has the meme-famous grumpy cat! 
This mod was made by Jinxiewinxie in March 2016.
10. Korea Hanbok Scarecrow
Stardew Valley mods tend to be made based on people's interests. This is especially true for visual modifications. Given that, there are lots of Korean culture fans out in the world. Thus, it's no surprise to find a mod to replace scarecrows for people in Korean Hanboks. 
This mod is great for fans of Korea or people who want to add an Asian feel to their farms. It beats the boring look on the default scarecrows and adds a bit of flavor to your experience. Make your village feel like you've been transported to another time in another place. Even more, make your farm look like it's being guarded by the nobility of old times! It's also double the fun if you've installed a Korean visual mod to your farm. 
This mod was made by RIRI7 in August 2019.
11. Misc Recolour Pack (Fish Pond Craftables Scarecrow and Dresser)
Stardew Valley mods are great for redesigning your place. It's a fun way to make the game feel fresh and new even if you're a seasoned player. Plus, it makes your farmland feel a little more personal. 
If you're looking for a redesign of a lot of your valley, check out the Misc Recolour Pack. Not only does it give you seasonal Totoro scarecrows, but it redesigns your other assets, too. Kind of like a Stardew Valley house upgrade.
This mod comes with a seasonal overgrown fishpond, 11 redesigned craftables, and more. These cute little designs make your experience feel fresh and new. It comes with a minifridge, workbench, wood chipper, crystal atrium, dresser, Worm bin, Jukebox garden pot, logs, and an arcade system. No doubt it gives your miscellaneous items a makeover that makes your experience even cuter. 
This mod was created by Hesper in January 2020.
Check out the many options from this mod on Nexusmods.
12. Nightmare Scarecrows
Many people love pixelated horror RPGs. While Stardew Valley isn't a horror game, it can feel like one if you find the right Stardew Valley mods. The Nightmare Scarecrows mod turns your farm a bit spookier with nightmare scarecrows. These include witches, ghosts, and other nightmarish ghouls and creatures. Even rarecrows have a spooky glow to them if you add the updated CFR file. If you're scared of playing horror RPG, the least you can do is at least make yourself feel like you're playing one!
The Nightmare Scarecrows mod aren't just your average scarecrow mod, either. This mod gives you entirely new items complete with animation and full scarecrow functionality. You won't have to worry about installing them as displays without use.
This mod was created by Mel Noelle in October 2018. To spice up your experience, the creator didn't simply re-skin the scarecrow assets. They're totally new items that you have to find. They'll be for sale in different shops on various days to add to the feeling of discovery. 
Install yours from Nexusmods here.
13. OneSprinklerOneScarecrow
If you want just a little variety to your gaming experience without going too crazy, check out this mod. It adds one new sprinkler and one new scarecrow to your game. It's not very grand or very out there. However, it does add a tiny bit to your experience. It's perfect to try out if it's your first time modding and you don't want to tamper with your game too much. 
The mod isn't just about that, though. It doesn't just add one sprinkler and one scarecrow. If you possess at least one Haxor Sprinkler and one Haxarecrow on your farm, you get a bonus. All the hoed dirt on your farm will be watered and you will no longer have to worry about crows.
This mod was made by Mizzion in March 2019.
14. Owl Scarecrows
Are you an owl enthusiast? Perhaps you're a fan of birds? Either way, you'll want to check out this mod that replaces your scarecrows with owls. 
The creator of the mod, Ankokou, is a fan of birds and based the owl mod on the in-game owl. However, it's not just the same style. It's a series of different owl species based on season and who or how they're obtained. This mod is perfect for bird and owl enthusiasts who love birds! Plus, it's a great mod to have if you just want to change things up a little.
Check it out on Nexusmods now!
15. Pam Scarecrow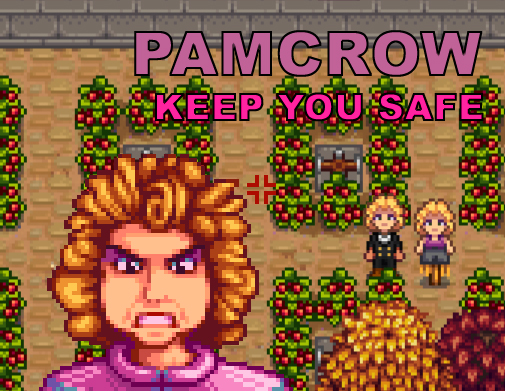 In case you didn't know, Pam is one of the NPCs in Stardew Valley. She lives in a trailer in Pelican Town and runs the bus when it's fixed. However, you don't have to go all the way to Pelican Town just to see her. 
Stardew Valley mods can range from totally cool to downright "just…why?" And this falls somewhere in between. The Pam Scarecrow mod replaces your female scarecrow with Pam from Pelican Town. Now, you'll have Pam guarding your crops!
This mod requires Content Patcher and SMAPI. It was made by Pak RT in May 2018.
Download it from Nexusmods here.
16. Range Display for Scarecrows and Sprinklers
It's difficult to measure range when the game doesn't give you the range of your sprinklers or scarecrows. That's why this is one of the Stardew Valley mods that really come in handy. 
This mod displays the range of scarecrows, sprinklers, bee houses, and Junimo huts. The mod helps you calculate and arrange your farm in a more efficient way. Thus, you can make sure all of your crops are properly watered and won't be consumed by crows. Plus, your bee houses will even be able to make special honey! It works in all the available places where you can normally put these things in including the greenhouse.
When you have the mod, all you have to do is press the proper keys. The activation key (by default it's F2) switches through scarecrows, sprinklers, Junimo huts, bee houses, all, or none. The modifier key (left control) can be used as you hover over items to see their range. Once you're holding items, their range will be displayed on your mouse cursor during placement. 
This mod requires SMAPI and was made by Cat in May of 2017.
17. Sailor Scarecrows
"Sailor Moon! In the name of the Moon, I'll punish you!"
Stardew Valley mods come in all shapes and sizes. Some even come to live out your anime fantasies. If you're a fan of Sailor Moon or magical girls, this mod's a perfect fit for you. 
With this mod, you can live out your dreams of being protected by the sailor scouts. Your crops will be protected not only from crows but also from the Dark Kingdom! Well, just imagine there's a dark kingdom in Stardew Valley, okay? 
In addition to replacing regular scarecrows, this mod also replaces your rare ones. They turn from boring and weird to all your favorite Sailor characters. Bring the entire squad together and enjoy your new, Sailor Moon-themed farm!
This mod requires Content Patcher. It was made by keodau27 in May 2016.
18. Scarecrow Highlighter
Stardew Valley mods can be almost anything you want them to be. In this case, if you just want to see the range of your scarecrows, check out this handy Scarecrow Highlighter. 
This mod highlights scarecrows' radius when hovering the mouse over a scarecrow. It also highlights the radius when you have one on hand about to place a new scarecrow. The mod also works when you press a button to toggle the highlights to check boundaries. All of the buttons can be configurable, so you don't even have to stick with the default options. 
Scarecrow Highlighter was made by Wretched Penguin in March 2019. This mod requires SMAPI v2.11 and is available on Nexusmods.
Get Scarecrow Highlighter here.
19. Silent Scarecrows
Sometimes interacting with scarecrows can be a real pain. We know that they scare off crows because that's their job. With this mod, you don't have to see the same prompt over and over again.
The Silent Scarecrows mod will make it impossible for you to interact with any of the scarecrows on your farm. If you're tired of constantly seeing, "I've encountered X crows," or, "I've scared off X crows," this mod is for you. It's simple but gets rid of a minor annoyance. However, it only works with the game's English version. 
This mod requires SMAPI and was created by climaxius in January 2019.
20. Tiny Scarecrow
Stardew Valley mods can come in handy in surprising ways sometimes. Scarecrows are handy things to have when taking care of your farm. However, sometimes it's a little annoying when you can't see the crops behind them. With this mod, you'll be able to make your scarecrows move out of the way so you can see your crops. What will be left is either the scarecrow's head or just the pole it's built on. While it's a bit strange to see just a scarecrow's head, it's certainly pretty scary. You'd be able to understand more why crows would be scared of these guys! 
This mod requires Content Patcher and SMAPI v2.5 or higher. It was made by Fyn in January 2018.
Check it out on Nexusmods here.
Scare Crows Aways with the Best Stardew Valley Mods
Stardew Valley mods are indeed fun to engage in. They come in all shapes and sizes and are handy for a variety of things. Mods come in handy when you want something that improves gameplay or gives your farm new visuals. Scarecrows aren't the only things that can be modded, either. Once you dig deep into the community, you'll even find mods that overhaul almost the entirety of your farm's aesthetics! Change your farm to fit an old Japanese village or give it an old European style. The possibilities are endless.